EN/ESP - Gold Analysis for April 19th
English
What's up investor friends?
In the last analysis we looked at gold between the $1680 and $1750 price zone. At that time gold was breaking the downtrend channel and we analyzed two possible scenarios.
The bearish scenario indicated a bearish turnaround by the bears taking gold back to the bearish channel and pushing it back to the $1680 area again. On the contrary in the bullish scenario we talked about the bulls should stay above the bearish channel and look for a breakout of the top at $1750 to then test the $1780 and $1800 prices, and this second scenario is what has happened.
Proposed Scenario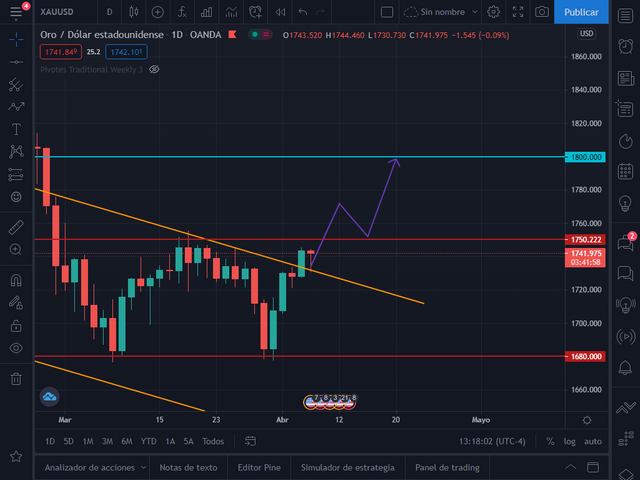 Result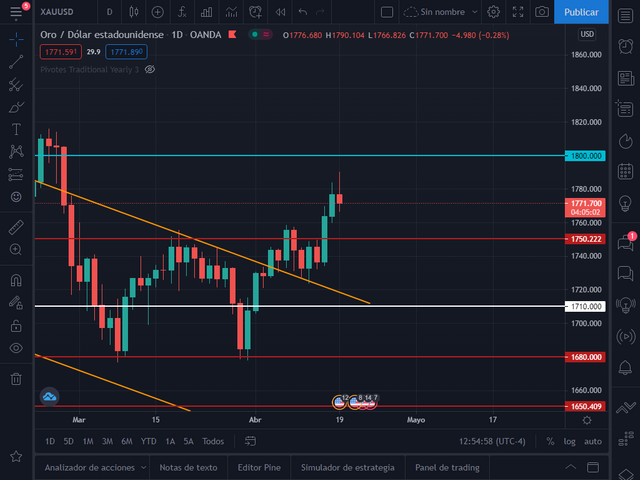 As we can see, gold remained for several days above the bearish channel accumulating strength until it managed to break the $1750 ceiling. It has managed to test the $1780 resistance zone between yesterday and today but has failed to overcome it.
If we zoom in on the chart at lower time frames, we can see that for the moment the bears are in control in the short term. There is a brief price correction towards the $1770 area.
1-hour candles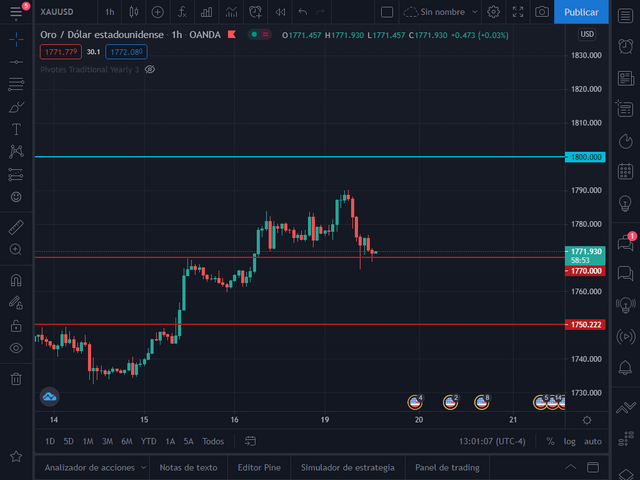 Now the price is between $1750 and $1780 support. I believe that we should remain bullish with targets at $1800, as this is the nearest psychological resistance. In addition, the fundamentals support this rise in Gold, the fall of the USD pushes Gold as a safe haven asset.
Gold will most likely consolidate above $1750 looking to gain more upside strength to rebound to $1800, where we should have our Take Profit. Any pullback between these price zones should be considered as a valid entry to the upside, only a break below $ 1750 could indicate a change of trend to bearish in the short term, therefore I would recommend placing the Stop Loss below that area.
I hope this information is helpful to you fellow traders. Best of odds to you 💪📈.
Disclaimer
The information given in this article is only my analysis and personal opinion. Be sure to do your own analysis and research. Trading cryptocurrencies, forex, commodities, etc, is risky.

---
Español
¿Qué tal amigos inversores?
En el análisis pasado observábamos al oro entre la zona de precios 1680$ y 1750$. En ese momento el oro se encontraba rompiendo el canal de tendencia bajista y analizábamos dos posibles escenarios.
El escenario bajista indicaba una vuelta de los osos llevando al oro de vuelta al canal bajista y empujándolo hasta la zona de 1680$ nuevamente. Al contrario en el escenario alcista hablamos de que los toros debían mantenerse por encima del canal bajista y buscar una ruptura del techo en 1750$ para luego probar los precios de 1780$ y 1800$, y este segundo escenario es el que ha ocurrido.
Escenario propuesto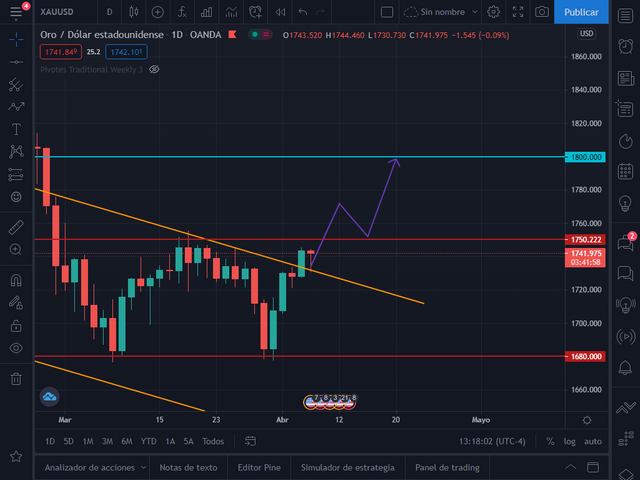 Resultado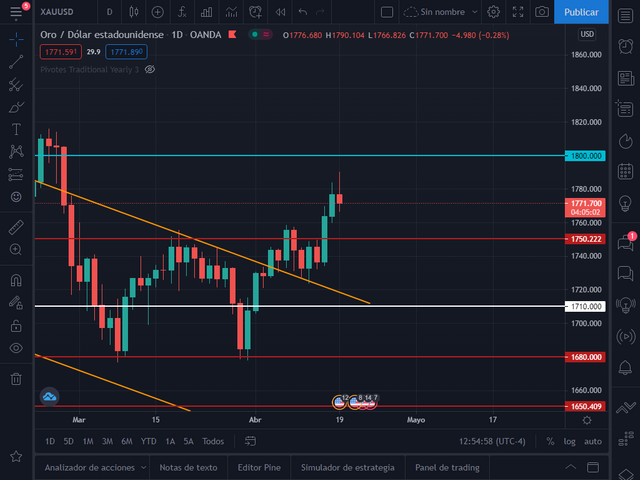 Como podemos observar, el oro se mantuvo durante varios días por encima del canal bajista acumulando fuerza hasta lograr romper el techo de los 1750$. Ha logrado probar la zona de resistencia de 1780$ entre ayer y hoy pero no la ha logrado superar.
Si hacemos zoom en el grafico a temporalidades mas bajas, podemos observar que por el momento los osos tienen el control en el corto plazo. Hay una breve corrección del precio hacia la zona de los 1770$.
Velas de 1 hora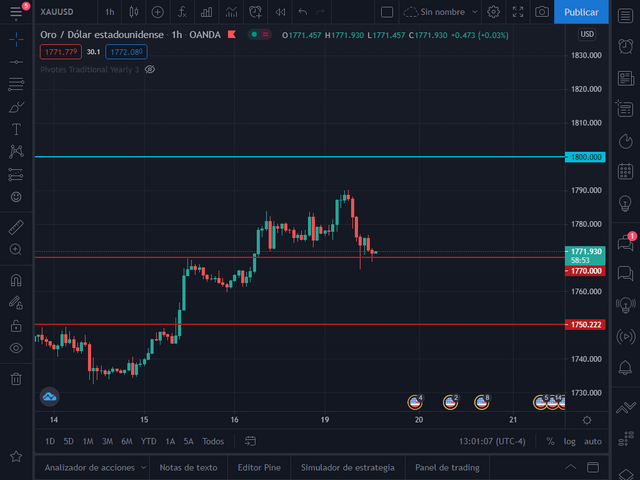 Ahora el precio se encuentra entre el soporte 1750$ y 1780$. Considero que debemos seguir alcistas con objetivos en 1800$, ya que esa es la resistencia psicológica mas cercana. Además las fundamentales respaldan esta subida del Oro, la caída del USD empuja al Oro como un activo de refugio.
El oro lo mas probable es que consolidará por encima de los 1750$ buscando ganar mas fuerza alcista para lograr repuntar hasta los 1800$, donde debemos tener nuestro Take Profit. Cualquier retroceso entre estas zonas de precios debemos considerarlas como una entrada valida al alza, solo una ruptura por debajo de 1750$ podría indicarnos un cambio de tendencia a bajista en el corto plazo, por lo tanto recomendaría colocar los Stop Loss por debajo de esa zona.
Espero esta información les sea de utilidad amigos traders. Las mejores de las probabilidades para ustedes 💪📈.
Descargo de responsabilidad
La información que se ofrece en este artículo es sólo mi análisis y opinión personal. Asegúrese de hacer su propio análisis e investigación. Operar con criptomonedas, divisas, materias primas, etc, es arriesgado.