EUR/USD analysis for May 21 and April 30 results
What's up investor friends?
Congratulations to those of you who followed my past EUR/USD analysis closely. If you decided to buy in the zone I proposed on April 30, you came out winners with a 4 to 1 win/loss ratio trade.
On April 30 I proposed a very nice bullish scenario for this pair, we just had to be patient and wait for the price action to give us the entry. Here are the results.
Proposed Analysis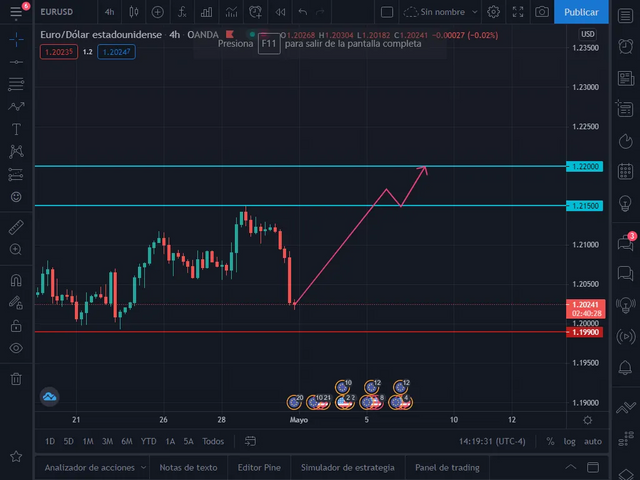 Price had made a bearish rejection at 1.2150 and the bears were taking control in the short term. However, the trend was still bullish, so I proposed to stay bullish and position if the pair went down to 1.2005 - 1.20.
Result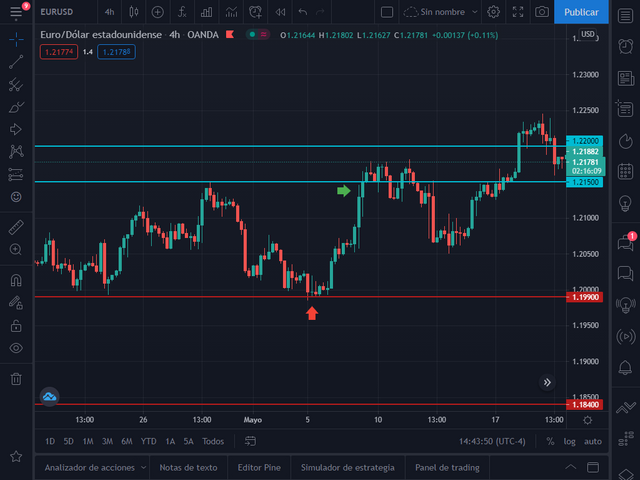 As expected, the pair dropped to 1.20 and we were able to enter at the best point, placing a stop loss below 1.19 risking only 35 pips and placing a take profit at 1.2150, gaining a total of approximately 155 pips.
---
Today's Analysis
The pair has been in a steady uptrend for about 2 months now. It has been breaking resistance after resistance and is currently in a key area on daily candles.
1-day candles
As you can see, this is a very important and decisive area for our long-term objectives. At the moment there is a battle between bulls and bears in the short term, and I personally believe that the bulls will win.
Fundamental news affects the Euro in the best way. Everything bad that is happening with the Dollar is positively affecting the other currency pairs.
I think we should remain bullish in favor of the trend and the news. At the moment the pair is at 1.2180 and it is a good area to establish positions. A stop below 1.2150 would be ideal risking only 35 pips and Take Profit at 1.2250, which will be our next ceiling to break.
I hope you find this information useful colleagues. Best of probabilities to you 📈💪.
Disclaimer
The information given in this article is only my analysis and personal opinion. Be sure to do your own analysis and research. Trading cryptocurrencies, forex, commodities, etc, is risky.