Summer special Dahi Bhalle (lentil dumpling soaked in curd, sauces and spices!) 21-03-2021
I am again here with one more Indian traditional recipe called Dahi Bhalle or Dahi Vade. This recipe is exclusively prepared for SteemFoods.
Dahi is curd, traditionally made with animal milk but here I used plant-based vegan curd made of peanut milk.
Bhalle or Vade is a lentil dumpling made by deep-frying lentil paste usually black gram or moong dal.
Let's have a look at the delicious Dahi Vade before going into the procedure.
---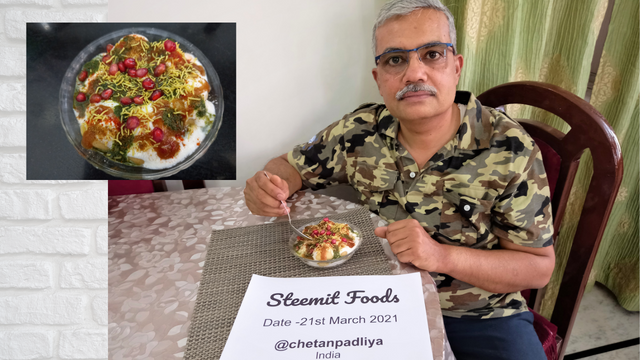 ---
Ingredients required
6 servings
Moong dal yellow 2 cups
Vegan Curd, here I used peanut curd 1 kg
Sugar 1/4 cup
Oil for frying Vadas
For Sweet tamarind sauce
Tamarind 1/2 cup
Pitted dates 1/2 cup
Sugar and salt as required
For Spicy ming and coriander sauce
Fresh coriander leaves 1 bunch
Fresh mint leaves 1/4 of coriander
Green chillis 2-3 nos
For garnishing
Pomegranate 1 medium size
Sev (It is a type of savoury fried noodles)
Spices like red chilli powder, salt and roasted cumin powder.
| | |
| --- | --- |
| Lentils | Tamarind and dates |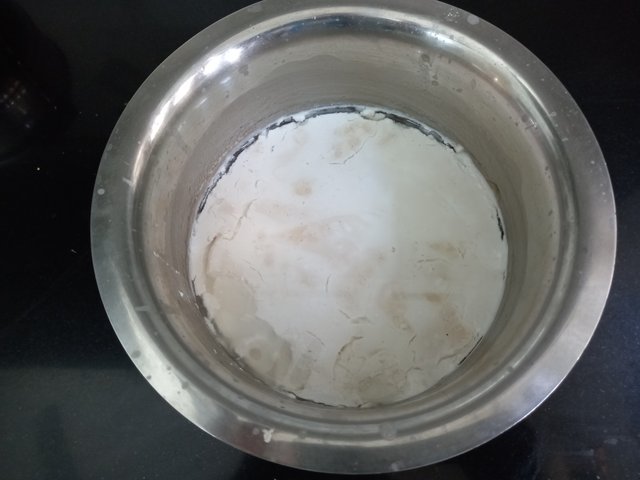 Peanut Curd
---
Procedure
Making of Bhalla
Wash thoroughly and soak moong dal (lentils) for at least 2 hours.
Make a thick batter, add water cautiously if required while grinding. The thin batter will not work here.
Add grated ginger, cumin seeds and salt to taste.
Whisk in one direction for about 5 minutes, it will help to make the batter fluffy.
Heat oil in a kadhai or heavy bottom pan.
Make fritters of this batter on medium flame. The high or low flame will not make appropriate fritters. These fritters are called Bhalla here.
Once all fritters prepared cool down to room temperature and then soak into lukewarm water for about an hour. Make sure all immersed in the water.
Change the water after an hour and keep soaking for one more hour.
Making of Tamarind Sauce
It is sweet and sour in taste
| | |
| --- | --- |
| Tamarind and dates | Paste |
Remove all seeds from tamarind and dates if there is any.
Cook in water for 10 minutes and cool down to room temperature.
Add sugar and salt and make a paste in a grinder. Pass through the sieve to get a uniform thick paste. Add water to adjust the consistency.
Making of coriander and mint sauce
It is spicy
Wash coriander mint and green chillis, blend with little water to make a thick paste. Add salt to taste and water to adjust the consistency.
Preparing curd
Add sugar and salt to the curd and whisk to make it of smooth consistency. Keep aside or in the fridge.
Now all items of the recipe are ready like this-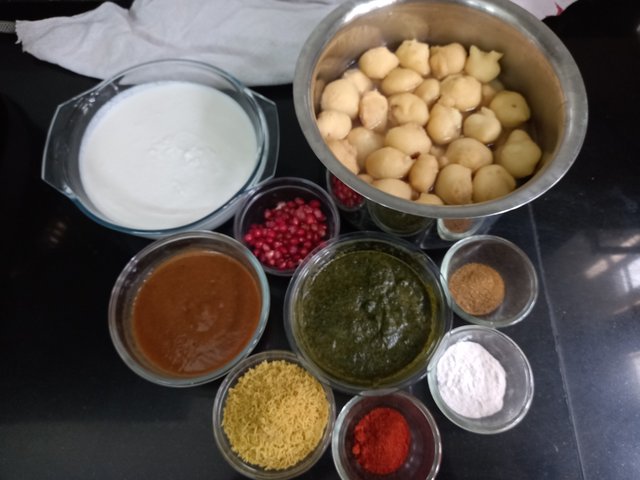 Just you have to assemble all these
First, squeeze Bhallas slightly and arrange it on a plate.
Pour curd then both sauces one by one.
Sprinkle salt, red chilli powder and roasted cumin.
Garnish with Sev and pomegranate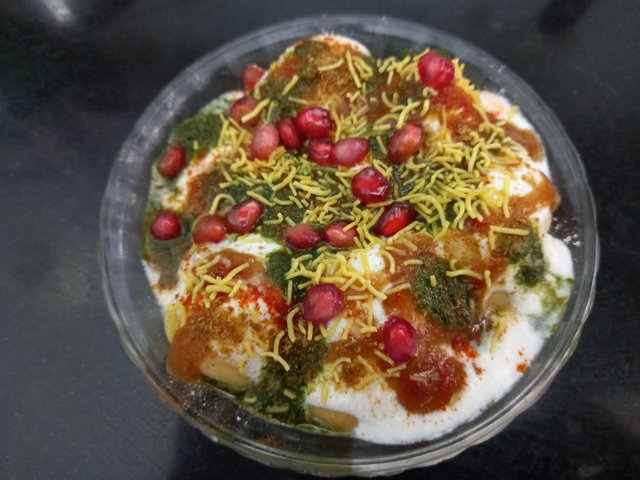 This amazingly delicious sweet, sour and spicy recipe Dahi Bhalla is ready to enjoy!!!
Thanks to @steemcurator01 and @alikoc07 for your kind support!