Almuerzo rápido de sardinas, patacones, arroz y ensalada | Quick lunch of sardines, patacones, rice, and salad | ENG-ESP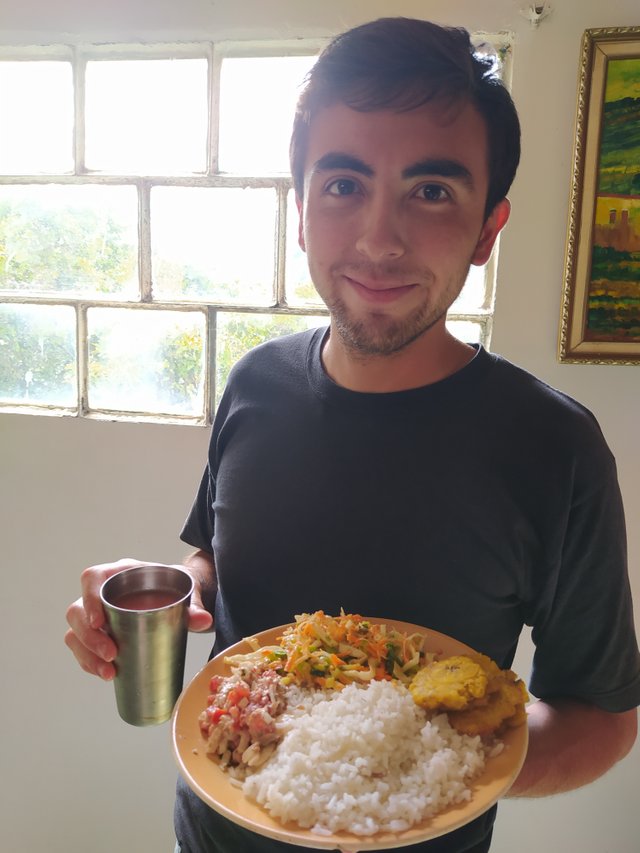 ---
Buenas amigos de steemit, espero que tanto a ustedes como a vuestra familia les vaya de lo mejor, hoy vengo a presentarles una receta de un almuerzo típico de Venezuela, de la región de los andes. Estos ingredientes los puedes conseguir en cualquier tienda de víveres, supermercado o abastos comunes, e inclusive al alcance en vuestras casas. La Comida que preparé es arroz, ensalada cruda, sardina fría con tomate y cebolla y patacones.
Good friends of steemit, I hope you and your family are doing great, today I come to present you a recipe for a typical Venezuelan lunch, from the Andes region. You can get these ingredients in any grocery store, supermarket or common grocery stores, and even within reach in your homes. The Meal I prepared is rice, raw salad, cold sardine with tomato and onion and patacones.
---
🍴Ingredientes: |🍴Ingredients:
1 ½ taza de arroz.
1 ½ Cebollas grandes.
1 trozo de pimentón (no tan grande).
8 dientes de ajo.
1/4 de repollo.
2 Zanahorias grandes.
2 ajo porros medianos.
1 lata de sardina pequeña.
2 tomates grandes.
Cilantro.
2 plátanos verdes .
Sal.
Azúcar.
Mayonesa.
Mostaza.
Vinagre.
Aceite de soya.
1 ½ cup of rice.
1 ½ large onion.
1 piece of bell pepper (not so big).
8 cloves of garlic.
1/4 cabbage.
2 large carrots.
2 carrots per medium.
2 medium garlic sticks.
1 small can of sardines.
2 large tomatoes.
Cilantro.
2 green bananas.
Salt.
Sugar.
Mayonnaise.
Mustard.
Vinegar.
Soybean oil.
---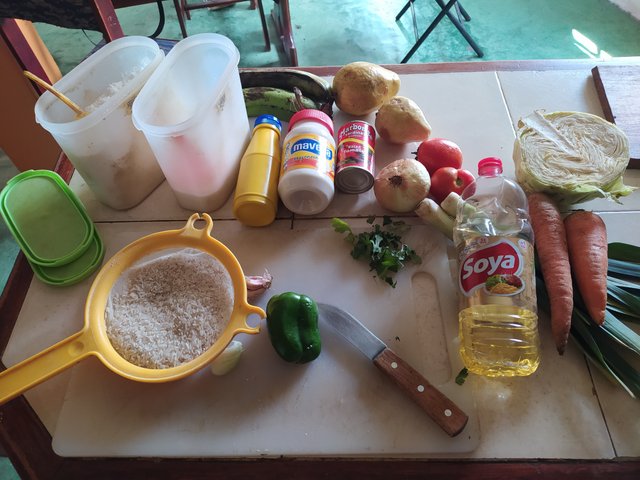 ---
🍚Preparación del arroz:| Preparation of the rice:🍚
En primer lugar, tomamos taza y media de arroz y lo limpiamos, le extraemos cualquier tipo de impurezas (granos negros o de colores extraños, rocas pequeñas, semillas, gusanos). Luego proseguimos a lavarlo en un envase con ayuda de nuestras manos, y lo escurrimos con un colador, repetir este paso por tres veces (esto ayuda a que el grano pierda mucha suciedad y un poco su almidón, así no se nos unirá), mientras los granos escurren, lavamos media cebolla, el trozo de pimentón y 4 cabezas de ajo, seguidamente, en una tabla de picar, con mucho cuidado y precaución, con un cuchillo, cortamos la cebolla y el pimentón en corte jardinera o brunoise (pequeños cuadritos) y machacamos el ajo, después, encendemos la cocina y colocamos una olla con una pequeña cantidad de aceite( 20-30 ml) , luego añadimos todo lo que cortamos, más el arroz y la sal al gusto y empezamos a sofreír, luego de unos segundos sofriendo y que se note que ha dorado un poco, procedemos a añadir el agua ( por 1 taza y media de arroz, son tres tazas de agua). Cuando notas que el nivel de agua disminuye más que el de arroz, bajas la llama, a que este muy poquita y lo dejas secar por unos 15 min más y estará listo.
First of all, we take cup and a half of rice and clean it, we extract any kind of impurities (black or strange colored grains, small rocks, seeds, worms). Then we proceed to wash it in a container with the help of our hands, and drain it with a strainer, repeat this step three times (this helps the grain to lose a lot of dirt and a little starch, so it will not stick together), while the grains drain, we wash half an onion, the piece of paprika and 4 heads of garlic, then, on a chopping board, with great care and caution, with a knife, then, we cut the onion and the paprika in garden cut or brunoise (small squares) and crush the garlic, then, we turn on the stove and place a pot with a small amount of oil (20-30 ml), then we add everything we cut, plus the rice and salt to taste and begin to fry, after a few seconds frying and you notice that it has browned a little, we proceed to add the water (for 1 cup and a half of rice, it is three cups of water). When you notice that the level of water decreases more than the level of rice, lower the flame so that it is very little and let it dry for about 15 minutes more and it will be ready.
---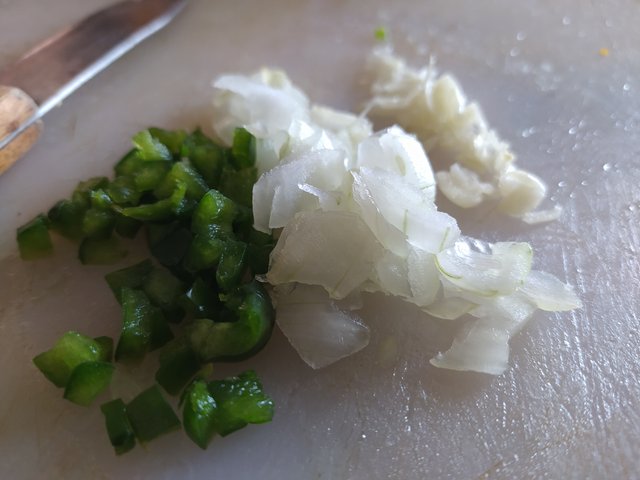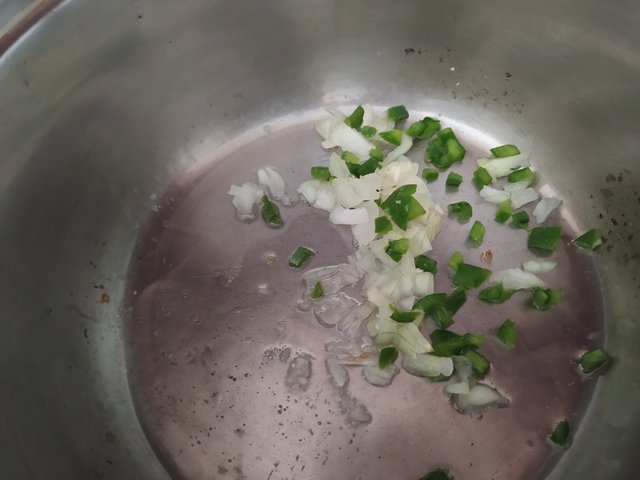 ---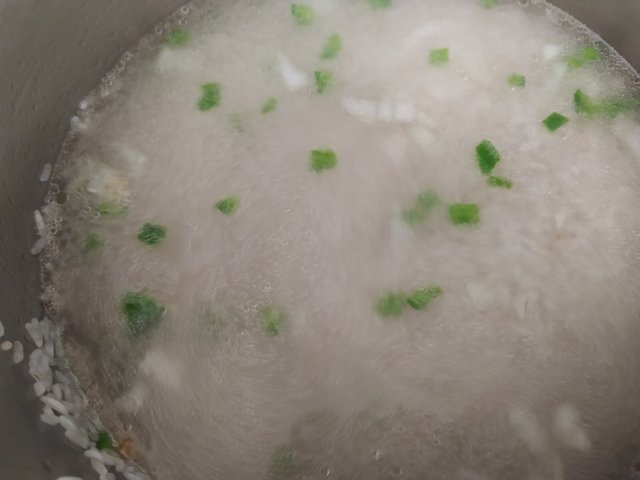 ---
🥗Preparación de la ensalada cruda | Preparation of the raw salad🥗
Empezaremos tomando todos los vegetales y lavándolos muy bien, abriendo el repollo y el ajo porro con un cuchillo y lavando hoja por hoja para retirar la tierra, luego en un envase con agua y vinagre, dejarlos por 15 min. Mientras esperas los 15 minutos vas pelando la zanahoria, le retiraras la parte de los dos extremos y la concha, luego vas a rallarla en el envase donde vas a prepararla, de igual manera vas a rallar media cebolla y los 4 dientes de ajo, luego de superar los 15 minutos, vas a retirar el repollo y el ajo porro del vinagre y lo vas a escurrir, luego empezaras a cortarla a la juliana (tiras largas y finas) y el cilantro al gusto cortado a la chifonada (corte más pequeño que la juliana) y luego unes todo en el envase donde rallaste los otros vegetales, luego añadir sal, mayonesa y mostaza al gusto y una cucharada de azúcar, y ya estará terminada la ensalada.
We will start by taking all the vegetables and washing them very well, opening the cabbage and the garlic with a knife and washing leaf by leaf to remove the soil, then in a container with water and vinegar, leave them for 15 minutes. While you wait the 15 minutes you will peel the carrot, remove the part of the two ends and the shell, then you will grate it in the container where you are going to prepare it, in the same way you will grate half an onion and 4 cloves of garlic, after 15 minutes, you will remove the cabbage and the garlic from the vinegar and you will drain it, then you will begin to cut it julienne (long and thin strips) and the coriander to taste cut to the chiffonade (smaller cut than the julienne) and then join everything in the container where you grated the other vegetables, then add salt, mayonnaise and mustard to taste and a spoonful of sugar, and the salad will be finished.
---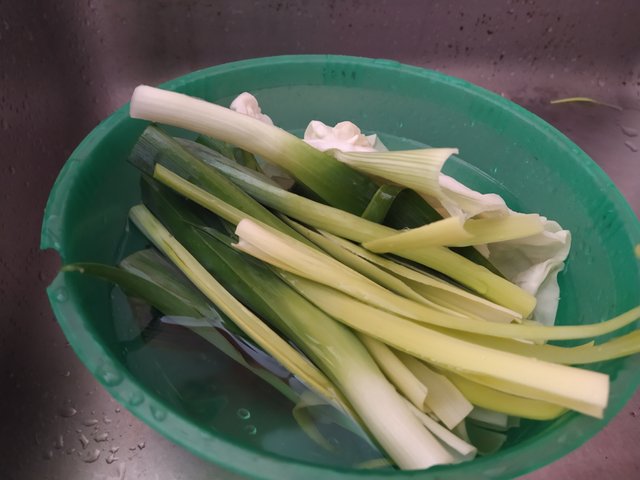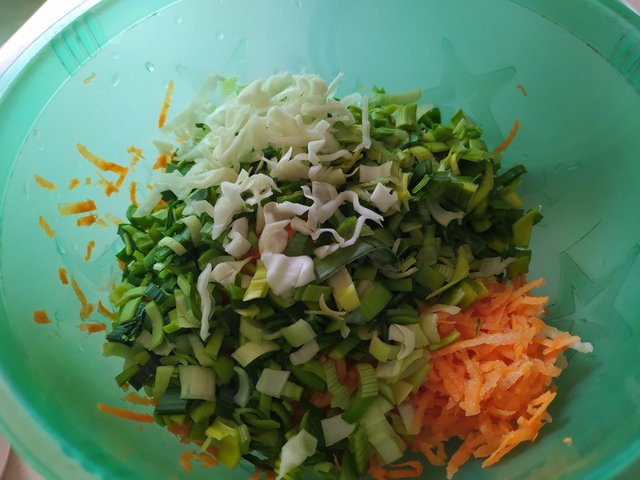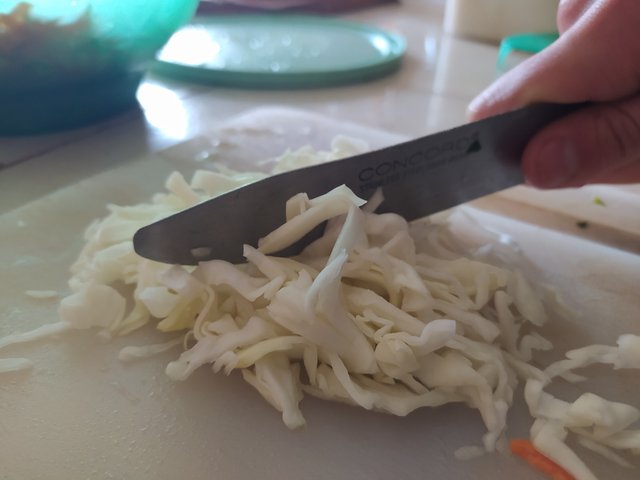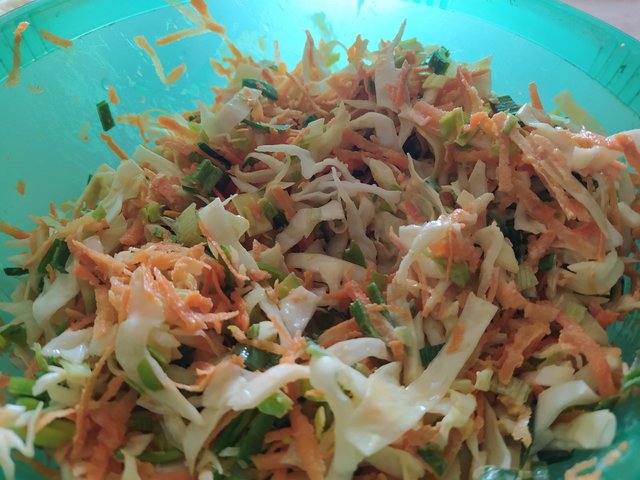 ---
🐟Preparación de la sardina | Preparation of the sardine🐟
Comenzaremos, lavando muy bien los tomates y la última mitad de cebolla, y en la tabla para picar, le extraemos las semillas al tomate y lo cortaremos a la jardinera (cuadros pequeños de 6mm aprox.), al igual que el cilantro al gusto, lo vaciamos en una taza para la sardina, luego, con un abrelatas, con cuidado, abrimos la lata y sacamos la sardina, la cual con cuidado, proseguiremos con el cuchillo a abrirla por la mitad para extraerle, el espinazo y las tripas, posteriormente de limpiarlas, las colocaremos en el envase junto al tomate, la cebolla y el cilantro y le añadiremos, mayonesa y sal al gusto y la guardaremos en la nevera, ya está terminada.
We will begin by washing the tomatoes and the last half of the onion very well, and on the chopping board, we will remove the seeds from the tomato and cut it into small squares of about 6 mm. ), as well as the coriander to taste, we empty it into a cup for the sardine, then, with a can opener, carefully, we open the can and take out the sardine, which we will carefully, with the knife, continue to open it in half to extract it, After cleaning them, place them in the container together with the tomato, onion and cilantro and add mayonnaise and salt to taste and store in the refrigerator, it is finished.
---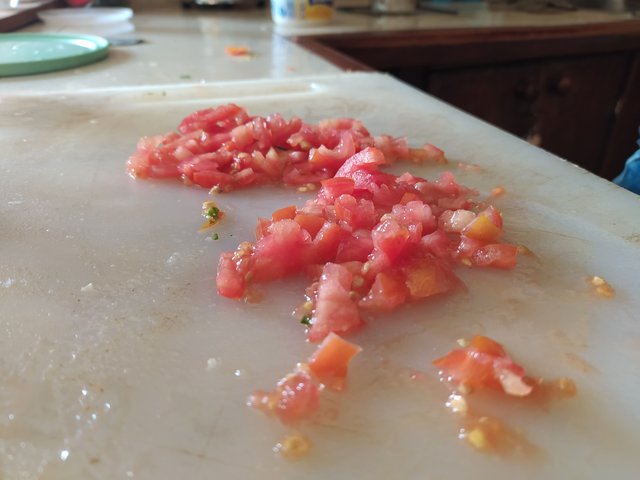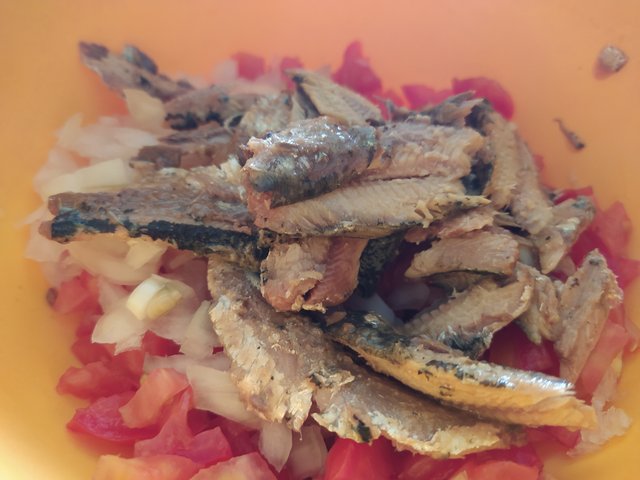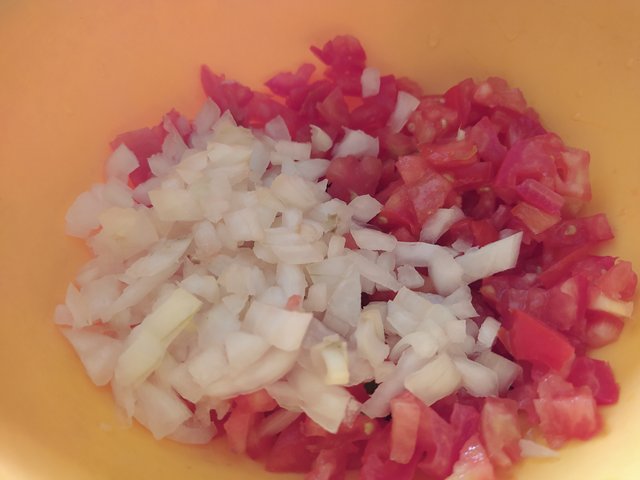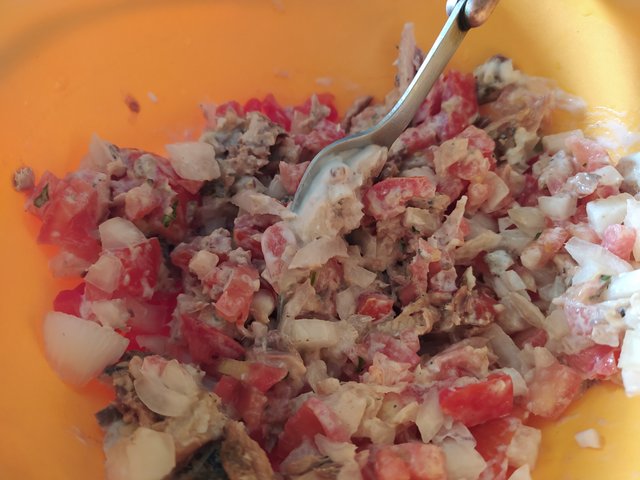 ---
🍌Preparación de los patacones | Preparation of the patacones🍌
Ante todo, iniciamos quitándole la concha al plátano verde y dejando la pulpa, luego, cortaremos de forma que son rodajas gruesas, de alrededor de 3 cm de grosor cada rodaja, la comenzaremos a freír en un caldero con aceite, luego de que ya estén doradas , las retiraremos y las aplastaremos para que queden finas y la volveremos a colocar en el caldero, cuando estén marrones, las retiraremos y le aplicaremos sal al gusto y estarán listas para añadir al plato.
First of all, we begin by removing the shell from the green plantain and leaving the pulp, then, we will cut them so that they are thick slices, about 3 cm thick each slice, we will begin to fry them in a pot with oil, after they are already browned, we will remove them and crush them so that they are thin and we will put them back in the pot, when they are brown, we will remove them and we will apply salt to taste and they will be ready to add to the dish.
---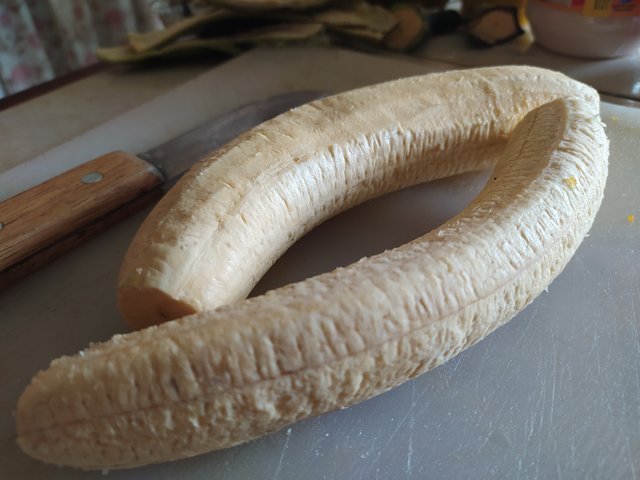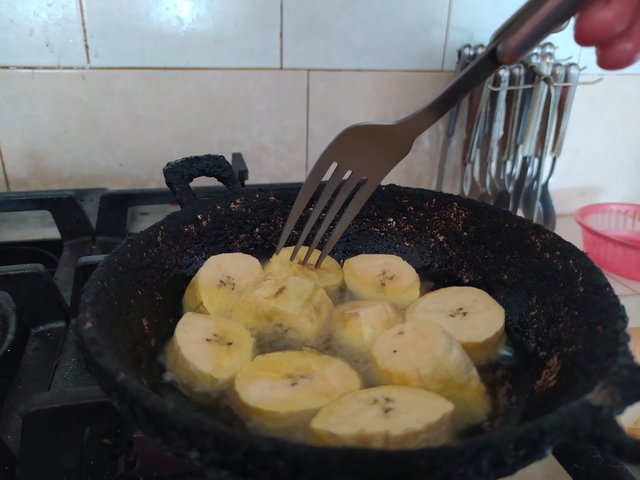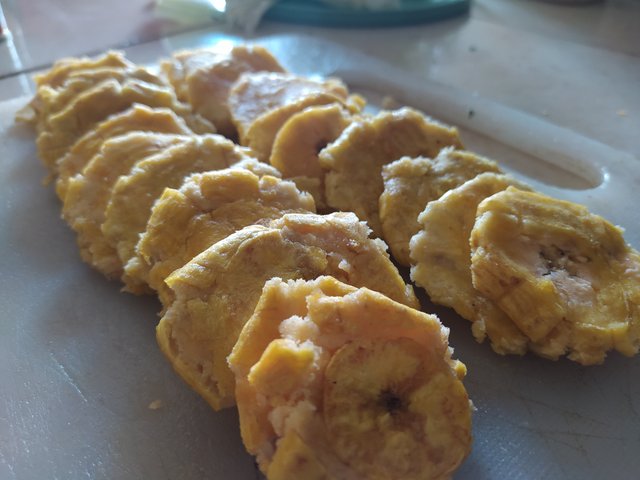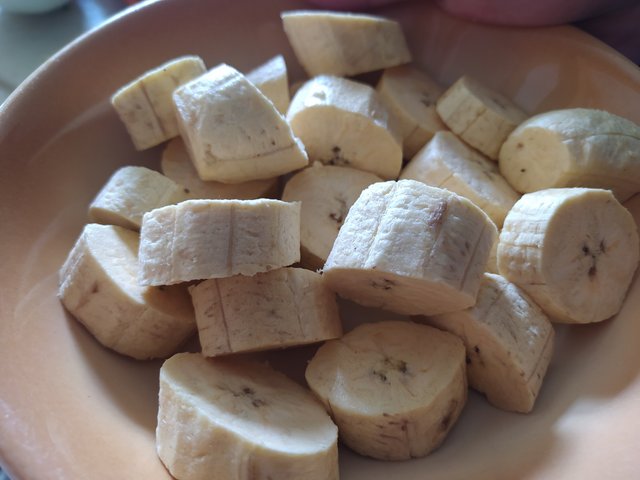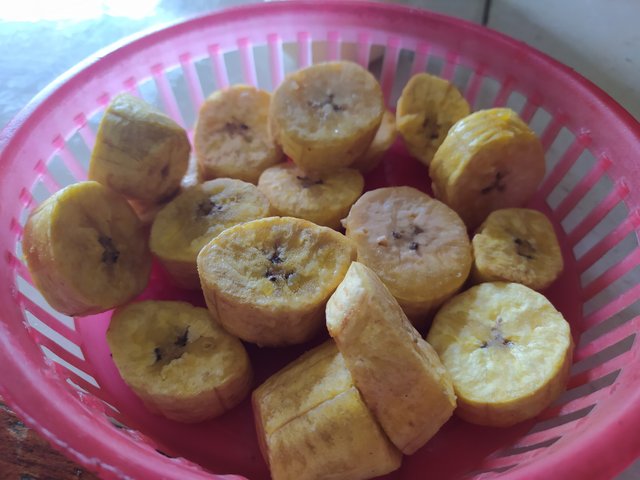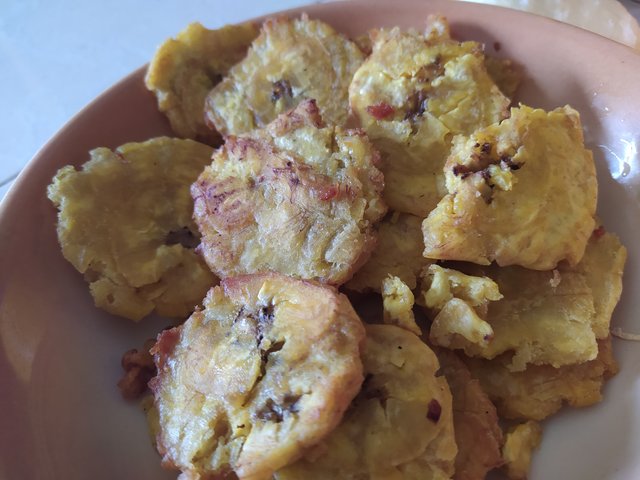 ---
De esta manera preparas un rico almuerzo para ti y 4 personas más, yo lo consumí con un delicioso jugo de guayaba, disfrutaras con tu paladar a la hora de probarlo, se los aseguro!. Espero que puedan realizarla y que la disfruten, seguiré posteando recetas que vaya preparando, sea de comida típica venezolana o internacional, y que sigamos apoyando un arte, que es entre los más antiguos, grandiosos y extensos de todos. Que tengan un feliz día y que se sigan portando bien, cuídense mucho, un abrazo. Chau, chau!
This way you prepare a delicious lunch for you and 4 more people, I consumed it with a delicious guava juice, you will enjoy with your palate when you taste it, I assure you! I hope you can make it and enjoy it, I will continue posting recipes that I will be preparing, whether of typical Venezuelan or international food, and that we continue to support an art, which is among the oldest, great and extensive of all. Have a happy day and keep on behaving well, take care of yourselves, a hug, bye, bye.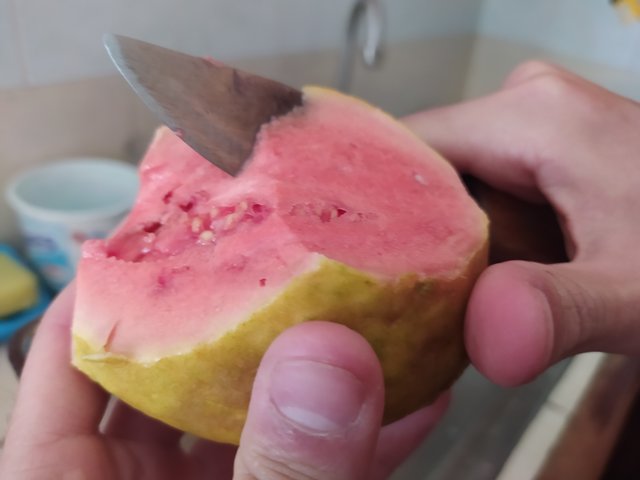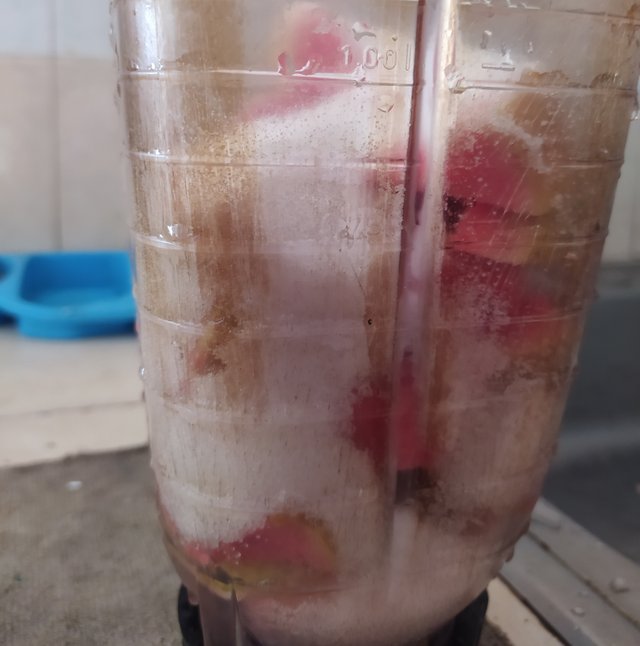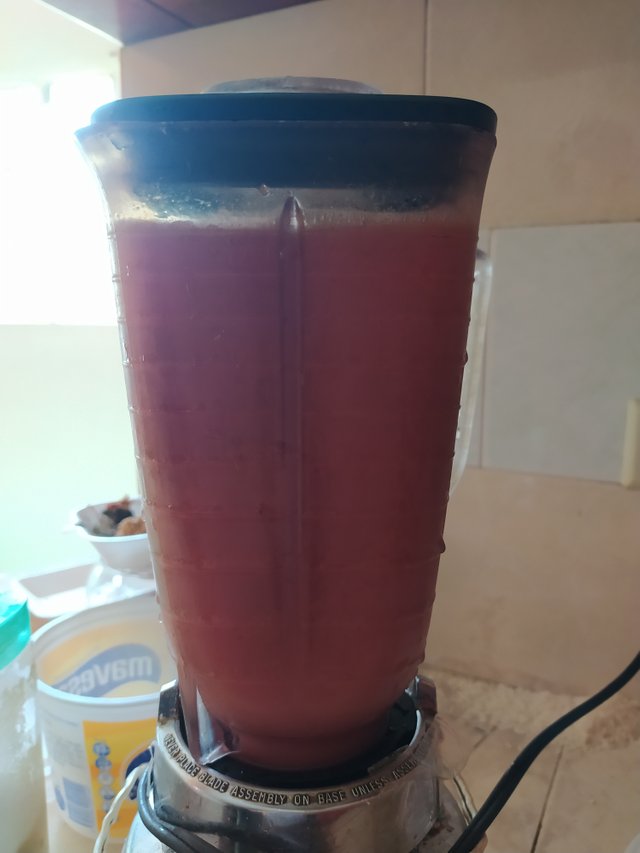 ---
Final | The End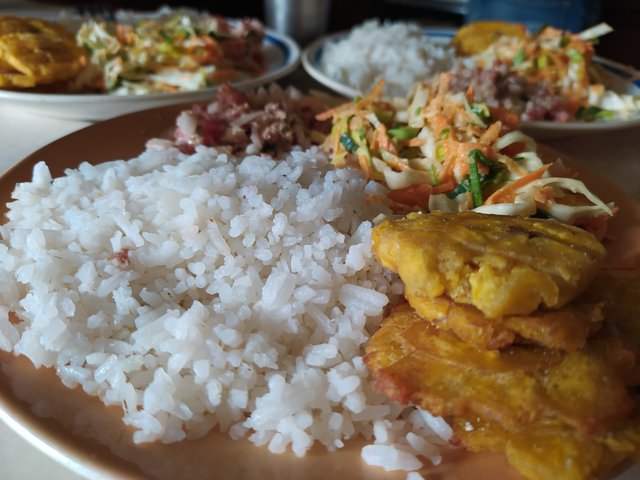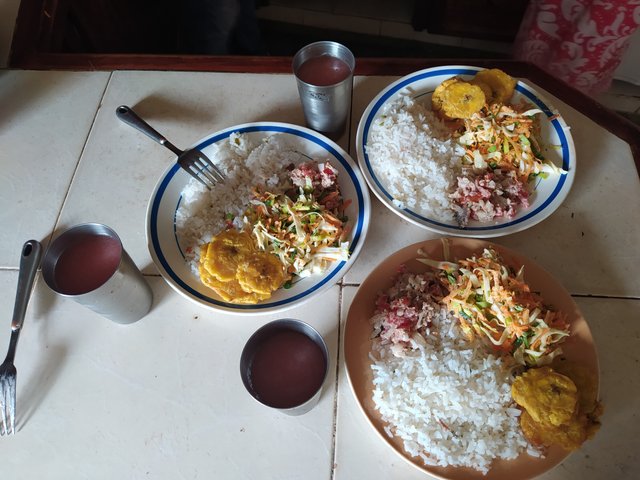 ---
Saludos a este gran equipo de steemit ,
@steemfoods
,
@alikoc07
,
@steemcurator01
,
@steemcurator02
,
@steemcurator06
,
@booming03
, gracias por tanta ayuda mil bendiciones.
Greetings to this great team of steemit , @steemfoods , @alikoc07, @steemcurator01,@steemcurator02,@steemcurator06, @booming03, thanks for so much help thousand blessings.
---
Todas las fotos fueron tomadas con mi teléfono Xiaomi Redmi 7 en Mérida, Venezuela.