[ESP-ENG] Vegetarian burgers | Hamburguesas vegetarianas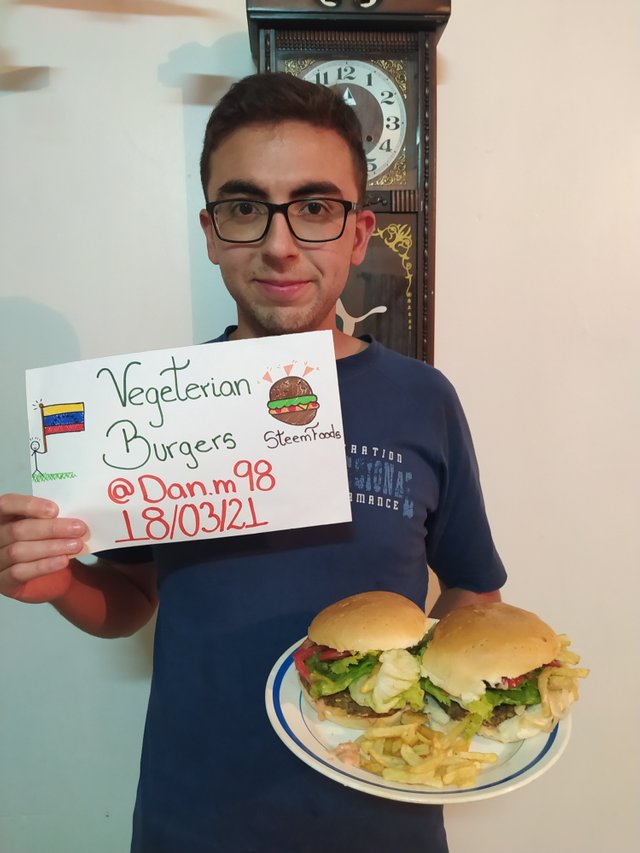 ---
Hey amigos de steemit, espero que esten de maravilla tanto ustedes, como vuestra familia, que les vaya de lo mejor y lo más bonito en sus vidas, hoy vengo a presentarles una comidita que he preparado para aquellas personas que prefieren apartar su paladar de las carnes. Les enseñaré como preparar unas hamburguesas vegetarianas, para que degusten y disfruten junto a sus seres queridos o incluso solos. La presente receta es para preparar 8 Hamburguesas.
Hey steemit friends, I hope you and your family are doing great, I hope you are doing the best and the most beautiful in your lives, today I come to present a little meal that I have prepared for those who prefer to keep their palate away from meats. I will show you how to prepare some veggie burgers, so you can taste and enjoy with your loved ones or even alone. This recipe is to prepare 8 burgers.
---
🍔 Ingredientes 🍔 | 🍔 Ingredients🍔
---
8 Panes de Hamburguesas.
300g de lentejas.
1 Lechuga pequeña.
4 papas medianas.
2 Tomates grandes.
2 Cebollas grandes.
4 Cebollín.
1/2 Pimentón grande.
15 Dientes de ajos.
2 Ají dulce.
Cilantro al gusto.
Curri al gusto.
Orégano al gusto.
Onoto Molido al gusto.
Adobo al gusto.
Aceite.
Mayonesa.
Salsa de tomate.
Mostaza.
Sal.
Azúcar.
Vinagre.
4 huevos.
8 Hamburger Buns.
300g of lentils.
1 small lettuce.
4 medium potatoes.
2 large tomatoes.
2 large onions.
4 Chives.
1/2 large paprika.
15 garlic cloves.
2 sweet chili.
Cilantro to taste.
Curri to taste.
Oregano to taste.
Grinded hominy to taste.
Adobo to taste.
Oil.
Mayonnaise.
Tomato sauce.
Mustard.
Salt.
Sugar.
Vinegar.
4 eggs.
---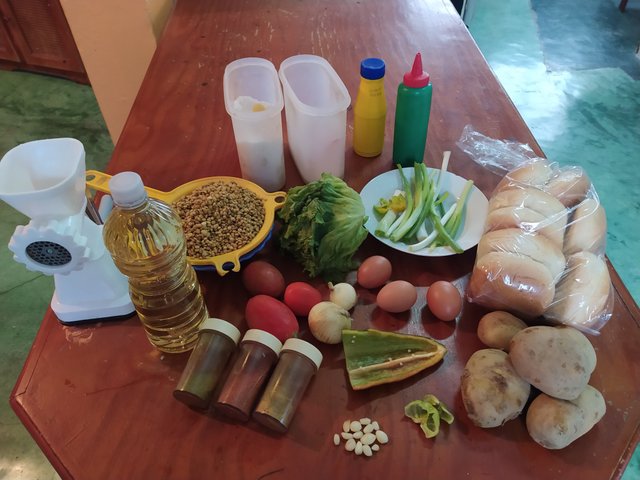 ---
👨🏻‍🍳 Preparación 👩🏻‍🍳
---
Primero, tomaremos los 300g de lentejas, lo vamos a limpiar y retirar las impurezas, Seguidamente las vamos a lavar en una taza con agua y le botaremos esta agua, la volveremos a llenar de agua la taza con las lentejas y la dejaremos por alrededor de 1 hora.
First, we will take the 300g of lentils, we will clean them and remove the impurities, then we will wash them in a cup with water and we will throw this water away, we will fill the cup with water again with the lentils and we will leave it for about 1 hour.
---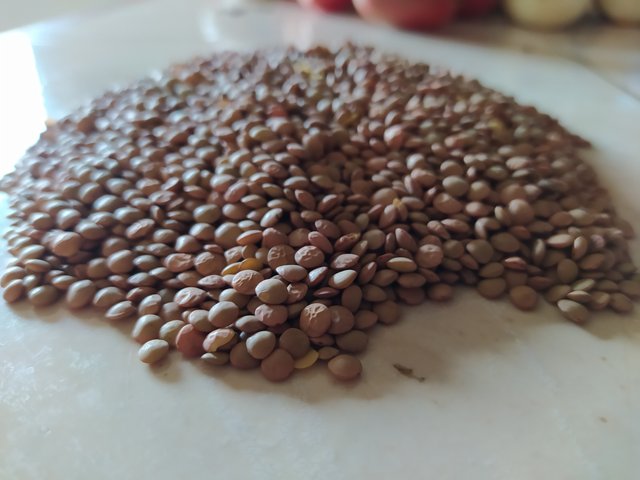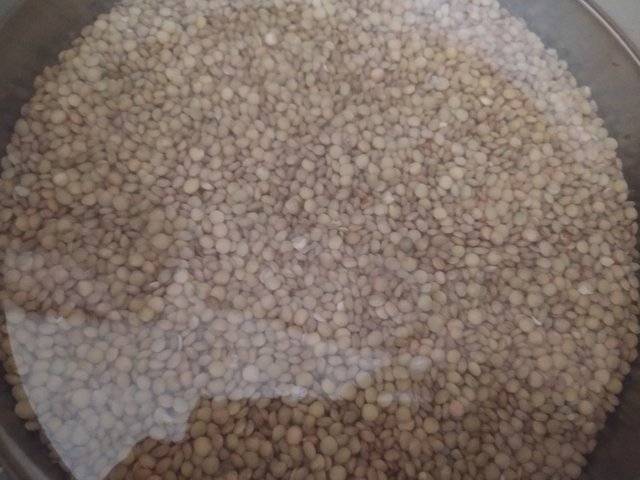 ---
Pasada la hora en remojo, le retiraremos el agua y dejamos los granos escurriendo en un colador, mientras procedemos a lavar y a picar en cuadritos pequeños 1 cebolla, 1/2 pimentón, las 4 cebollas largas, los 2 ají dulces, los 15 dientes de ajo y el cilantro al gusto. En un molino casero de carne (si no posees uno, puedes hacerlo en la licuadora y le añades un chorrito de agua) vas a empezar a moler poco a poco la lenteja con todos los vegetales y los frutos. En el momentos de moler todo, vas a colocar la mezcla en la taza y vas a añadir todos los aliños (especias) al gusto y la sal y con vas a revolver todo y está es la carne vegetariana, ahora vas a hacer la forma plana y redonda para freírla o asarla, yo la freí con poco aceite. Luego lavaremos las papas, la pelaremos y picaremos en tiras, y las freiremos en otro sartén con aceite hasta que esten doradas, de igual manera, vamos a freír los 4 huevos y los picaremos por la mitad.
After the hour of soaking, remove the water and leave the grains to drain in a colander, while we proceed to wash and chop into small cubes 1 onion, 1/2 bell pepper, 4 long onions, 2 sweet peppers, 15 cloves of garlic and cilantro to taste. In a homemade meat grinder (if you don't have one, you can do it in the blender and add a splash of water) you are going to start grinding little by little the lentils with all the vegetables and fruits. At the moment of grinding everything, you are going to place the mixture in the bowl and you are going to add all the seasonings (spices) to taste and the salt and with you are going to stir everything and this is the vegetarian meat, now you are going to make the flat and round shape to fry it or roast it, I fried it with little oil. Then we will wash the potatoes, peel and chop into strips, and fry them in another pan with oil until golden brown, in the same way, we will fry the 4 eggs and chop them in half.
---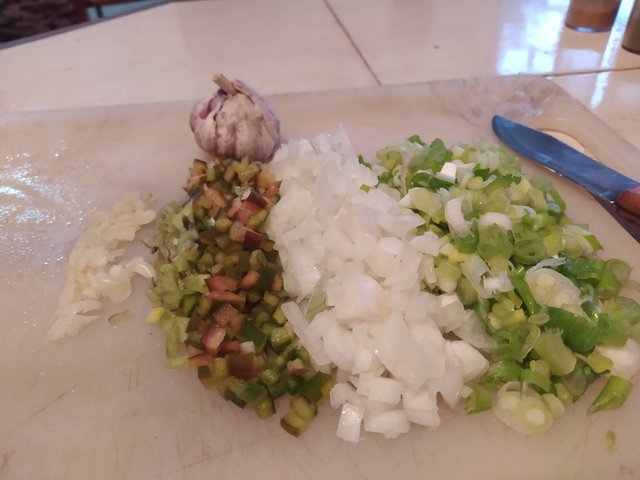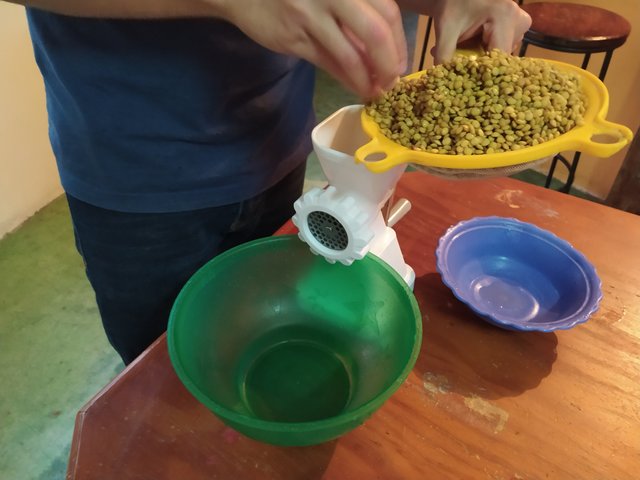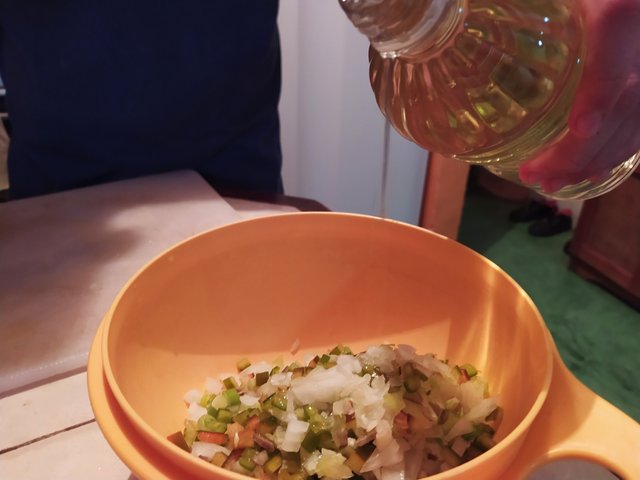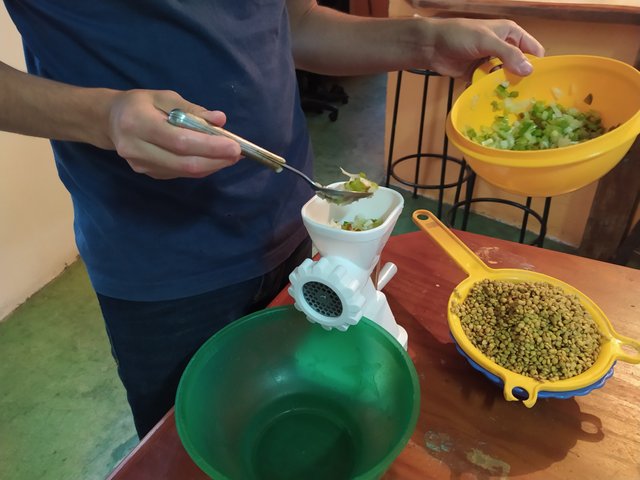 ---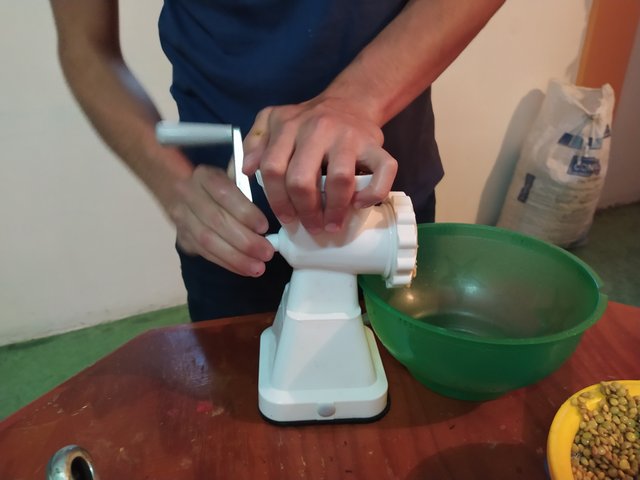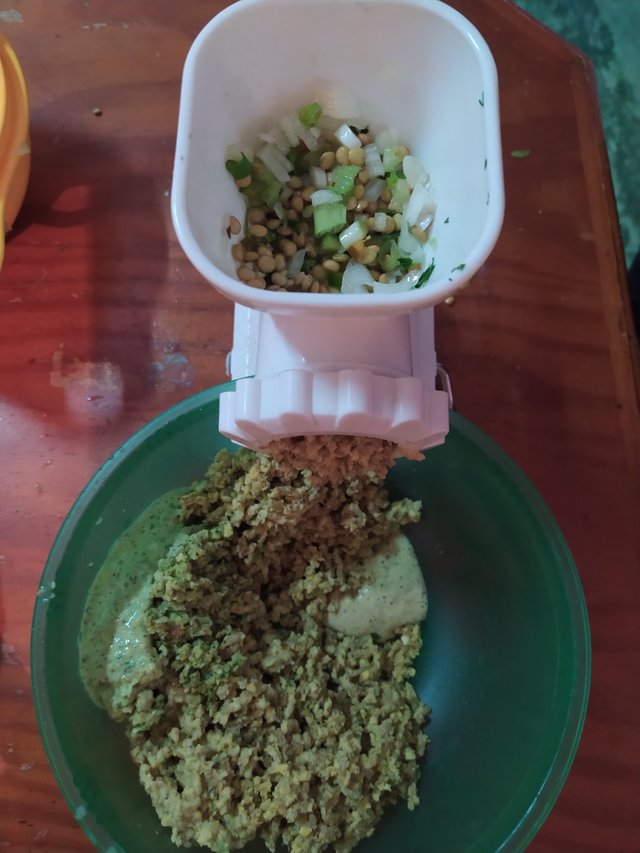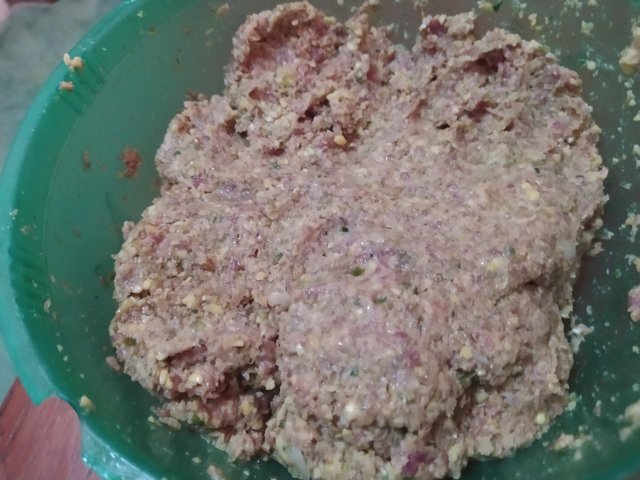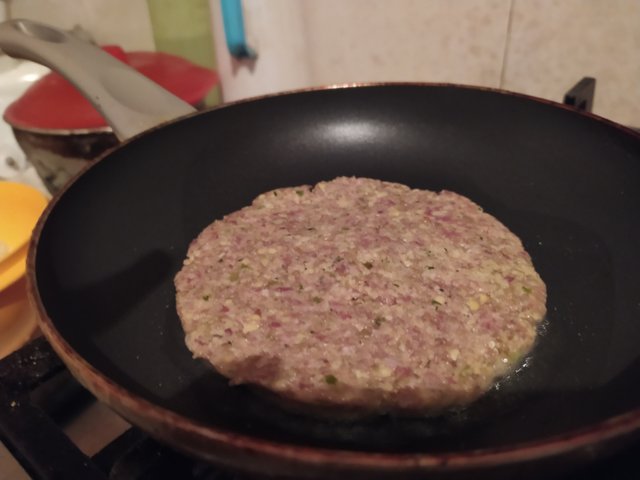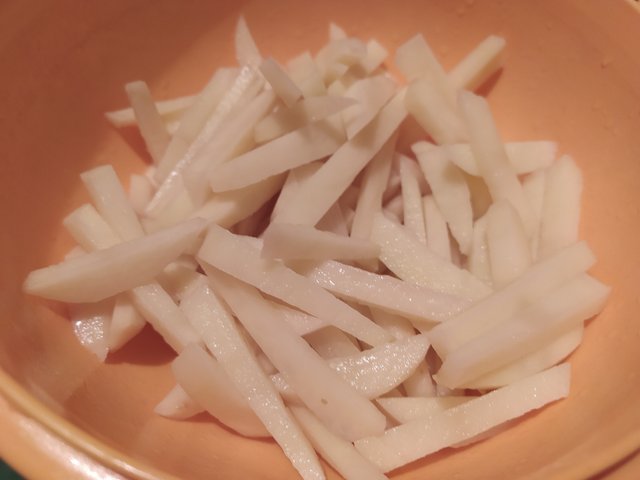 ---
Luego vas a lavar la lechuga y la dejas en agua con vinagre por 10min. Lavar los dos tomates, y la otra cebolla, y picarla en rodajas.La cebolla la vas a freír con poco aceite y le vas a aplicar azúcar al gusto, la vas a freír hasta que esté dorada y ya tendrás las cebollas caramelizadas. Procedemos a picar el pan por la mitad y a las tapas del pan le colocaremos la mayonesa, la salsa de tomate y la mostaza, luego colocaremos la carne de lentejas, luego la mitad de los huevos, la lechuga, unas rodajas de tomate, la cebolla caramelizada, papas fritas y el pan, y ya tendrás listas las hamburguesas.
Then you are going to wash the lettuce and leave it in water with vinegar for 10 minutes. Wash the two tomatoes, and the other onion, and chop it into slices, fry the onion with little oil and apply sugar to taste, fry it until it is golden brown and you will have caramelized onions. We proceed to chop the bread in half and to the bread tops we will place the mayonnaise, ketchup and mustard, then we will place the lentil meat, then half of the eggs, lettuce, tomato slices, caramelized onion, french fries and bread, and you will have the burgers ready.
---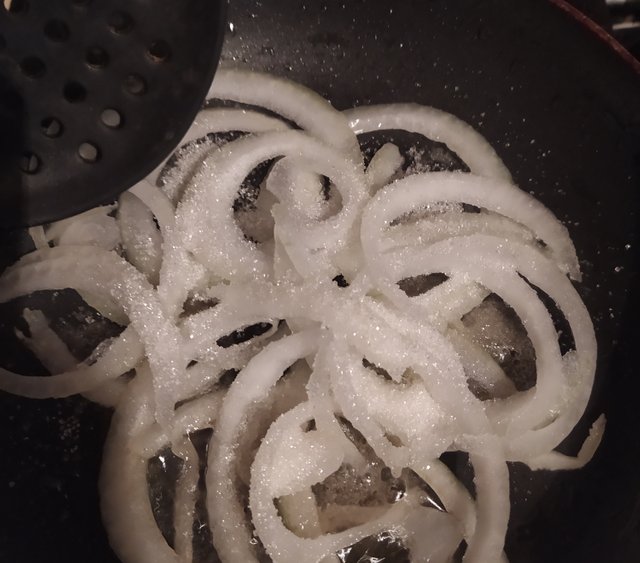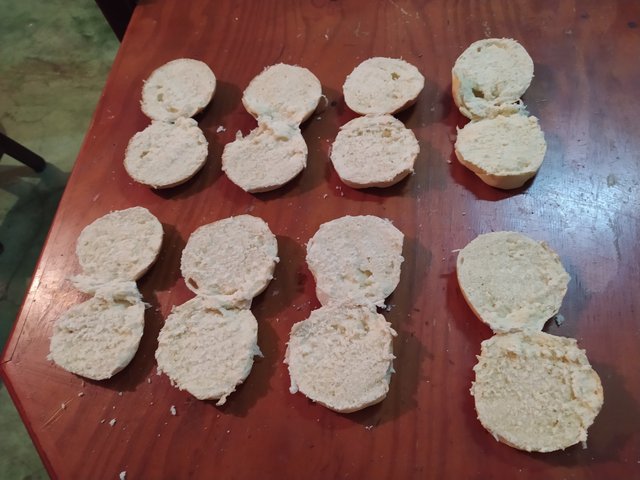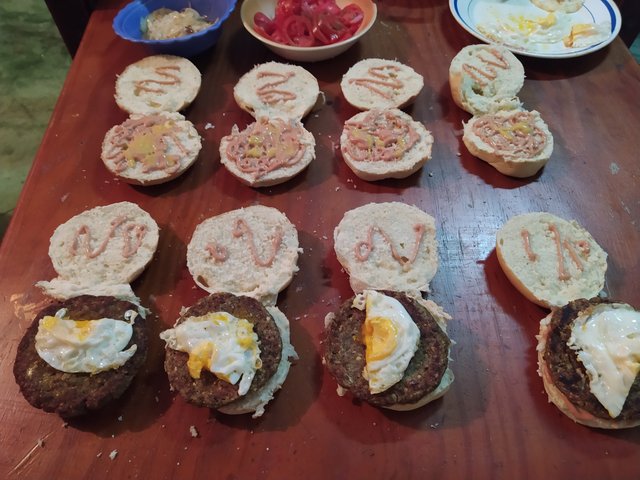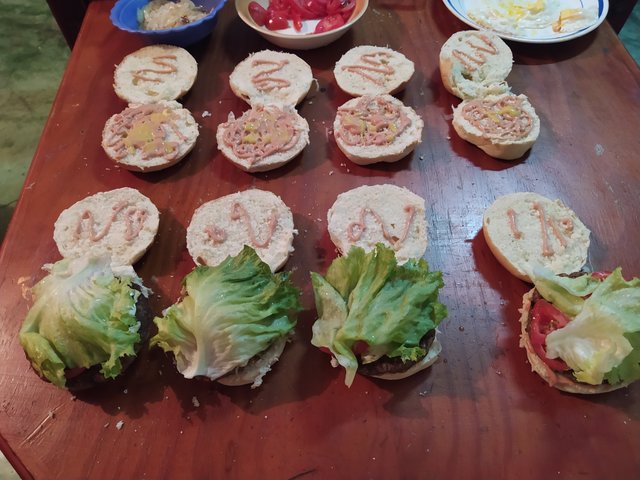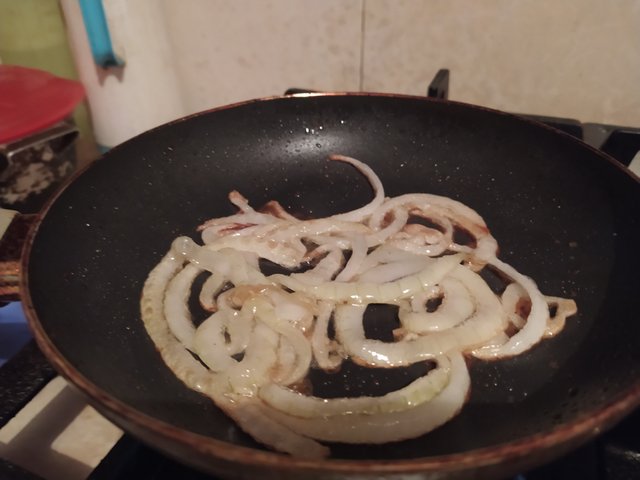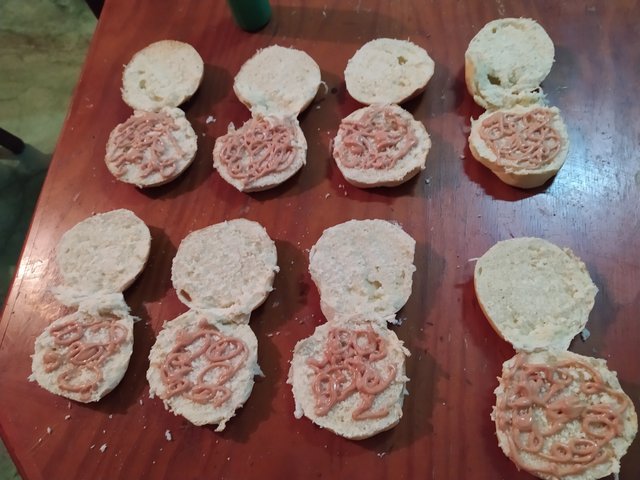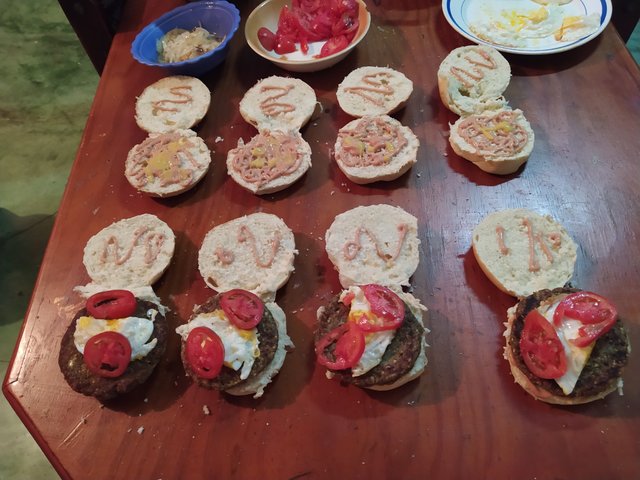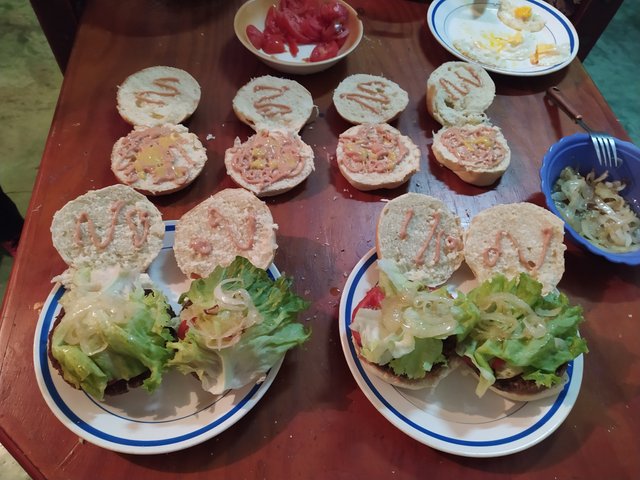 ---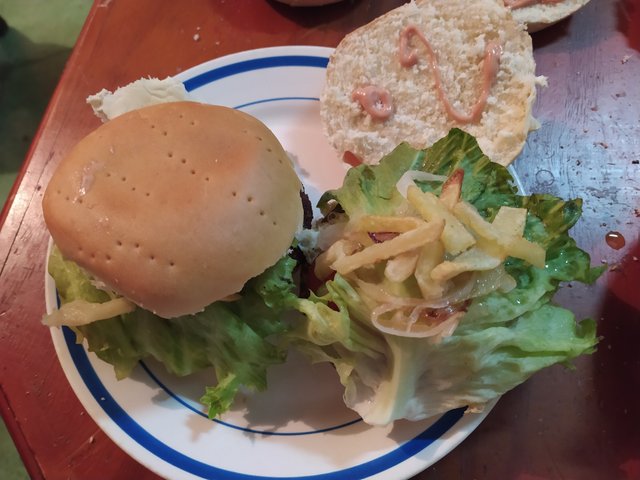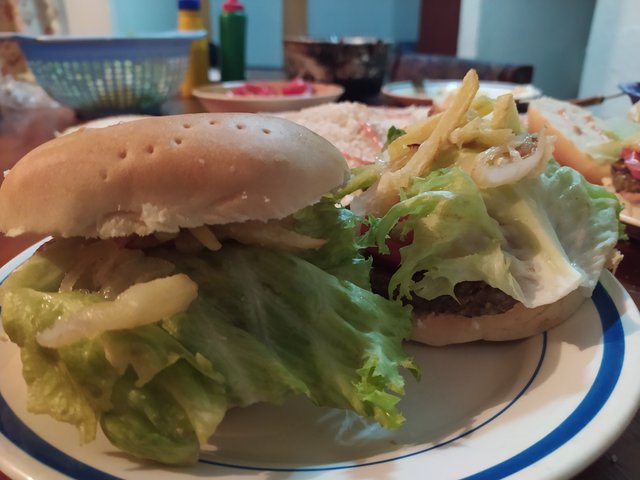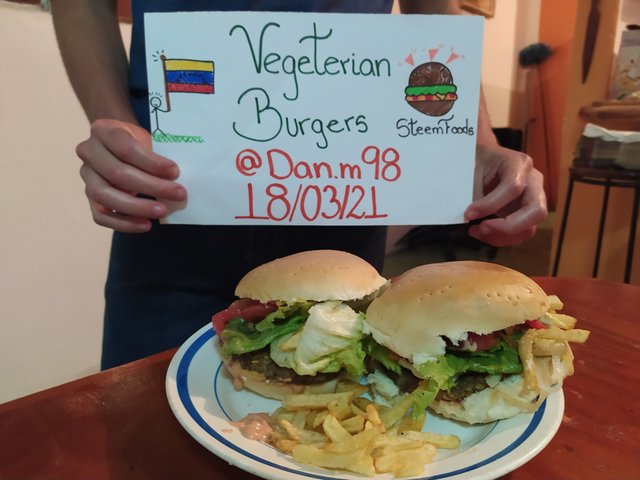 ---
Espero que las preparen y disfruten, un abrazo fuerte y les deseo lo mejor, que tengan un gran fin de semana, que sigan gozando de vida y salud, agradezco muchísimo el apoyo y seguiré posteando más recetas que vaya preparando, cualquier duda, puedes realizarlas que con gusto las responderé, un abrazo fuerte, chau!
I hope you prepare and enjoy them, a big hug and I wish you all the best, have a great weekend, continue enjoying life and health, thank you very much for your support and I will continue posting more recipes that I will be preparing, any questions, you can ask them and I will gladly answer them, a big hug, bye!
---
Todas las fotos son de mi autoría con mi teléfono Xiaomi Redmi 7 en Mérida, Venezuela.
---