(ESP/ENG) Annona Muricata – Guanábana. / Annona Muricata - Soursop.
Hola amigos como les va… ♥♥♥ Hi friends what's happened…
Hoy quiero compartir con ustedes mi primera experiencia probando esta fruta tan extraña. Hace algunos días fuimos al supermercado y cuando pasamos por las frutas, quise probar algo nuevo y escogí la guanábana, porque no la había probado y esto fue lo que aprendimos de esta fruta tan genial.
Today I want to share with you my first experience trying this strange fruit. A few days ago we went to the supermarket and when we went through the fruits, I wanted to try something new and I chose the soursop, because I had not tried it and this is what we learned from this great fruit.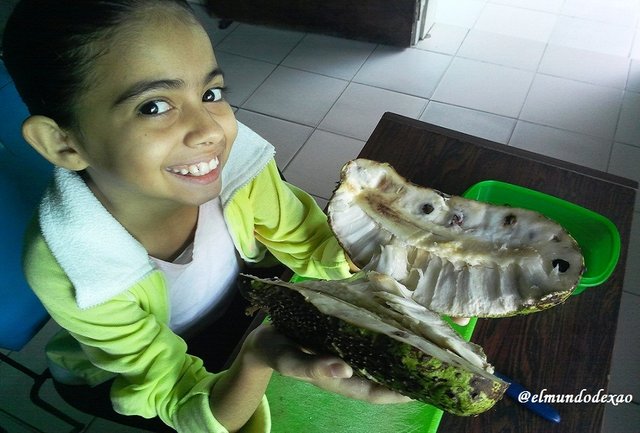 Esta fruta tiene una apariencia como de ¡No me comas! Ya que tiene unas púas o algo parecido, en la frutería creo que también piensan igual ya que les quitan estas púas, como era la primera vez que iba a probarla me aconsejaron escoger una blanda es decir madura.
Se le conoce por varios nombres a lo largo de todas las regiones en las que podemos encontrarla, como por ejemplo: Corazón de la india en Paraguay, cabeza de negro en Antillas, Sagua-sagua Guinea Ecuatorial y otros pero el más común es Guanábana o Catuche. Tengo entendido que aquí en mi país Venezuela Catuche se le dice a la planta y al fruto guanábana.
This fruit looks like Don't Eat Me! Since it has spikes or something similar, in the greengrocer I think they also think the same since they remove these spikes, as it was the first time I was going to try it they advised me to choose a soft one, that is to say, ripe. It is known by several names throughout all the regions in which we can find it, such as: Heart of India in Paraguay, Black head in Antilles, Sagua-sagua Equatorial Guinea and others but the most common is Guanábana or Catuche. I understand that here in my country Venezuela Catuche is called the soursop plant and fruit.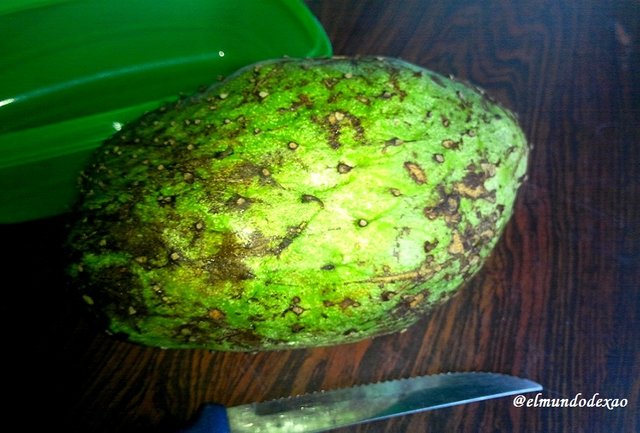 He aprendido que debemos evitar cortar algunas frutas con cuchillos de metal ya que su nivel de oxidación es bastante alto y la guanábana es una de esas frutas. Tanto a la planta como al fruto se le atribuyen varias propiedades curativas, entre las cuales les puedo mencionar las siguientes: Cáncer, Asma, Insomnio, Estreñimiento, Inflamación y también se nombra a la guanábana entre las frutas con propiedades antioxidantes.
I have learned that we should avoid cutting some fruits with metal knives since their oxidation level is quite high and soursop is one of those fruits. Both the plant and the fruit are attributed several healing properties, among which I can mention the following: Cancer, Asthma, Insomnia, Constipation, Inflammation and soursop is also named among the fruits with antioxidant properties.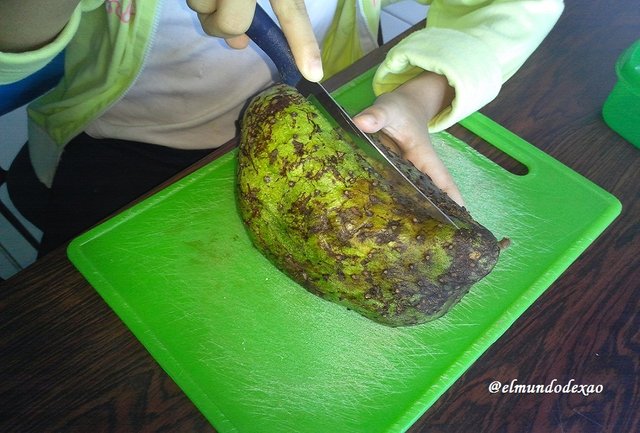 Como pueden ver en la siguiente fotografía tiene un color blanco y se está tornando marrón, al parecer esta fruta no la podemos guardar mucho tiempo, tampoco debemos esperar que se madure mucho, al consumir esta rica fruta estaremos proporcionándole a nuestro cuerpo minerales y vitaminas tales como: Vitaminas C, A y B, calcio, hierro, fosforo, lípidos e hidratos de carbono.
As you can see in the following photograph, it has a white color and is turning brown, apparently this fruit cannot be kept for long, nor should we wait for it to ripen a lot, by consuming this rich fruit we will be providing our body with minerals and vitamins such as as: Vitamins C, A and B, calcium, iron, phosphorus, lipids and carbohydrates.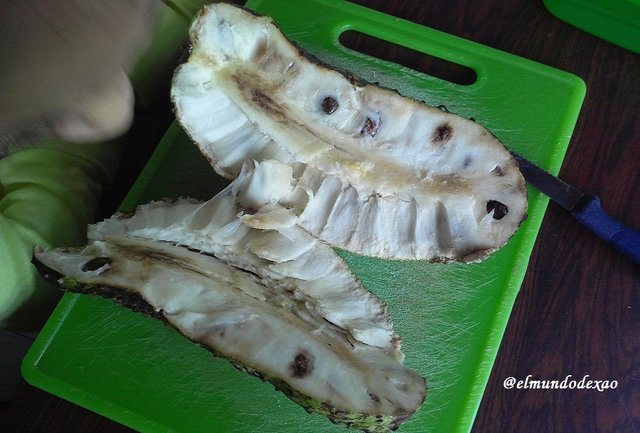 La A. Muricata por dentro está formada por muchos gajos y la mayoría posee una semilla dentro, lo cual la convierte en la segunda fruta con más semillas que yo conozco, las semillas son ovaladas y planas midiendo aproximadamente unos 15 a 20 mm. Es una fruta muy dulce y sabrosa también les puedo decir que es muy aromática ya que olor es intenso.
The A. Muricata inside is made up of many segments and most have a seed inside, which makes it the second fruit with the most seeds that I know of, the seeds are oval and flat, measuring approximately 15 to 20 mm. It is a very sweet and tasty fruit, I can also tell you that it is very aromatic since its smell is intense.


Fuente de Fotos: Propias capturadas con una cámara Síragon.
Modificado el tamaño: Con el Programa Paint.
Photo Source: Own photos captured with a Síragon camera.
Modified size: With the Paint Program.
Podemos clasificar la guanábana como un "Sincarpo" este es un fruto resultante de la fusión de varios frutos provenientes de una misma flor y aún hay un detalle más las flores salen en cualquier parte de la planta es decir en el tallo o ramas y debido a esto podemos observar los frutos de una manera muy peculiar en cualquier parte de la planta.
We can classify the soursop as a "syncarp" this is a fruit resulting from the fusion of several fruits from the same flower and there is still one more detail the flowers come out in any part of the plant that is to say in the stem or branches and due to this we can observe the fruits in a very peculiar way in any part of the plant.
Me despido hasta una nueva oportunidad.
I say goodbye until a new opportunity.
Gracias por visitar mi Blog… ¡AH! No se olvide de votar, reesteemear y comentar.
Thanks for visiting my blog... Ah! Don't forget to vote, reesteemear and comment.
Traducido con / Translated with: