Cachapas | Traditional flavor in every bite | SteemFoods Contest -6-
Corn is one of the most consumed products in Venezuela. Whether consumed directly from the plant or processed into flour, corn is an ingredient present in almost all of the country's gastronomic culture. From the traditional arepa, a kind of bread made from corn flour, to a drink known as carato, this ingredient is noticeable at all times. Whether it is yellow or white corn, every Venezuelan consumes products based on this delicious product on a daily basis.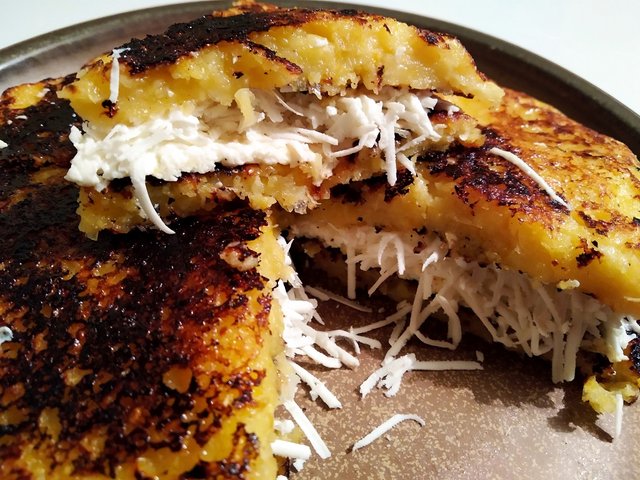 The cachapas are traditional of the central region of Venezuela, the aborigines cultivated the corn and it is said that when the colonizers arrived, they saw the corn as gold since its brilliant yellow stood out from far away. A dish of cachapas proudly represents the traditional flavor of this beautiful land. To eat a cachapa is to eat a dish that is many years old. It is common to see all over the country food stands where cachapas are sold, with 3-5$ you can buy a plate of cachapas with full cheese. You can also see standing trucks that sell corn cobs or stands that sell you the dough ready to use so you can prepare it at home.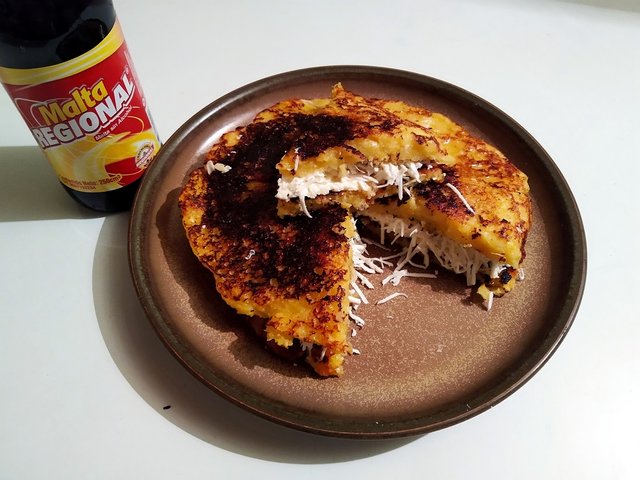 Among the varied traditional recipes of Venezuela, there is a preparation that is particularly good. It is Cachapas, a kind of pancake whose ingredients are nothing more than fresh corn, water and sugar. This species of pancake is combined with a very soft white cheese called cheese of hand, to combine the sweet of the cachapa with the salty of the cheese. Although the traditional thing is to use the cheese of hand, it can be used any other type of white cheese, traditional of the country.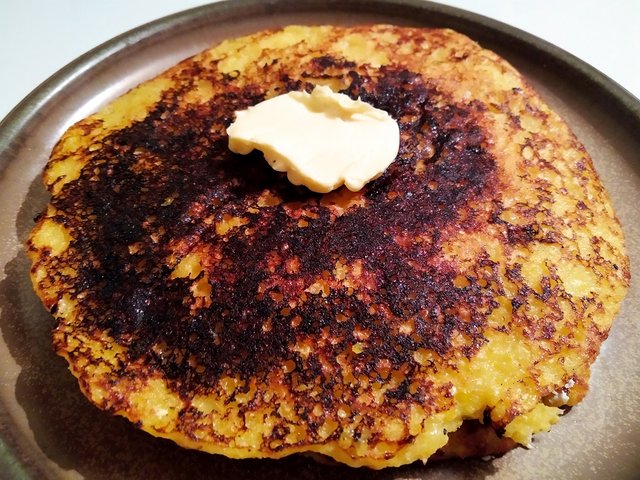 If where you live there are no white cheeses, you can use the cheese of your preference. The cheeses in Venezuela tend to be white and hard cheeses, cheeses that allow to be grated. There is also a variety of soft cheeses such as Guayanes. You can use some yellow cheese and it will also look good. If you want to learn how to prepare some delicious cachapas, find the ingredients, prepare your work table and we will cook.

Corn
Sugar
Water
Oil
salt
Note: Depending on the amount of cachapas you want to make, you should use a good amount of corn cobs. For about 8 cachapas, you will need about 15 ears of corn. You can substitute water for milk to give a special touch to the preparation.

Preparation
We will start by taking the corn cobs, peeling them and removing all the hairs on them. With the help of a knife, we will remove all the corn grains. Be careful when holding the corncob to avoid cutting your fingers, go slowly but firmly.
In a blender or processor, place the corn grains and together with a little water, blend them to form a kind of thick mixture. The water is to help the grains proceed easily, but do not put too much because otherwise the mixture will be very liquid.
We put the mixture in a bowl and add sugar to taste. For the mixture obtained from 7 ears, I used 4 spoonfuls of sugar.
In a non-stick frying pan or that frying pan you have for years and you know that nothing will stick, we put it to heat over high heat.
Spread oil on the pan and lower it to medium heat. Place a quantity of mixture and distribute it throughout the frying pan. Let it cook for 5-8 minutes on each side.
Once you have the first cachapa ready, put butter and cheese on it right away so that the heat melts the cheese a little. Then, put another cachapa on top of it as if you were making a sandwich.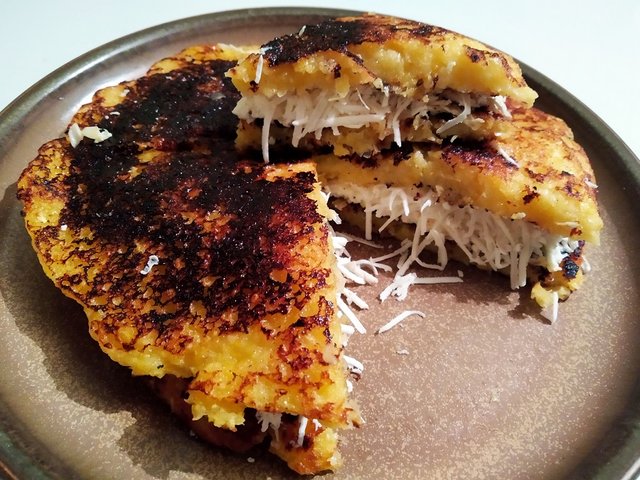 You already have some delicious cachapas ready, the process is quite simple. Just keep in mind that, if you want to prepare many cachapas, you must remove the grains of corn from many ears. The cachapas are usually accompanied with fried pork and a juice of papelón or malta. The juice of papelón is not more than juice of lemon sweetened with sugar in panela or brown sugar. The malt is like a species of black beer without alcohol and a little sweeter. I hope you can dare to prepare this recipe and tell me what you think about it and if in your country the corn is consumed.

---
All pictures were taken by me, with a Xiaomi Redmi 7 phone, without any edition. They were only compressed to facilitate the visualization of the content. The separators are images taken from pixabay and cut out. Here they are if you want to use them corncob png,corn