SteemFoods Contest -11-| Promote Your Favorite Celebration Meal! | Family Christmas Cake
Whatever the celebration, we think about preparing meals that are different from the usual, meals that represent a real celebration. At home I am the one who prepares the desserts and you can imagine that I am the one who makes all the birthday cakes. In spite of all the celebrations that we can have, be it a birthday, the birth of a baby, a wedding anniversary or graduation, the celebration that I like the most is the celebration of Christmas.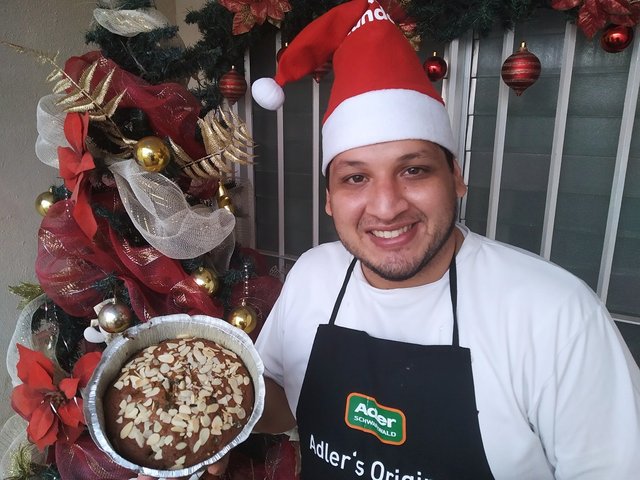 Christmas in terms of gastronomy, is a time charged with many flavors and colors, Christmas is a time to share in the kitchen, to sit at the table and enjoy delicious dishes. In my family we usually prepare some cakes to celebrate Christmas, one of those cakes we call Christmas cake. The Christmas cake has raisins, candied orange, almonds, cherries, candied fruit, plums, malt (sweet black beer), rum, among other things.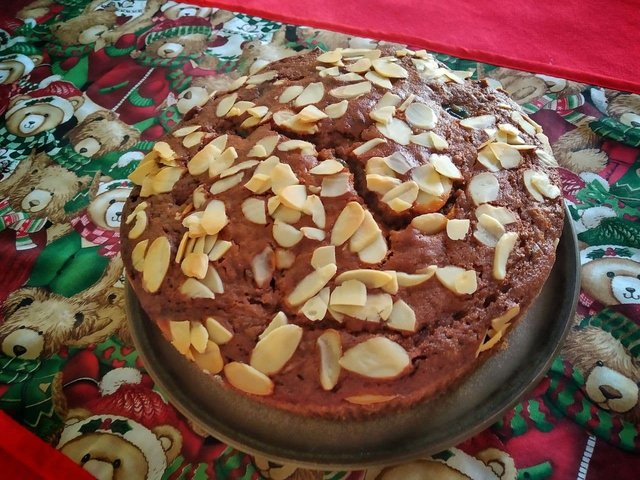 The Christmas cake is a cake quite charged with flavors, aromas and colors, represents very well the Christmas and at home we only prepare it when the Christmas season arrives. I usually prepare several cakes to give to friends and neighbors on Christmas day, I also prepare for sale since some people love its flavor and ask me for some cakes to order.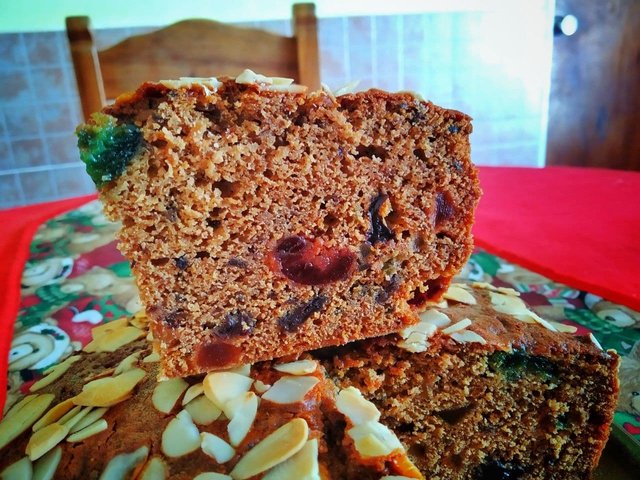 This cake is really special for me, it is a recipe that I learned from my mother since I was a child and the fact that I could be involved in the preparation of the Christmas celebration, made me feel passionate about cooking. Although I can prepare this cake all year long, it does not have the same meaning as when we prepare it in December, I consider that when you prepare a special meal and there is a celebration, everything is more tasty, but if you prepare a special meal and there is no celebration, that meal does not have the same effect on us.
Today I want to share with you the recipe of the Christmas cake, I hope you can prepare it at home and that, like us, you enjoy every bite charged with flavor, aroma and colors.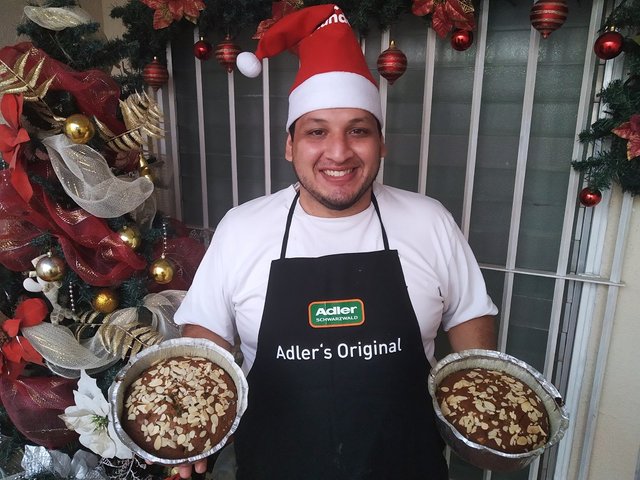 Ingredients
1 kg of Pastry Wheat Flour
750g of sugar
500g of butter
12 eggs
400gr of prunes
400gr raisins
400gr candied fruit

250gr candied orange
400gr of sliced almonds
500ml of malt or black beer
1 teaspoon of baking powder
candy cherries and sliced almonds for decoration
2 tablespoons of vanilla essence
2 tablespoons of rum or apple liqueur

Preparation
In a bowl, we mix the butter with the sugar until it is creamy.
Add the eggs one at a time until they are well integrated into the mixture
We add the wheat flour together with the baking powder and incorporate it very well.
In a blender, add the plums, the candied orange and the malt or black beer. Along with that, we add the vanilla. Blend very well to obtain a creamy, dark-colored paste.
We unify both mixtures and integrate them very well.
In a small bowl, add the raisins and the candied fruit. Add the 2 spoonfuls of rum or liquor and mix well. Add 2 tablespoons of flour and mix so that the flour is well distributed.
Add the raisins and candied fruit to the mixture and with the help of a palette or wooden spoon, mix gently to distribute the fruits.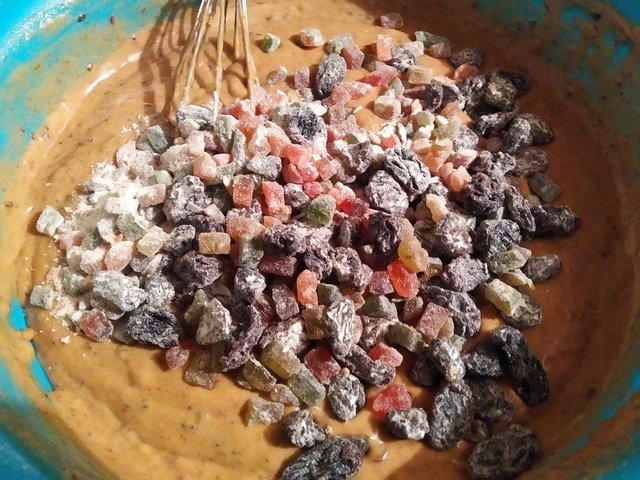 We prepare the molds preferably, I used circular molds of 15cm. Add the mixture and decorate with candy cherries and slices almonds on top.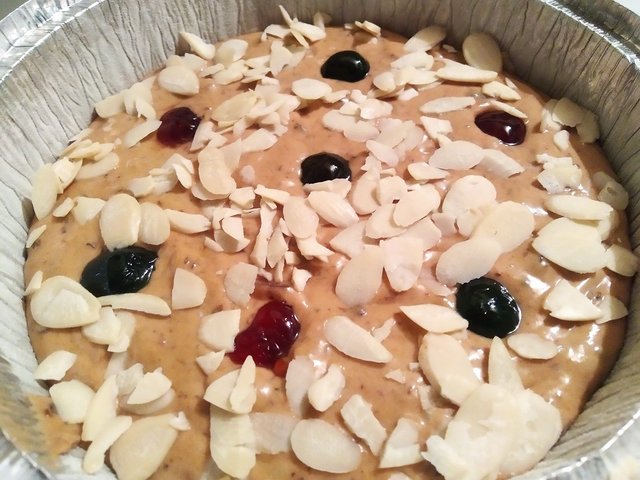 We take to the oven, preheated to 180°C for 35-40min or until, when inserting a wooden stick into the cake, the stick comes out dry.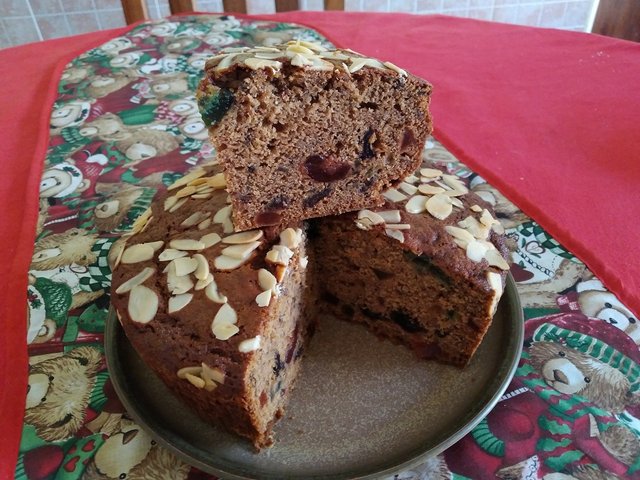 That's it, we have the cakes ready. Keep in mind that, because it has dried fruits, this cake tastes better if you let it rest for 24 hours. I tie it in bags and open it after 2 days so that the flavors are concentrated and the aroma is stronger. I love giving this cake as a present because when people open it, the cake gives off an incredible aroma and then, when they eat the cake, the flavors make them feel good. I hope you can prepare this Christmas cake at home, this recipe I share with much love.

All pictures were taken by me, with a Xiaomi Redmi 7 phone, without any edition. They were only compressed to facilitate the visualization of the content.