Fresh Artichke Beef Soup In Stock And Smoked Hickory Sea Salt
Artichoke is known as the most savory and delicate plant in cookery, it goes well with most anything as a side dish or even to use as a seasoning to pesto as dipping sauce.
And this time I add it into to my soup as the main flavor to balance the richness of the beef and bone marrow.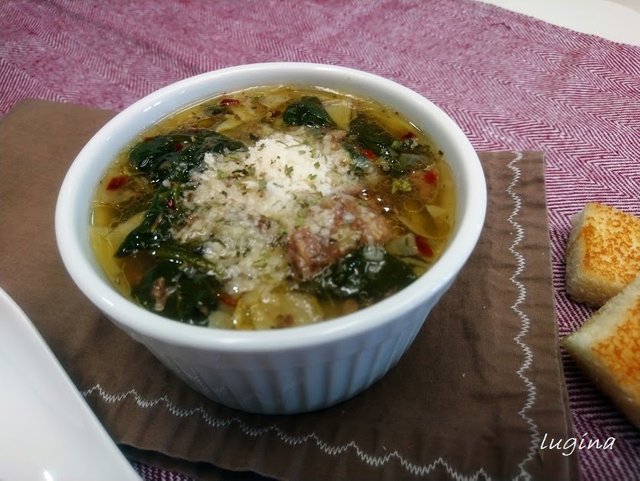 Ingredients
1 lb of beef bone marrow, 1 lb of beef for stew, 3 cups of chopped fresh artichoke, two handfuls of baby spinach.
1 cup of chopped onion, 1 tbsp of chopped garlic, 1 teaspoon of dried oregano, 2 bay leaves, 4 of sage leaves, salt and black pepper.
Method
Starting with 1 L of water into the crock pot, add the cleaned and washed beef bone marrow along with the beef and some salt then set up for 4 to 5 hours.
When it's down to half way cook, add the chopped artichokes and all seasonings except for baby spinach.
Note: If you use artichoke from jar, chop it and add it at the end followed with baby spinach.
When the soup is ready, toss the bones and add the baby spinach. Ladle it into the bowl, sprinkles with some grated parmigiano reggiano cheese and serve while it's hot.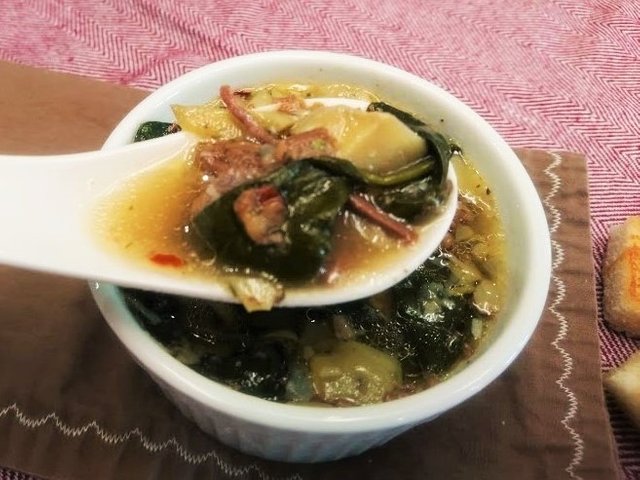 Just in case you guys are wondering about the salt I use, Smoked Hickory Sea Salt is one of the fancy salts in gourmet culinary among Hawaiian Lava Salt, French Grey Sea Salt, Hawaiian Alaea Salt, Pink Himalayan Sea Salt, and Sea Salt comparing to the one everybody knows, the Iodized Salt, (aka table salt).
I do taste something different when I use smoked hickory salt in my food, especially I got a "Gourmet" sound when I say it, rather than that taste same thing "Salted".
Thank you for visiting my blog,
@lugina.