Healthy brownie | My favourite! 👩‍🍳💗||sfcharity50pc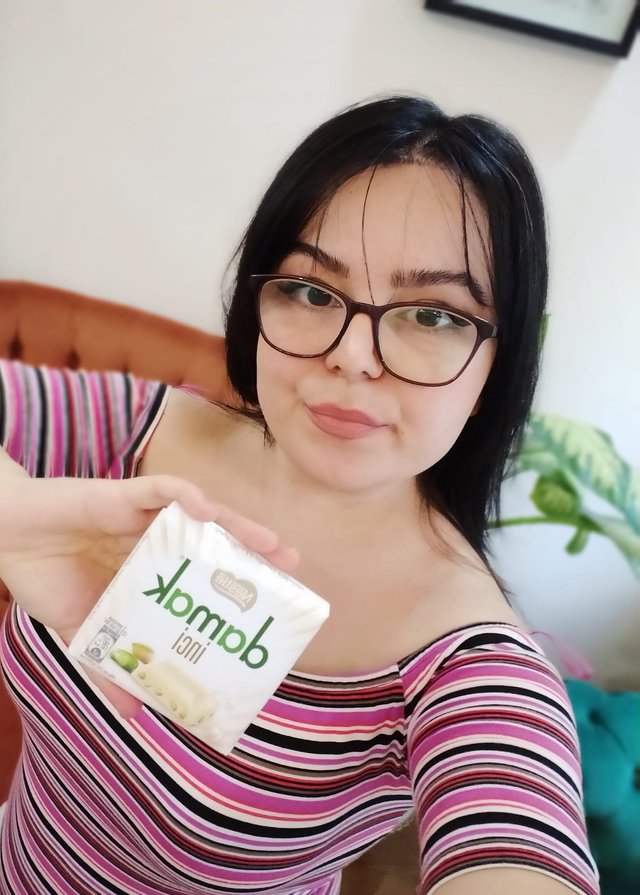 Hello my dear steemfoods Family!
---
How are you? I hope you are fine. Today I will be giving you my favorite chocolate brownie recipe that I made with Nestle brand's Pistachio, white chocolate. Actually, I prepared this cake for the Nestle competition, but now I had the opportunity to share it due to a mistake over time. Unfortunately, I could not participate in the competition. But since my favorite chocolate is Nestle's white chocolate, I wanted to share it at least as a post. Besides, I'm sure it will be a very interesting recipe for you. Because the date I will give consists of very useful materials in terms of health and incredibly practical!
If you have frequent sweet cravings like me, but at the same time want to stay away from unhealthy foods, this recipe is for you! I make such recipes at home as much as possible, and believe me, it is much more delicious than the packaged products you buy. In addition, families with children can safely prepare this recipe for their children.
But before I go on to my recipe, I can't help saying this. There is an incredible increase in price increases, especially in food products. We can no longer buy many things that we could easily buy in the past. I consider myself middle class, but there are families with children in my country who have less money than me, and I'm sure they can't even buy fruit for their children. This is very sad! Not only in my country, I'm sure there are many people living on the border of hunger. And unfortunately there is nothing we can do. I wish every child had the right to eat whatever they want. Or every child can play with any toy they want.. I touched on this subject, my aim was not to upset you, but I felt that I had difficulty in purchasing while trying to eat healthy. I think we are now in the times when we will not be shopping for healthy eating, but only for being satiated.
I want to go to my recipe right away without upsetting you more. Let's get away from the injustice of the world and enjoy the taste, shall we?
Ingredients for my recipe;
Milk
Cocoa
Oat
Banana
peanut butter
coconut powder
Pack of chocolates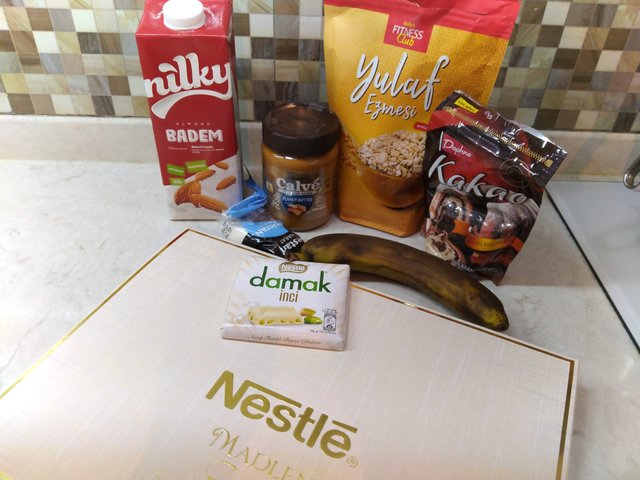 NOTE : Since these materials are at my house, I used them. You can use any milk or chocolate you want. It doesn't have to be brands. I tried it before with different ingredients and it tasted delicious again. You have to put the measurements completely according to the consistency. The product you use here is very important, its ratio varies according to the product. As a result, you should get a thick fluid consistency.
The construction phase ;
What you need for this is a food processor. Because oats and other ingredients need to be combined in equal amounts and homogeneously. But if you don't have a robot, you can do it with a fork.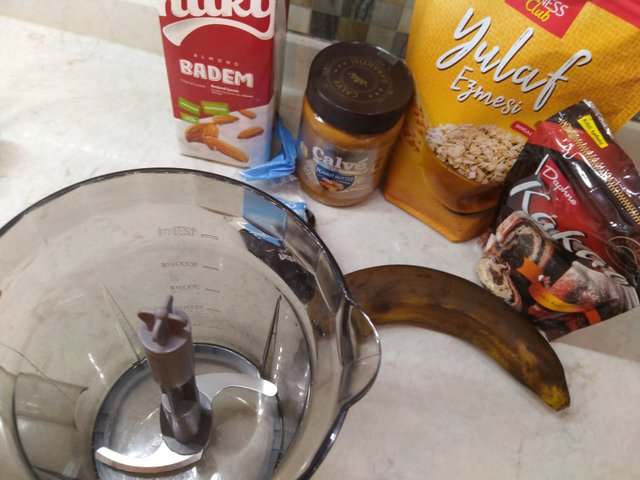 We throw all the ingredients except the chocolates into the robot and mix them until they get a good consistency.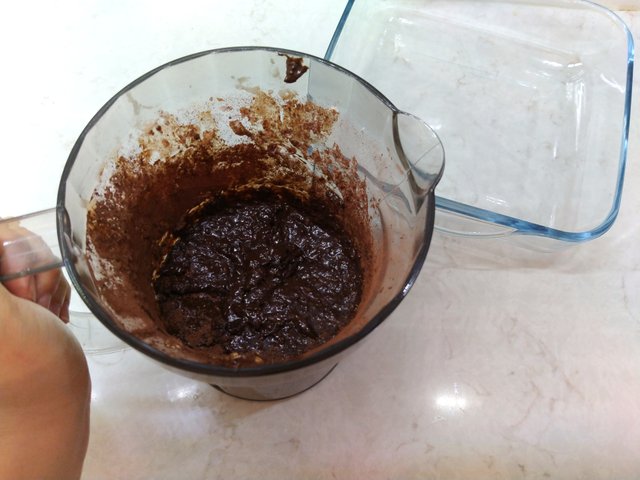 Put the thickened mixture in a heat-resistant bowl. I had such a small glass baking dish in my hand, and I used it.
After putting it in the container, we place the chocolates that we cut into small pieces on it.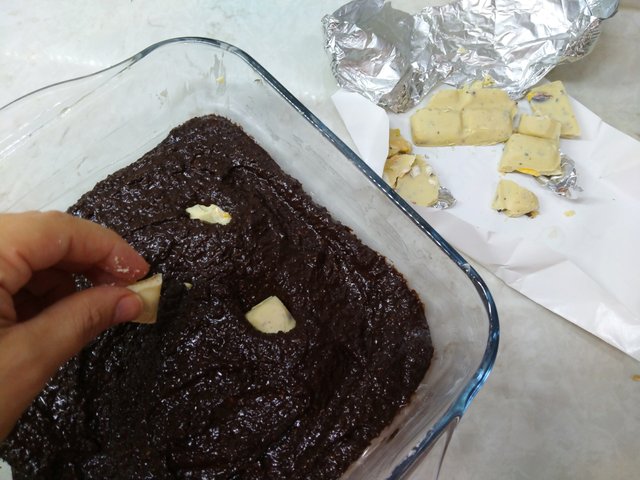 But we don't eat half the chocolate like that! 😂😂 While I was preparing the cake, I just wanted to buy one piece, I think I ate half of it. 🤷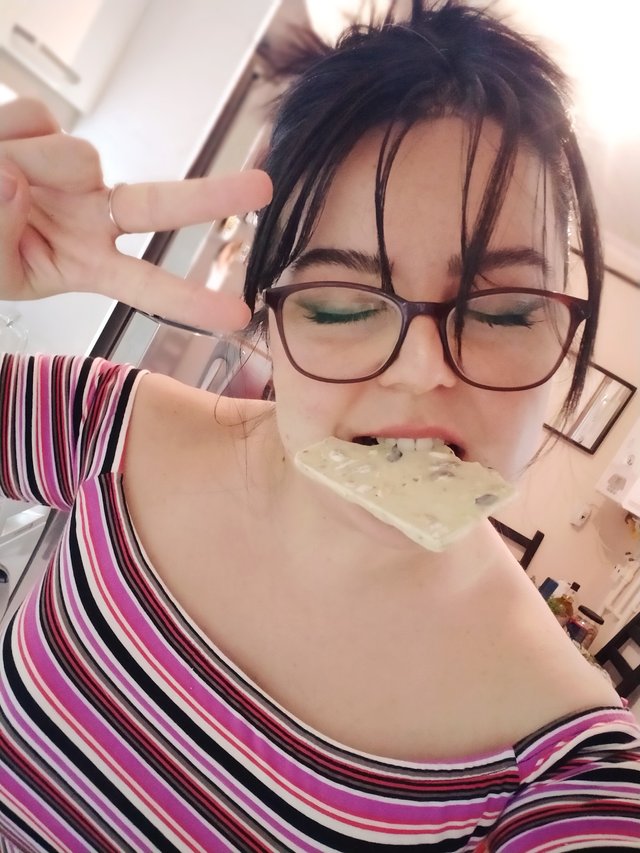 Luckily I had the big package at home and I added the rest from them.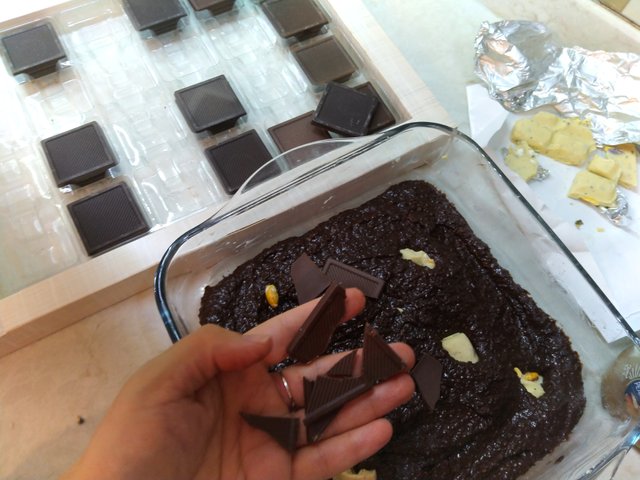 Finally, I baked my ready cake in the oven at 180 degrees for 15 minutes. Since it is a brownie, you do not need to cook it for too long.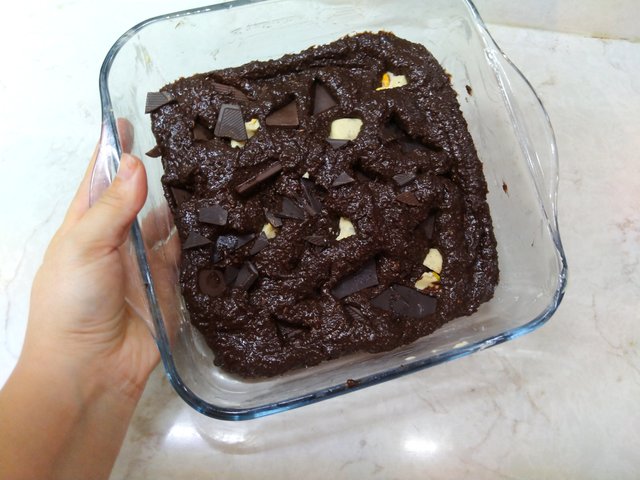 And the result is perfect! An exquisite scent, an unbelievably delicious cake. Doesn't it look incredible with the chocolate on it melting?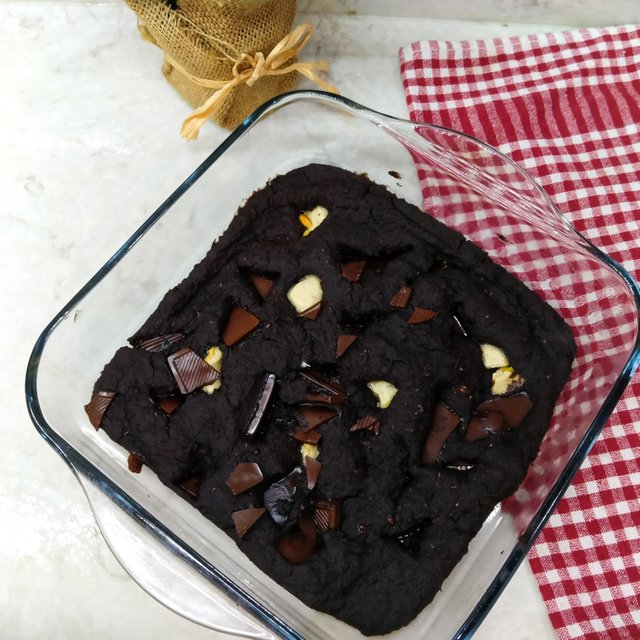 I couldn't stand it and immediately ate a spoonful. It was very delicious. I hope you try it and love it. Please write to me if you try it, I will be very happy 🙏👩‍🍳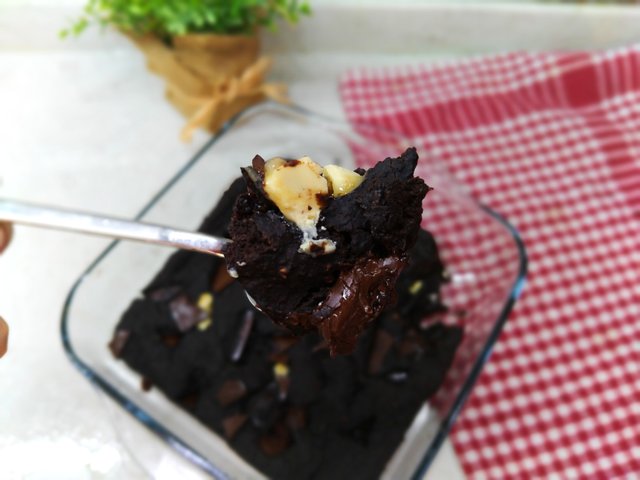 Thanks u for reading. I wish you healthy and delicious days.. 🌈
---

This post is set to #sfcharity50pc!🙏