STEEMFOODS: HOMEMADE WHOLE FRIED CHICKEN BISAYA WITH POTATO FRIES
Good day fellow steemians and food lovers out there! How are you? Hope you're doing fine. Today, I am going to share with you my recipe.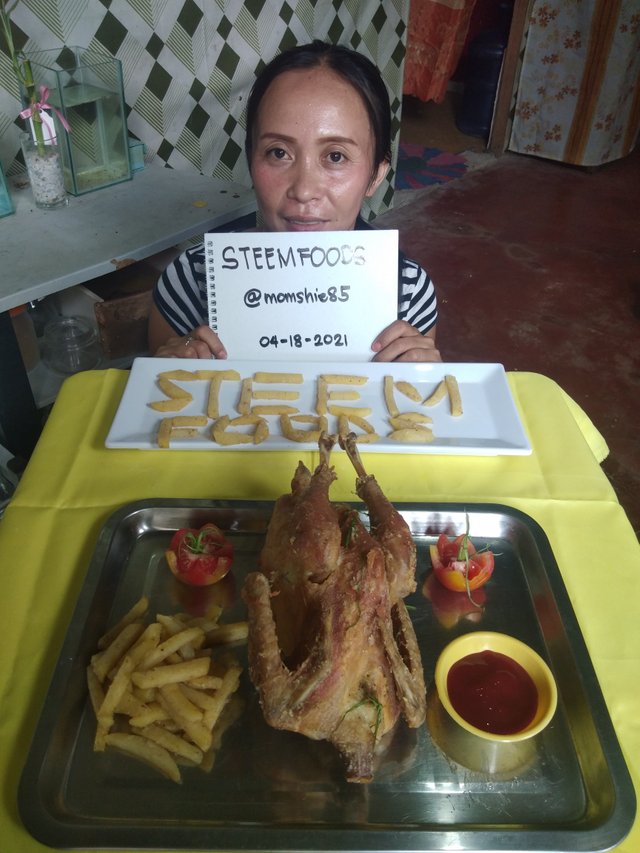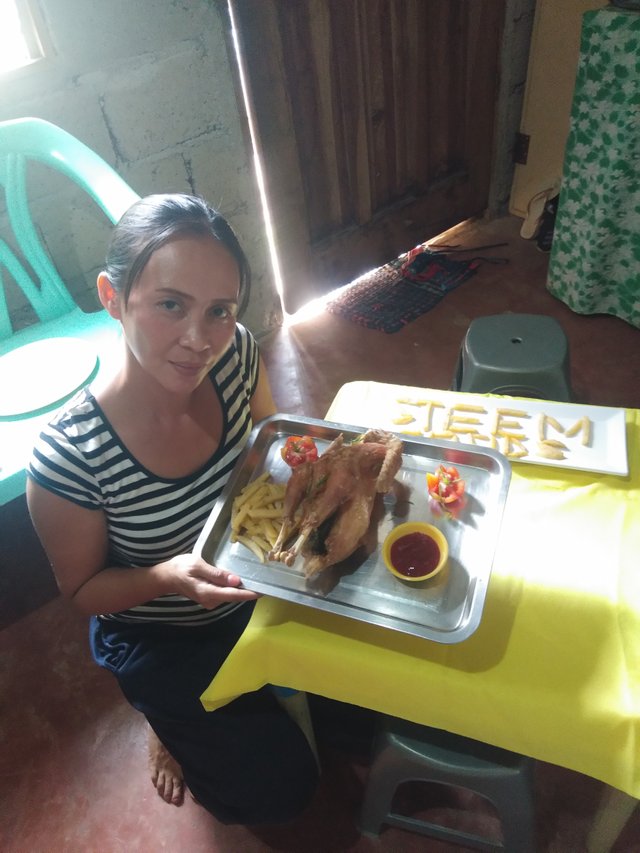 Earlier, I was confused what food to prepare for our meal. I went to our backyard and saw my husband there. I asked him what to cook. Since we have some chicken in our backyard he said, "why not get one and you'll decide how you cook it?" So I didn't waste any time and asked him to get one and slouter.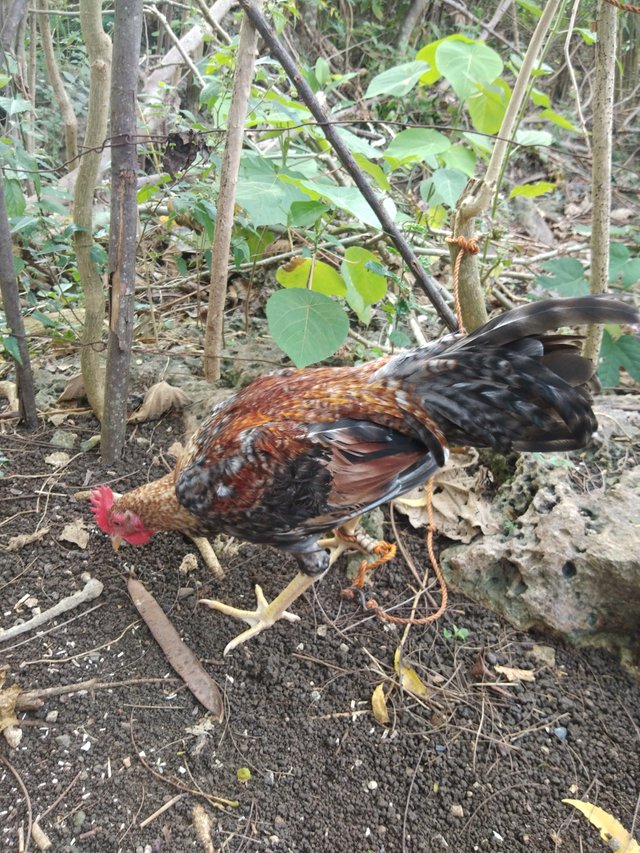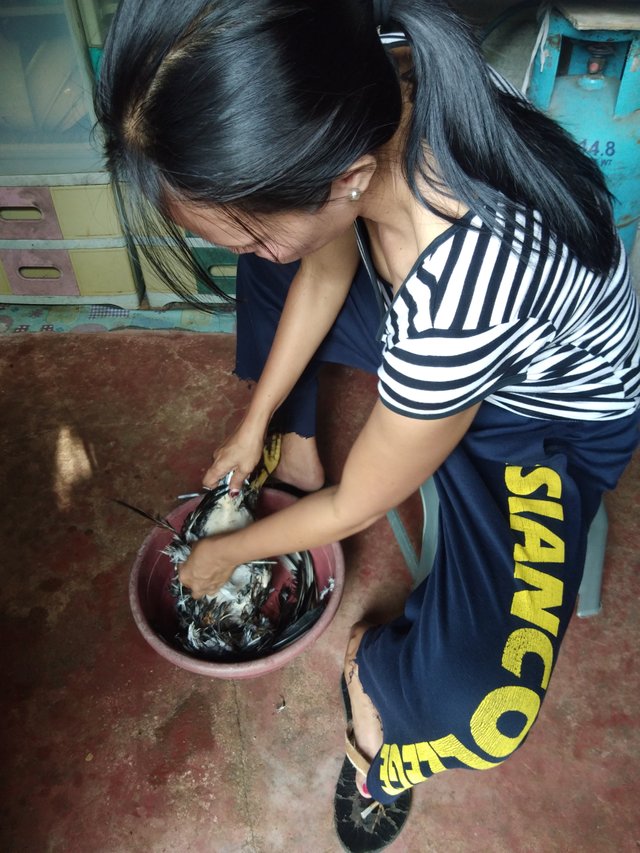 I decided to cook the chicken in whole. This recipe I made is just a common recipe like many can do, and I was thinking to have a side dish which I can also cook it as the same process as my main dish. My Homemade Whole Fried Chicken Bisaya with Potato Fries.
So let's start.
INGREDIENTS ARE:
1 whole chicken bisaya
1 kilo vegetable oil
1 pc onion
4 gloves garlic
Onion leaves
Lemon grass
Peppercorn
3 pcs potatoes
1/4 cup cornstarch
Seasoning mix - magic sarap
1/2 tbsp Black pepper powder
1 tbsp salt
Ketchup (for the sauce)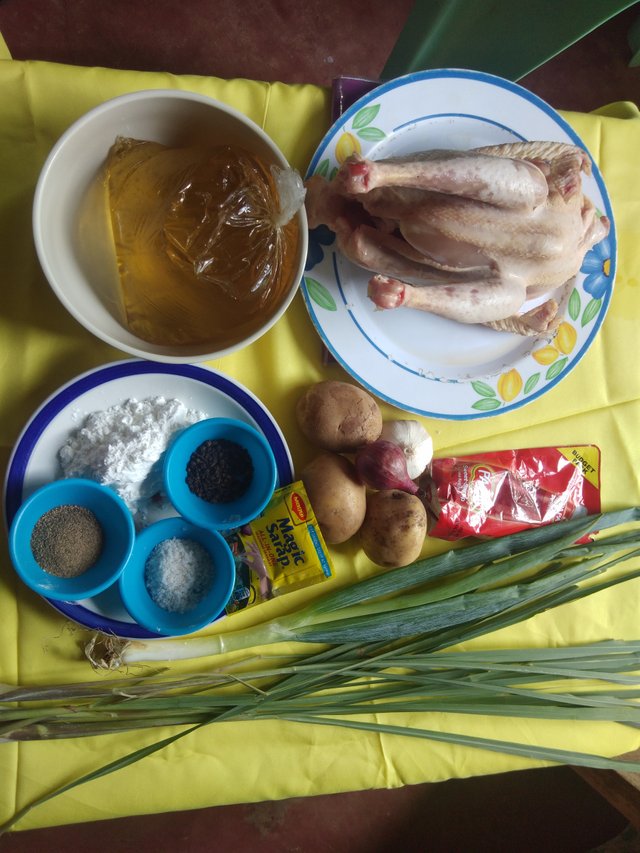 THE STEP BY STEP PROCEDURE:
The preparation: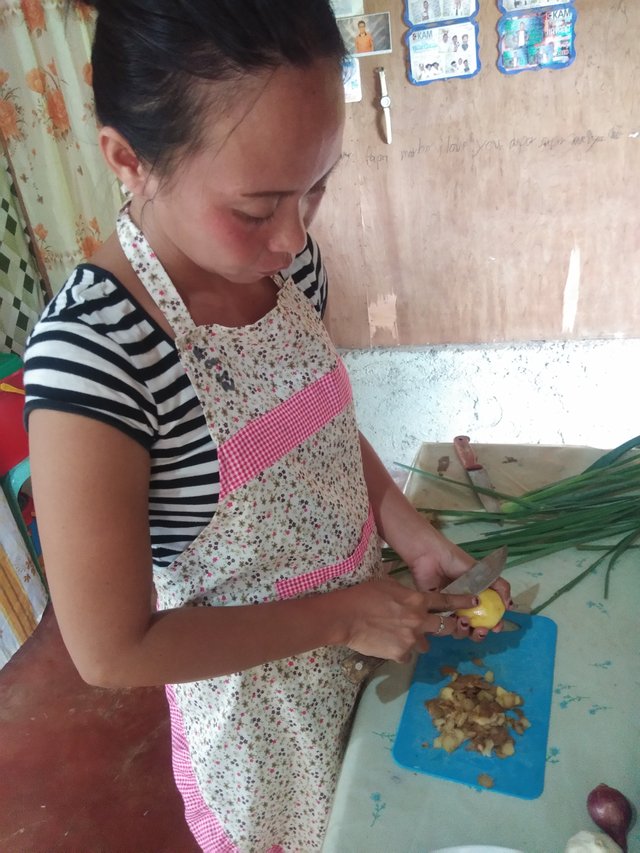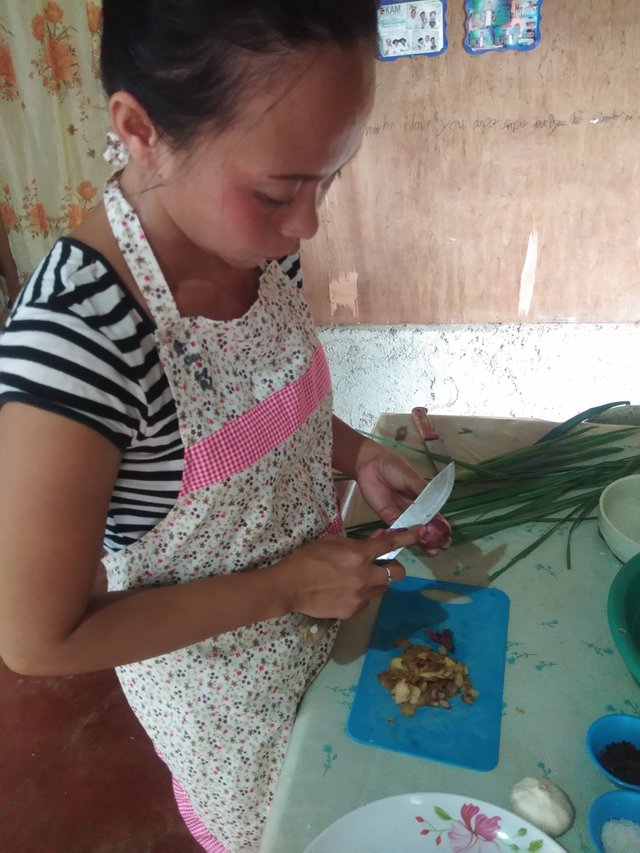 Peel and cut the potatoes and all the spices.
Soak the cut potatoes with water and set aside.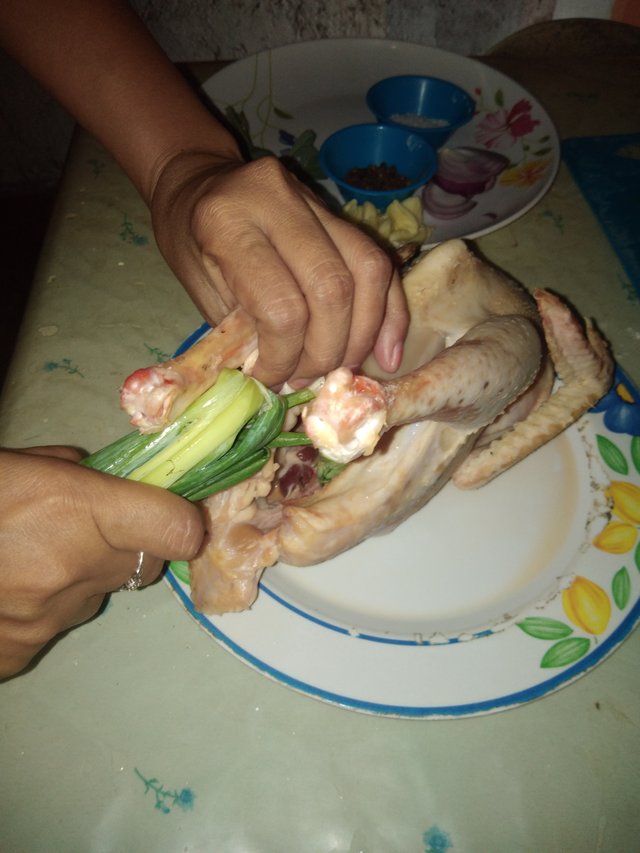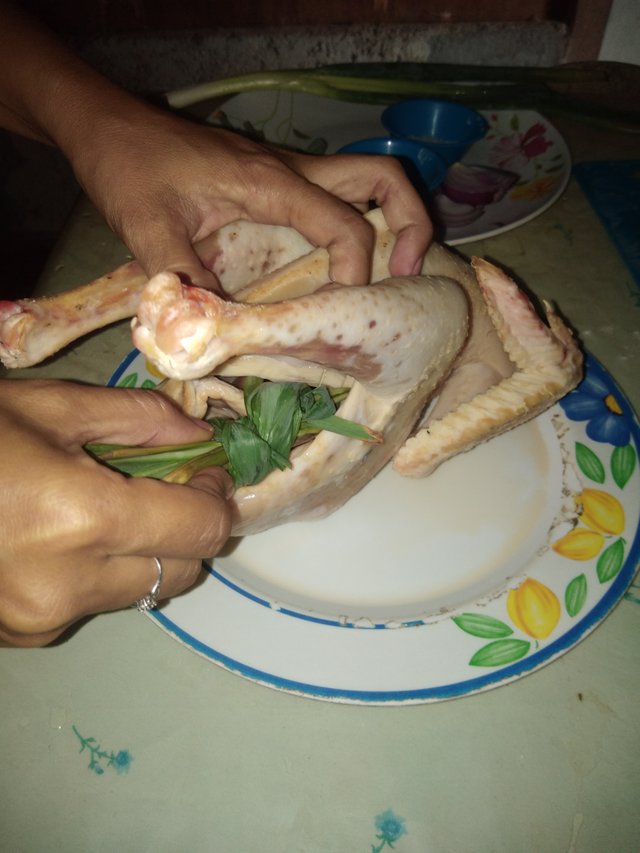 Insert onion leaves and lemon grass inside the chicken.
I used clear brining to make the chicken juicy and crunchy.
The brining process: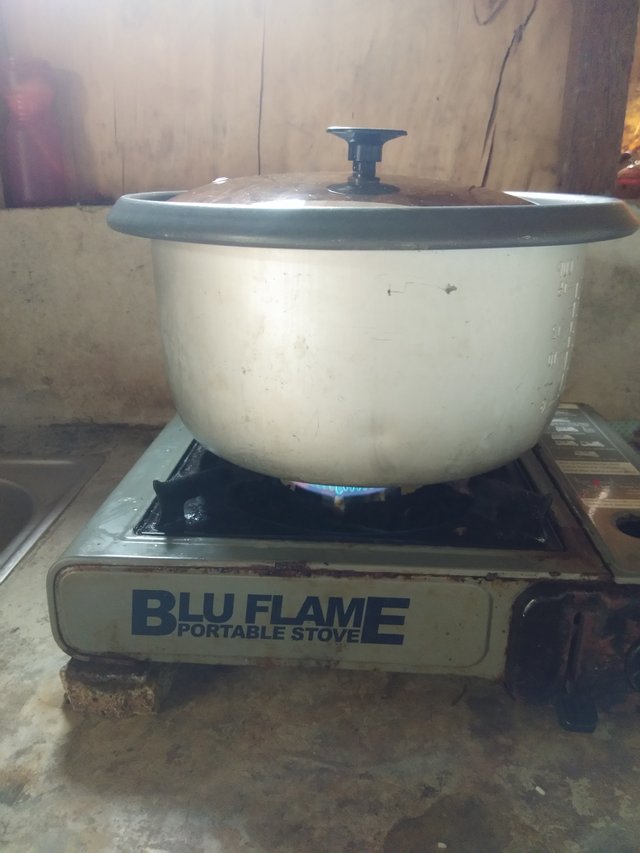 In a cooking pot, boil some water.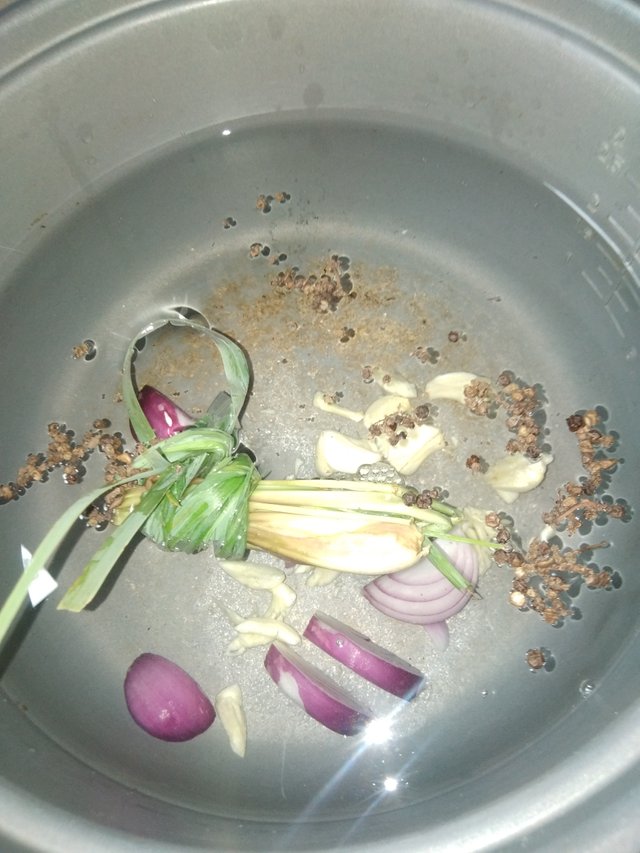 Add salt, lemon grass, onion, garlic and peppercorn.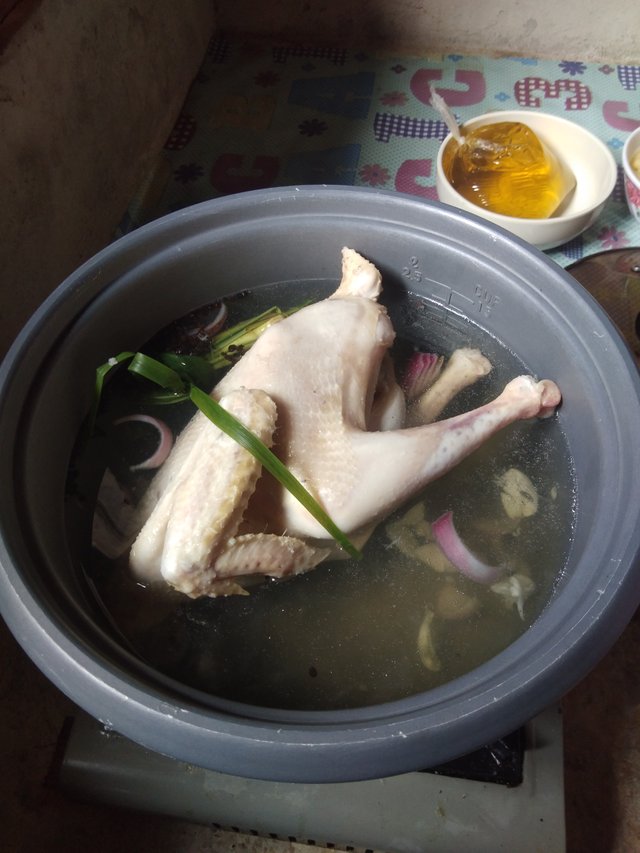 When the water boils, add the chicken into the pot and boil for 30 minutes.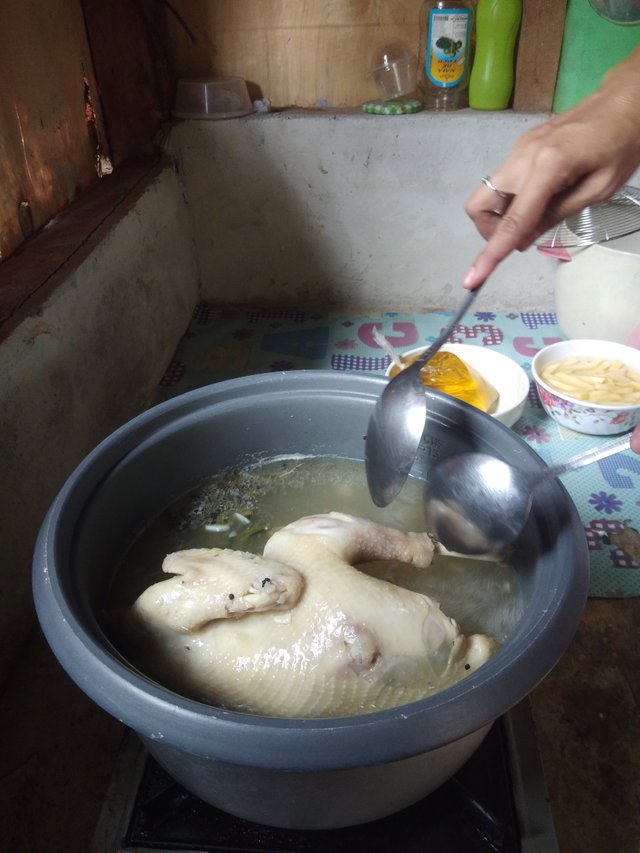 After 30 minutes turn the other side of the chicken and continue boiling for 10 minutes.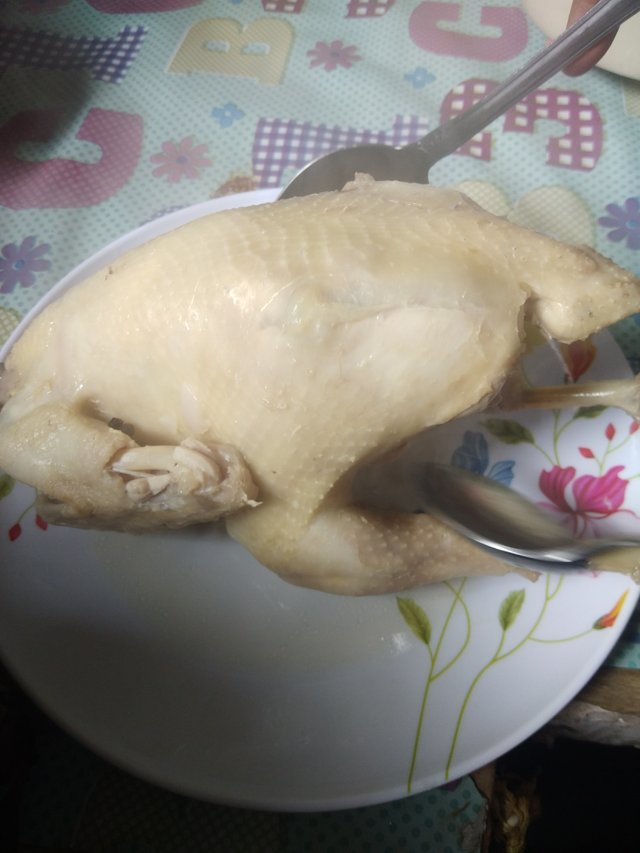 Remove the chicken from the pot, transfer to a plate and let it cool.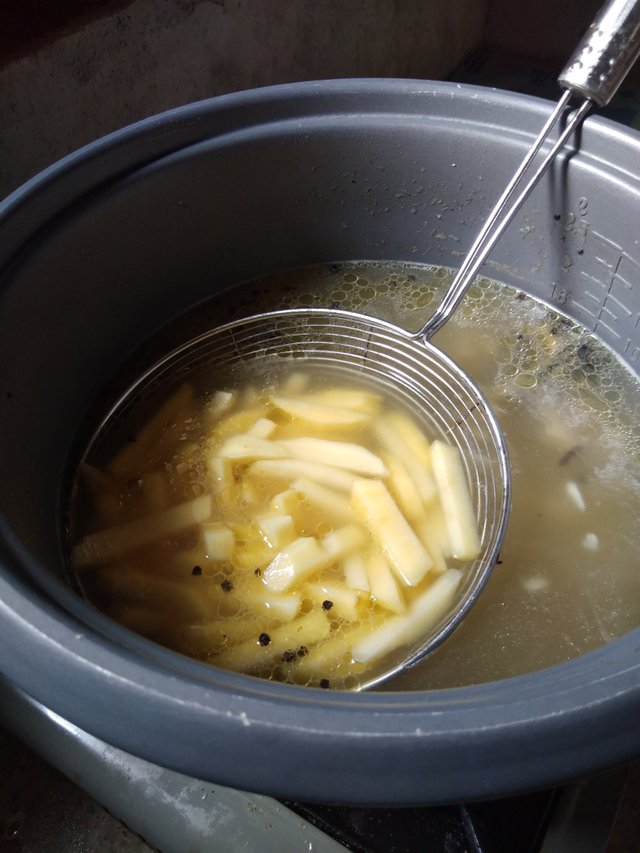 Using the chicken broth, put the potatoes and cook for 3 minutes.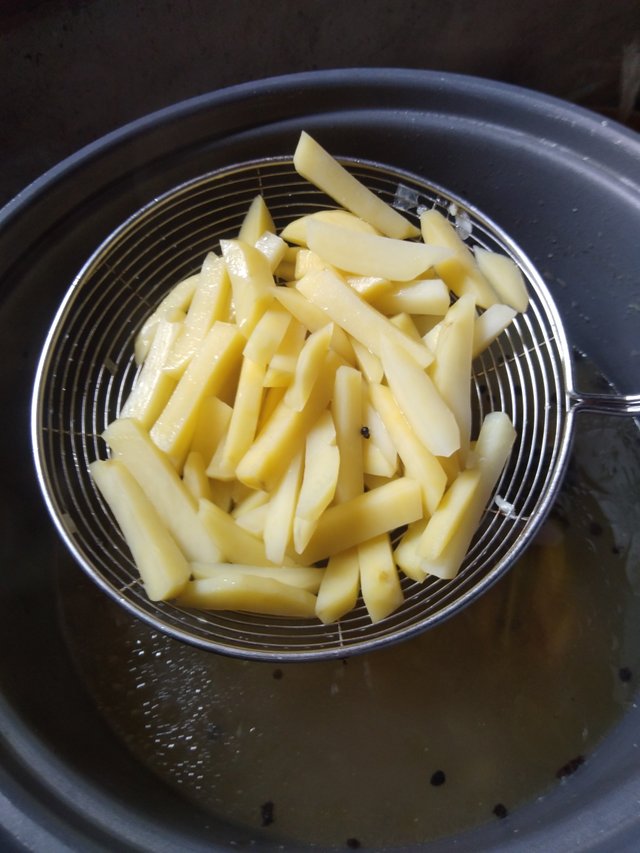 Remove the potatoes, let it dry and set aside.
The coating process: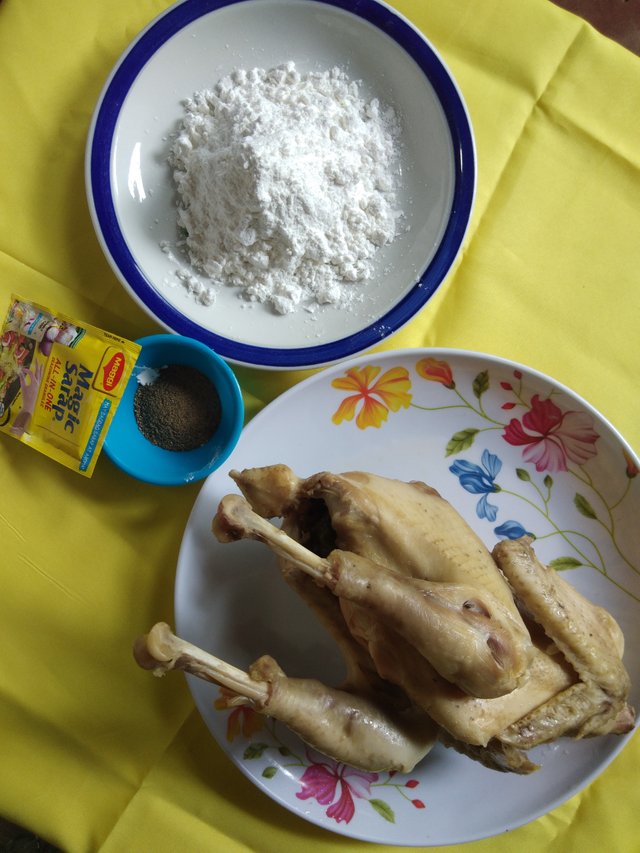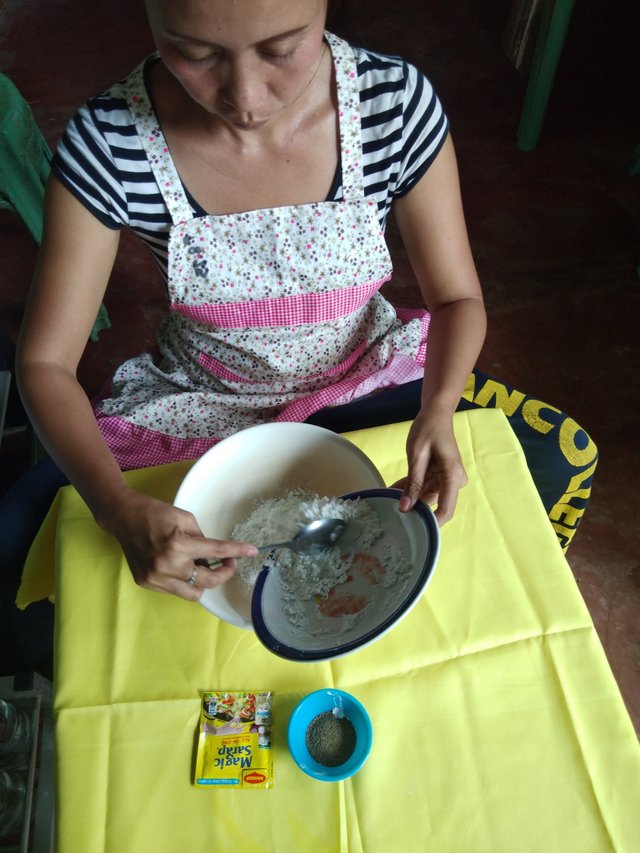 In a bowl, put the cornstarch.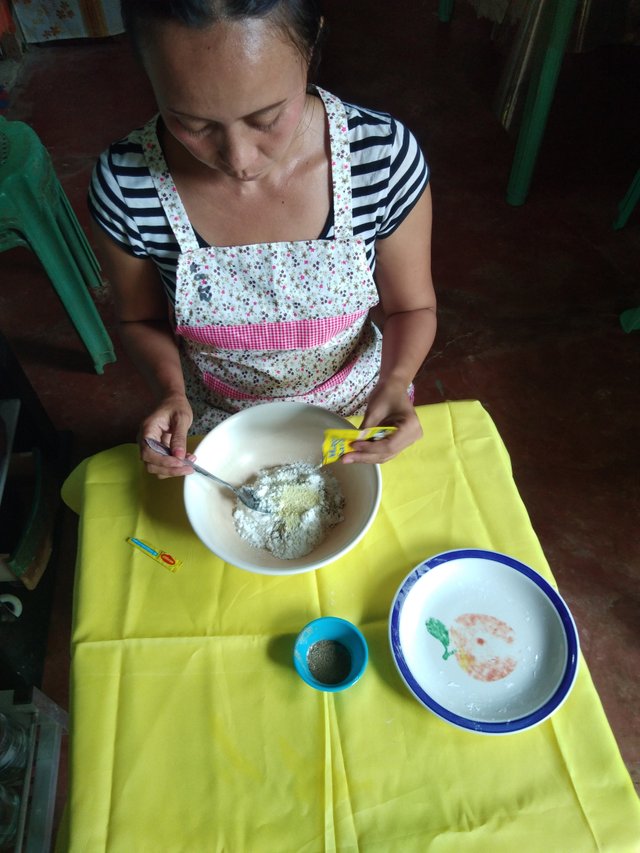 Add the black pepper and seasoning mix to taste.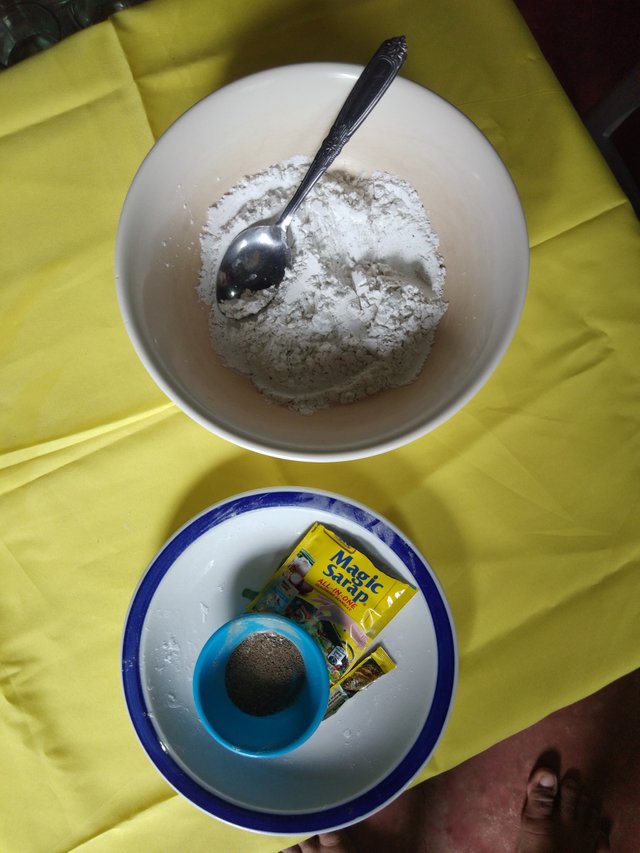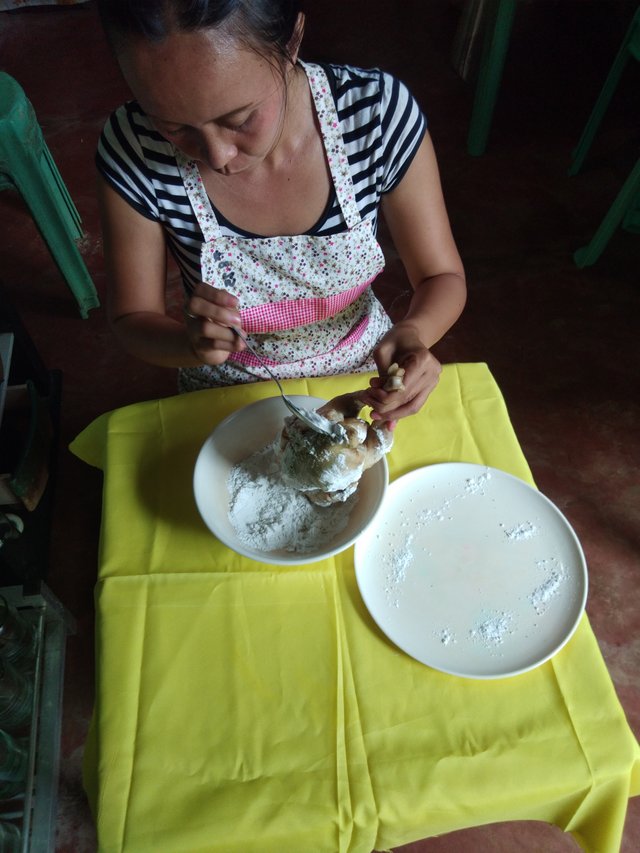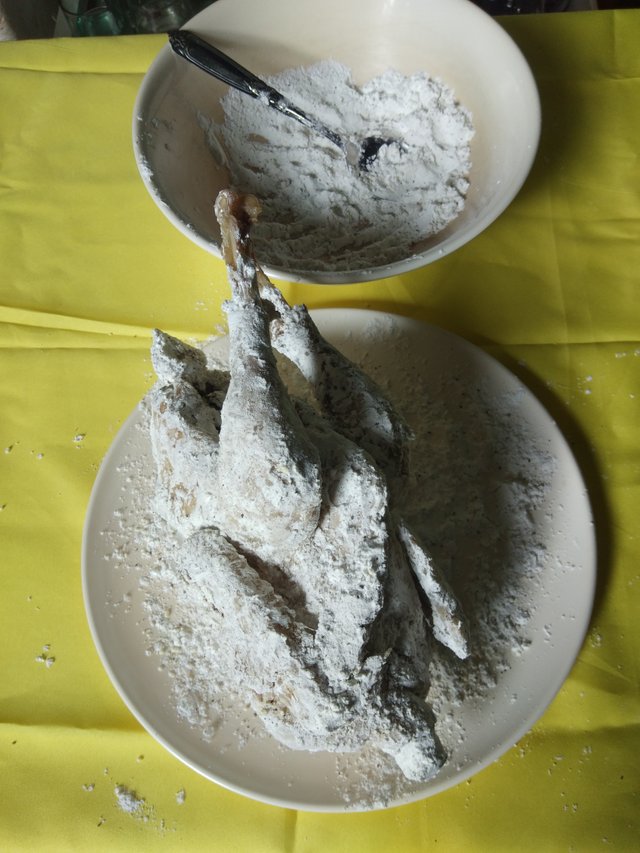 Coat the chicken all over with cornstarch mixture and set aside.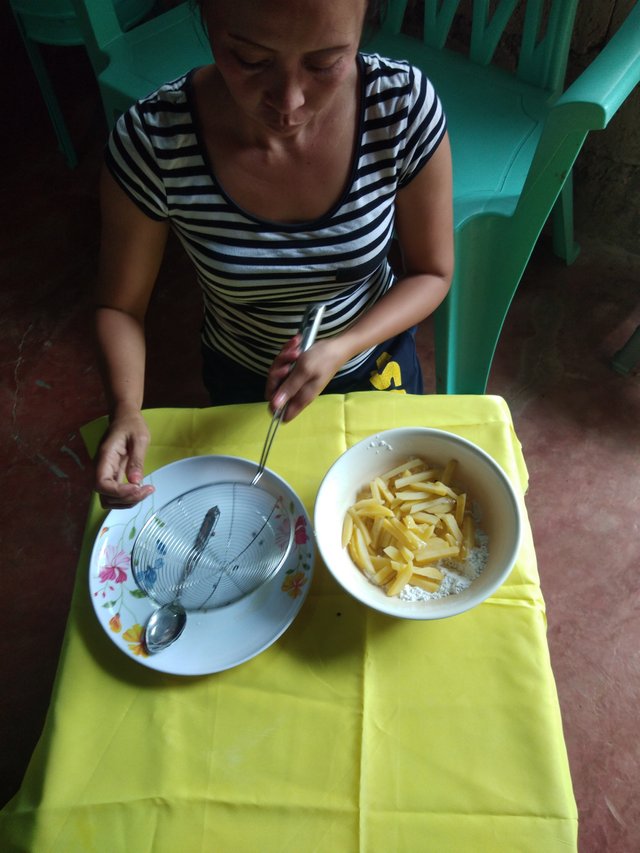 Coat the cooled potatoes with the remaining cornstarch mixture and set aside.
The cooking process: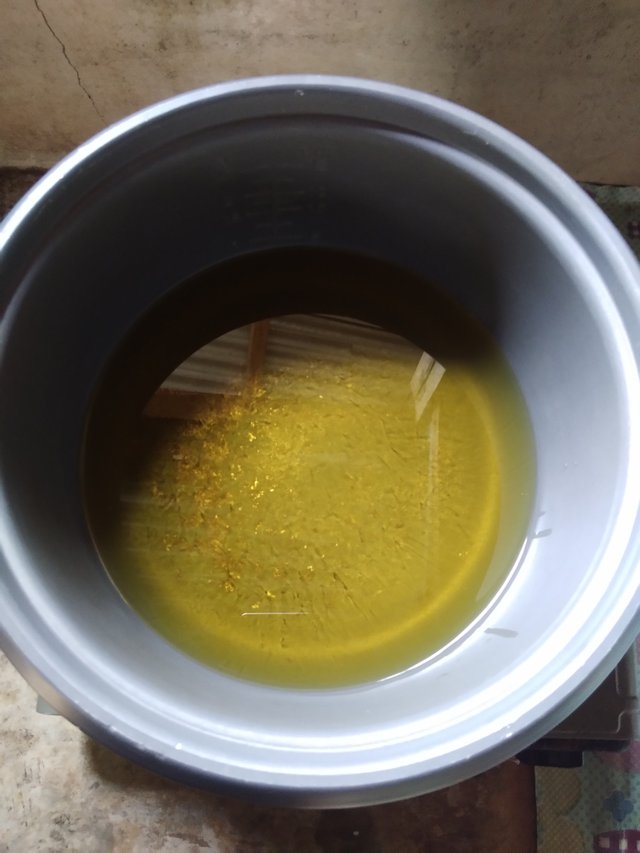 Bring pan to a medium heat and put vegetable oil.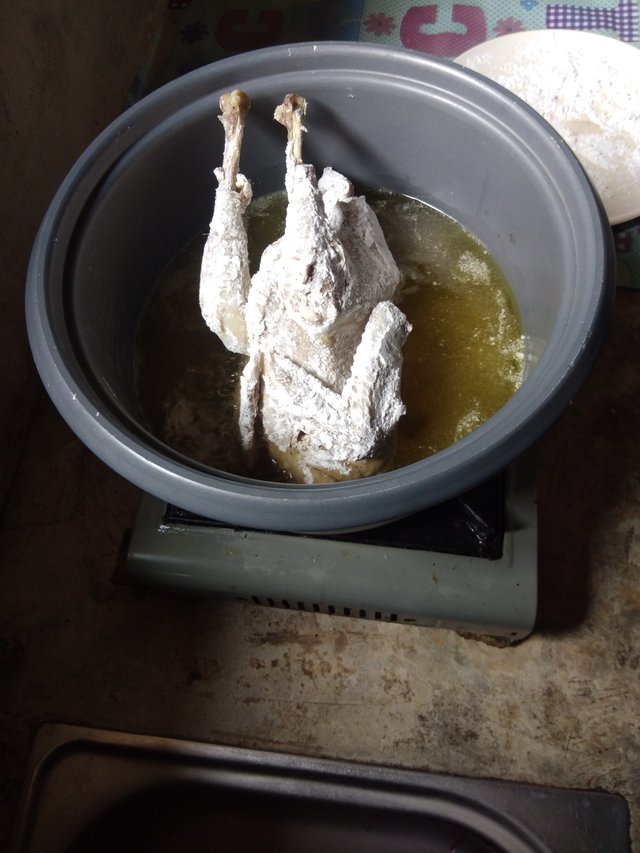 When oil is heated, put the coated chicken and deep fry for 15 minutes.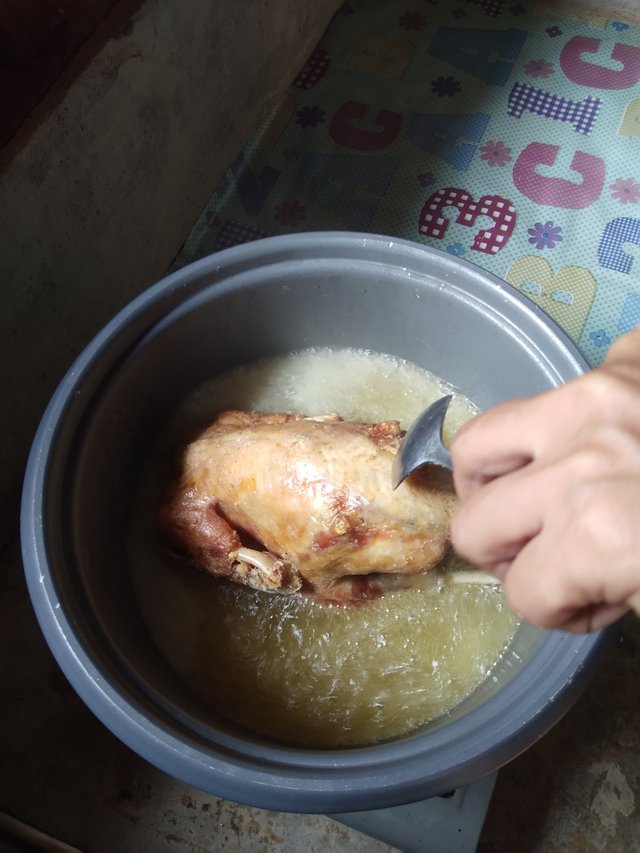 Turn the chicken over and continue deep fry the other side for 10 minutes.

Remove the chicken from the pot and set aside.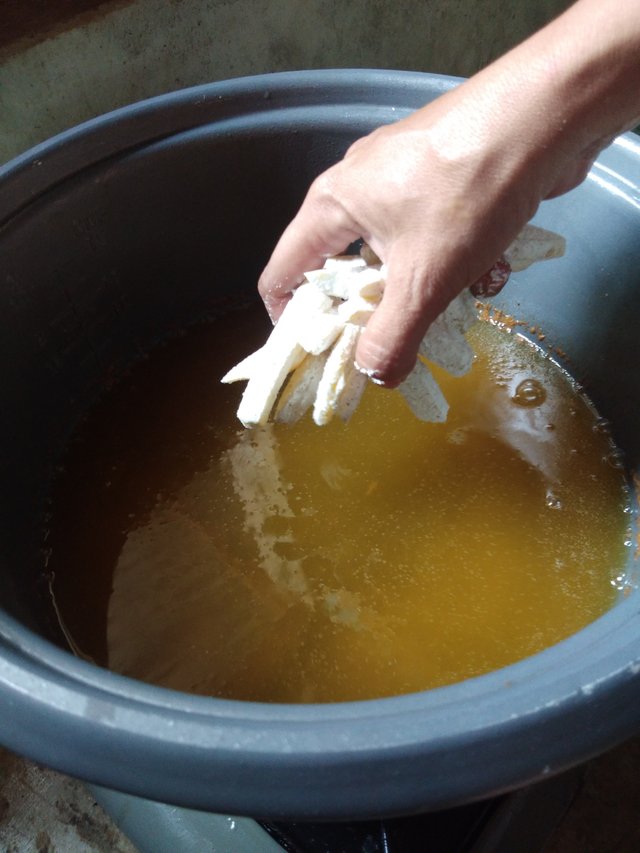 In the remaining oil, deep fry the coated potatoes until golden brown.

Remove the potatoes from the pan, transfer to a serving plate.

Serve the cooked dish with ketchup.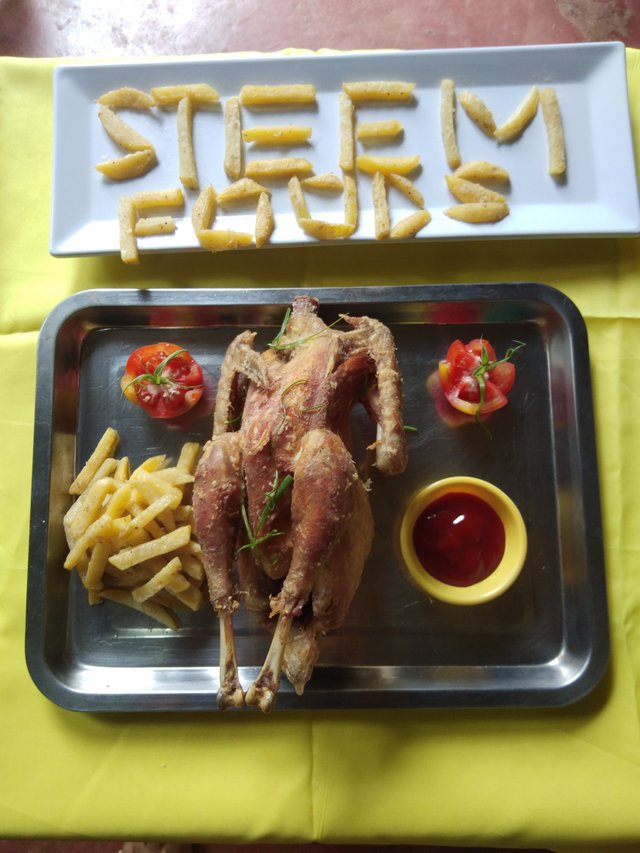 Now serving my "Homemade whole fried chicken bisaya with potato fries".
Enjoy eating!
This is all for today steemfoods friends. Hope you like my recipe and have a try! Thank you and God Bless!
By: @momshie85