Chicken Palm Nut(Banga) Soup: Recipe, 100% Power Up.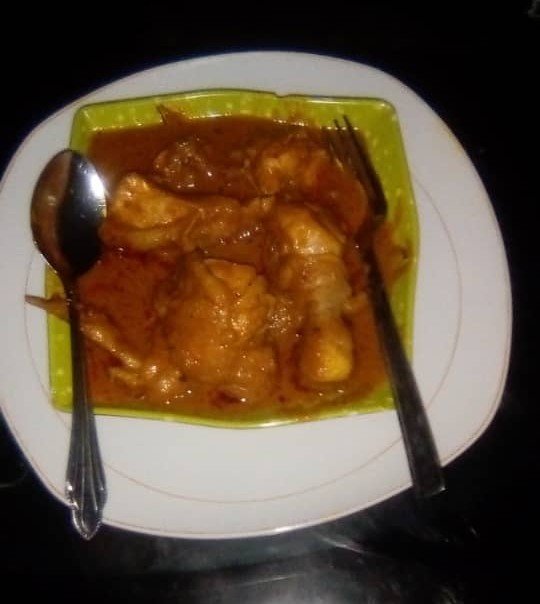 Good morning dear friends, I'm Stephen from Nigeria. It's a fine morning over here in Nigeria. Today I'll love to share with you a recipe for a popular and special Nigerian meal. Palm Nut soup, more commonly known among Nigerians as Banga soup. Banga is the local name of the fruit of the palm oil tree.
To start, I'll list the ingredients then we can proceed to the method.
INGREDIENTS
800g palm Nut fruits
1kg chicken meat
1 large onion
1tbs grounded dried pepper
Banga soup spice
3 Maggi Star stock cubes
Salt to taste(as desired)
METHOD
Step 1
I started out by washing and marinading my chicken with half finely chopped bulb of onions, a pinch of salt and 1maggi Star stock cube. I set it aside for 1hour.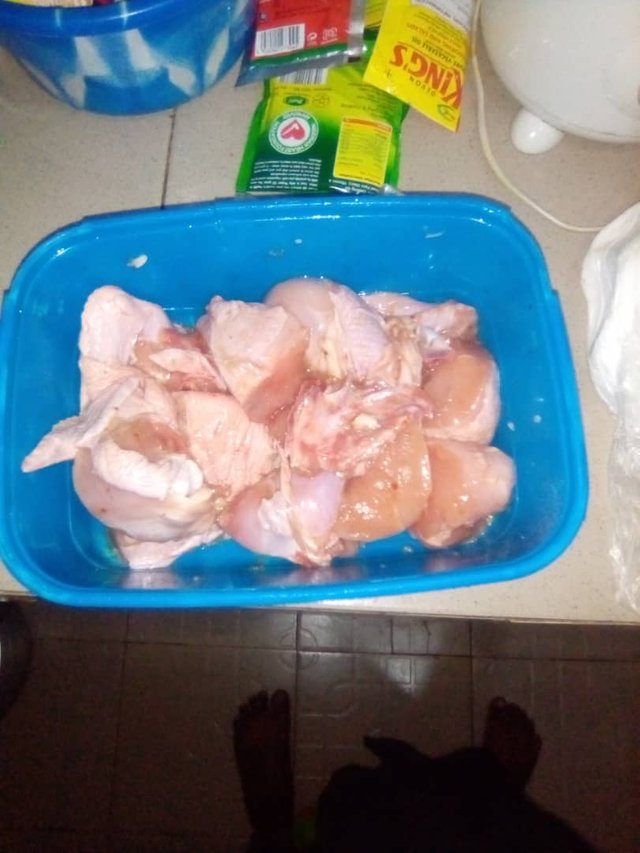 Marinaded Chicken
Step 2
Next I went to work extracting the oily juice of the palm fruits. I put the washed palm Nut fruits in a suitable pot with water just covering the top of the fruits. I heated it up to a boil and put the tenderized boiled fruit in a mortar. I pounded it thereby extracting the juicy skin from the hard husky nut.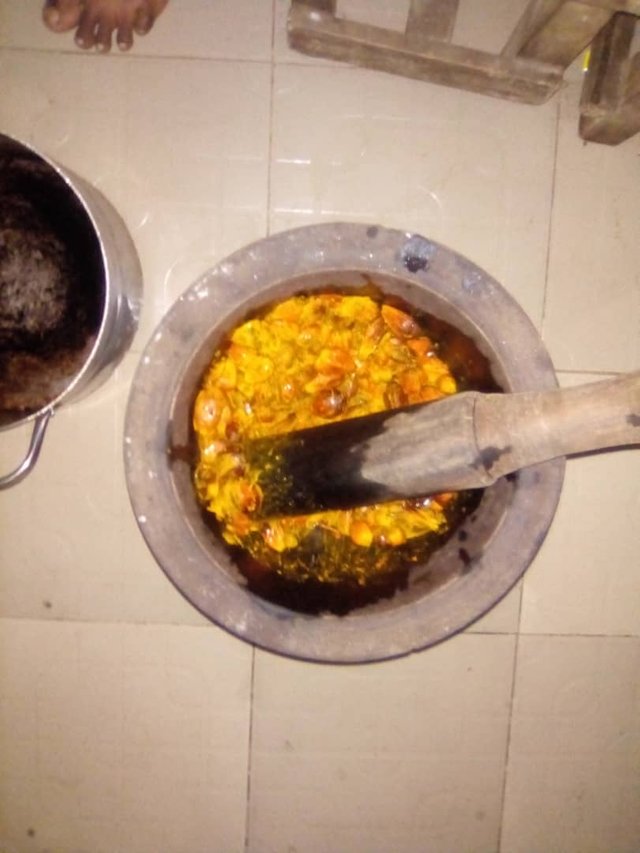 My pounded palm Nut fruits.
Step 3
I removed the pounded palmnut fruits and put it in a tight sieve. I heated a little hot water and poured into the sieve a little at a time while squeezing the crushed palm fuits to let out the oily juice down into my pot underneath the sieve.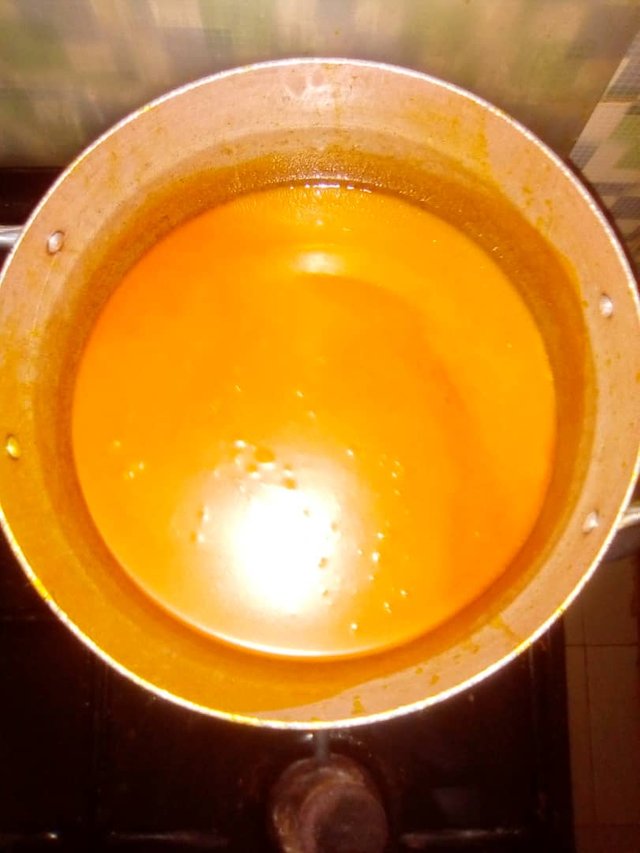 Extracted Palm Nut Fruits Juice in my pot.
Step 4
After extracting the juice, I put it on fire in a pot. I added my marinated chicken and a table spoon of salt. Next I blended one bulb of onions and added with a table spoon of powdered chilli, two Maggi Star stock cubes and the Banga soup spice(optional, Banga soup tastes great without any added spices)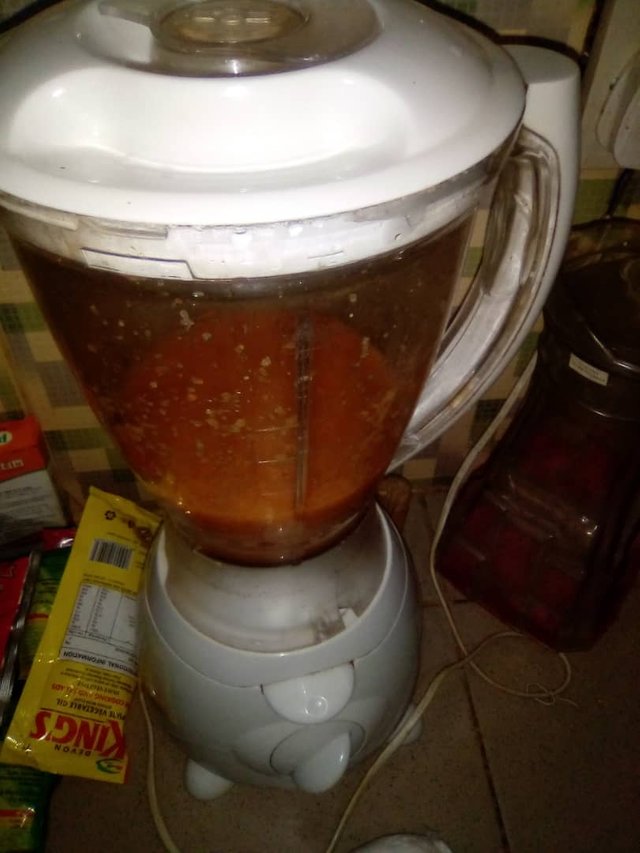 Blended Onions.
Step 5
I put a pot cover and allowed my soup to cook on high heat for twenty minutes. After twenty minutes I came back, took the lid off and allowed it a further ten minutes on medium heat to reduce and thicken. After ten minutes it was ready, I turned off the heat and it looked like this in my pot.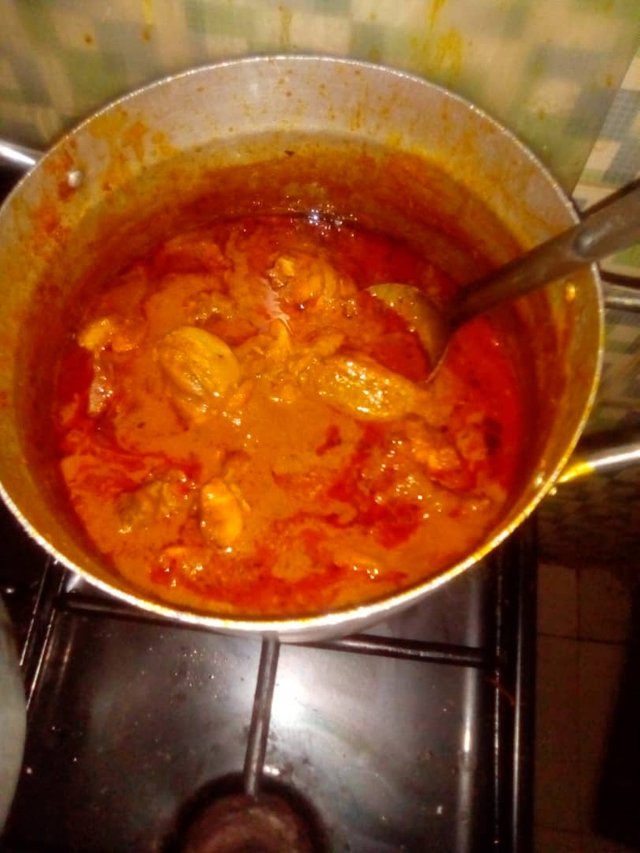 I served some in my soup bowl and took the picture in my heading. Banga soup can be eaten with dumpling of your choice and it's also great when served on a plate of boiled white rice.
I hope you enjoyed my recipe for Chicken Palm Nut (Banga) Soup, I will be back with more recipes. Thanks for your time, bye for now and stay safe.
CC- @steemitblog
CC- @steemcurator01
CC- @steemcurator02
Camera Type
Tecno Pop 2.
NOTE
THIS POST WILL BE SHARED ON TWITTER.