Delegate your Steem Power, Become a Partner of SteemitFoods! Earn a Daily Steem Reward!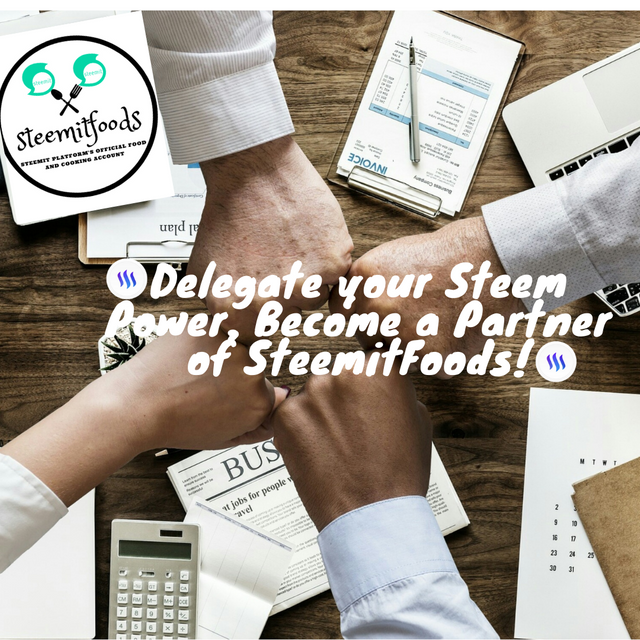 Hello to everyone :
Today I have prepared a post to announce a delegation call for the @steemitfoods account.
First of all, what is SteemitFoods for those who don't know?
SteemitFoods is a community established with the support of @steemitblog team and @steemcurator01. SteemitFoods was established on Steemit platform to support quality and original Food and Cooking content writers. The @steemitfoood account is the official blog page of the SteemFoods Community. Contests related to award-winning food and cooking are held every week on the Steemitfoods account. Our main goal is to enable the steemit platform to reach more users and grow. Same time ; We give voting support through original posts -steemcurator01 and my personal account: @ alikoc07 prepared by people interested in food and cooking.

Currently, the current number of participants of the SteemitFoods Community: 253. Despite the establishment of the Community 15 days ago, we reached 250 users. We continue to grow every day.

Detailed Information About SteemFoods Community : https://steemit.com/hive-148497/@alikoc07/steemfoods-community-established-join-us-and-earn-steem
Why Should I Do Steem Power Delegation?
We want to provide voting support to authors interested in food and cooking from @steemitfoods account, to earn income, to have more active users on the steemit platform and to ensure that participants produce quality content. According to the amount of delegation you will make to the Steemitfoods account, we will also give steem rewards to your account, you will also be a partner of the SteemitFoods Community. :)
At Least How Long Can I Delegate SteemPower?
You can make at least 50 SteemPower Delagations to SteemitFoods account.
How Many Steem Awards Will I Earn Per Day With My Delegation?
The amount of Steem Awards you will earn daily, weekly and monthly; It depends on the price of steem and SBD. But I Want To Share Below The Prize Amounts You Will Earn As of Now.
For 50 SteemPower Delegations: Daily Steem Award: 0.01275 - Weekly Steem Award: 0.08925 Steem - Monthly Steem Award: 0.3825 Steem
---
For 250 SteemPower Delegations: Daily Steem Award: 0.06375 - Weekly Steem Award: 0.44625 Steem - Monthly Steem Award: 1.9125 Steem
---
For 1000 SteemPower Delegations: Daily Steem Award: 0.255 Steem - Weekly Steem Award: 1.785 Steem - Monthly Steem Award: 7.65 Steem
How Can I Delegate SteemPower To My SteemitFoods Account?
Many thanks for @justyy's delegation utility tool. You can safely delegate by clicking the link below.
*I will explain how to delegate step by step.
First click on the link above, then enter your steemit username in the Delagator Id section, then enter - steemitfoods in the Delegatee ID section. Then write the delegation amount below and click the SteemDelegate via steemlogin.com link. Finally, you can delegate by entering your steemit username + private Posting Key password.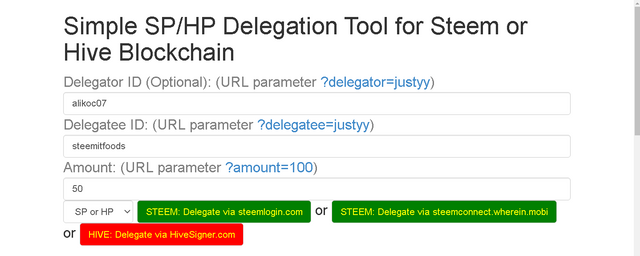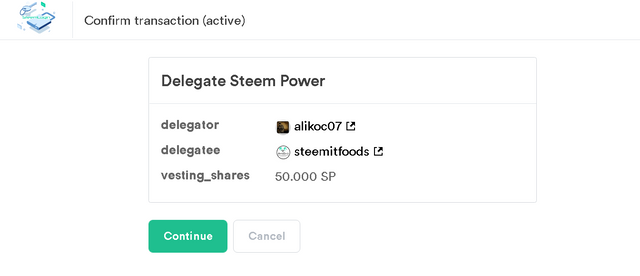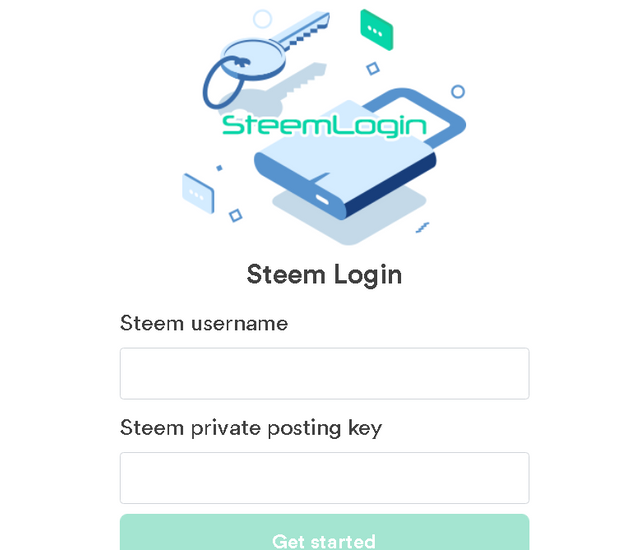 For About SteemitFoods Community and for Delegation Questions, you can write to SteemitFoods' Discord account.
Quick Delegation Links: