Beef stew with potatoes / Carne guisada con papas
Hey amigos, como están?, preparamos un poco de carne guisada para variar nuestro menú, además de eso lo acompañamos con algunos tostones y arroz, y la verdad es que la carne quedo espectacularmente deliciosa, y lo mas genial de todo es que es super sencilla de preparar, no tiene dificultad alguna, así que ven a ver el procedimiento.
Hey friends, how are you? we prepared some stewed meat to vary our menu, besides that we accompanied it with some tostones and rice, and the truth is that the meat was spectacularly delicious, and the coolest thing of all is that it is super simple to prepare, it does not have any difficulty, so come to see the procedure.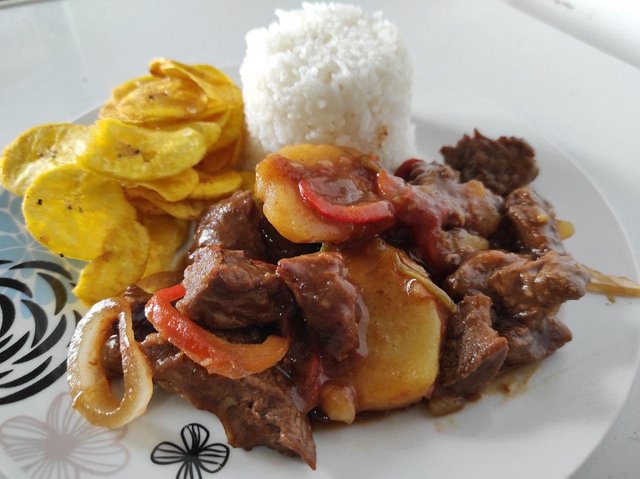 En primer lugar necesitaremos carne fresca de primera, o carne que sea muy blanda, yo compre carne picada y de primera especial para hacer guiso, simplemente la lavamos bien para remover el exceso de sangre, la condimentamos un poco y la colocamos en una olla para hervirla.
First of all we will need fresh first class meat, or meat that is very soft, I bought minced meat and special first class meat to make stew, we simply wash it well to remove the excess blood, season it a little and put it in a pot to boil.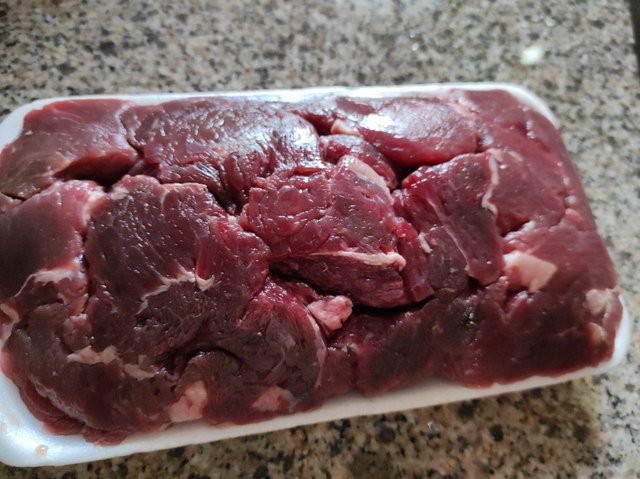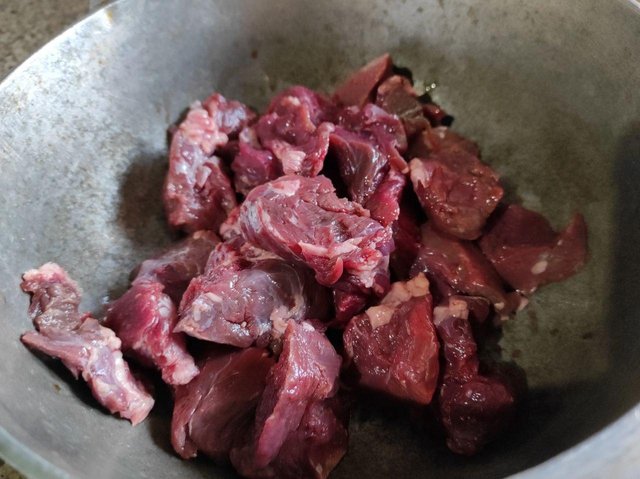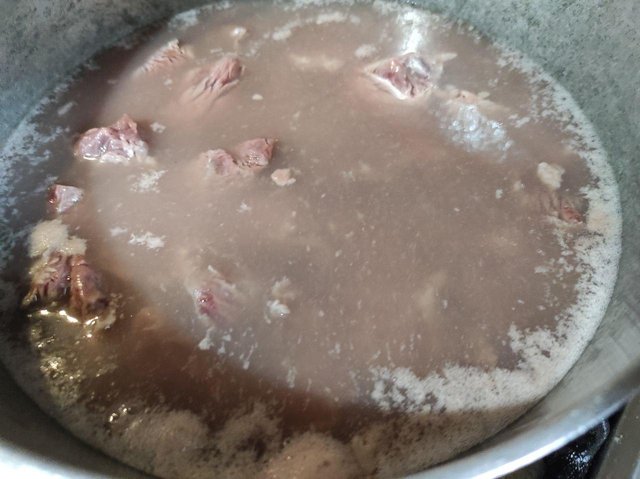 Para acelerar el proceso de cocción la tapamos, y dejamos que el agua se evaporara, de esta manera sabríamos que la carn estaba lista cuando ya tuviera poca agua.
To speed up the cooking process we covered it, and let the water evaporate, this way we would know that the meat was ready when the water was low.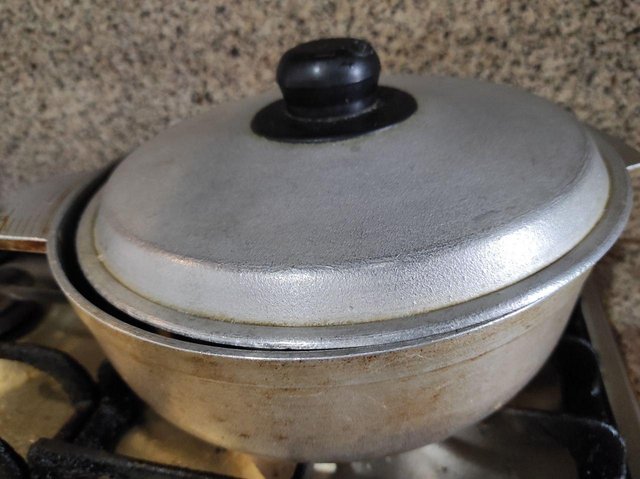 Tras pasar mas de 20-30 min la carne estaba lista, terminamos de colar la poca agua que tenia y la dejamos en la olla.
After more than 20-30 minutes the meat was ready, we finished straining the little water it had and left it in the pot.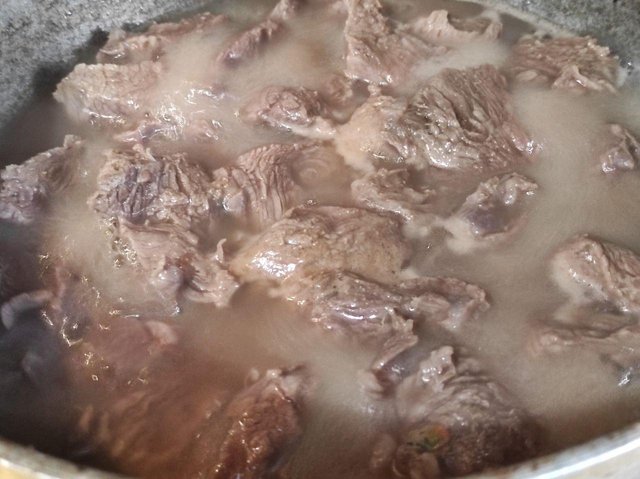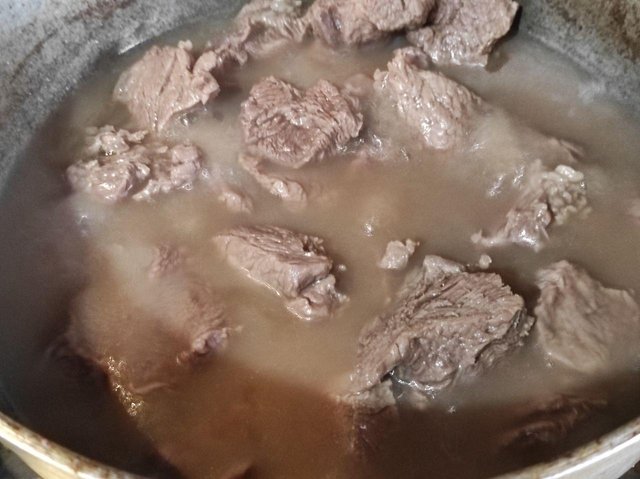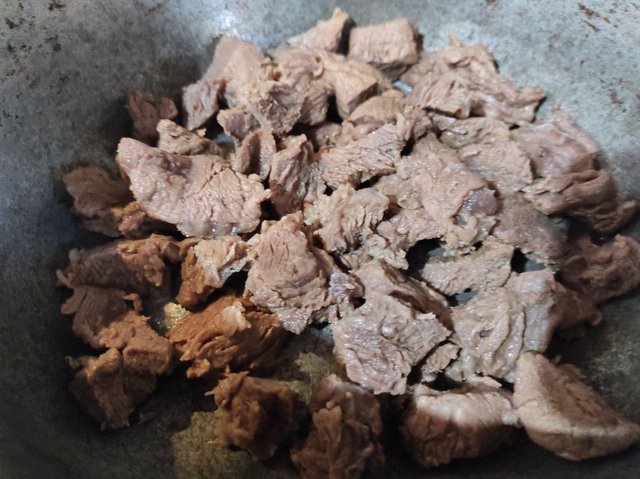 Ahora es momento de hacer las papas, normalmente las cocinamos junto a la carne, sin embargo hoy quisimos hacerlo diferente y las hervimos en una olla aparte, cuando estuvieran blandas las retirábamos para luego agregarlas junto con la carne.
Now it is time to make the potatoes, normally we cook them together with the meat, however today we wanted to do it differently and we boiled them in a separate pot, when they were soft we removed them and then added them together with the meat.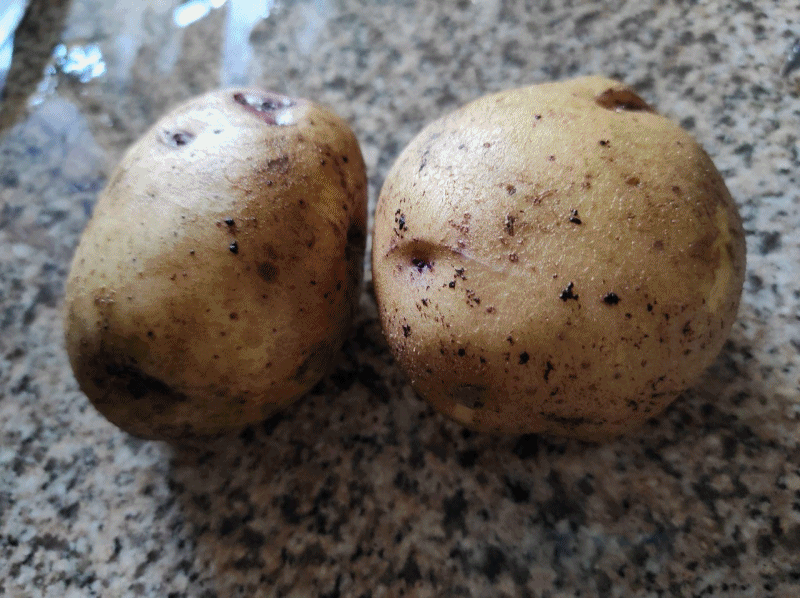 También cortamos algunos aliños como cebollín, ají dulce, pimentón y un poco de tomate.
We also cut up some seasonings like chives, sweet peppers, paprika and a little bit of tomato.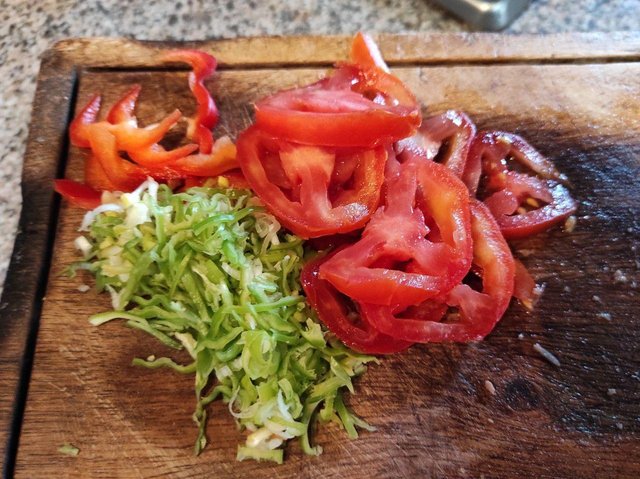 Vamos a añadir los aliños a la olla junto con la carne, y también las papas, y un poco de salsa de soya, mezclamos y cocinamos bien todo.
We will add the seasonings to the pot along with the meat, and also the potatoes, and some soy sauce, we mix and cook everything well.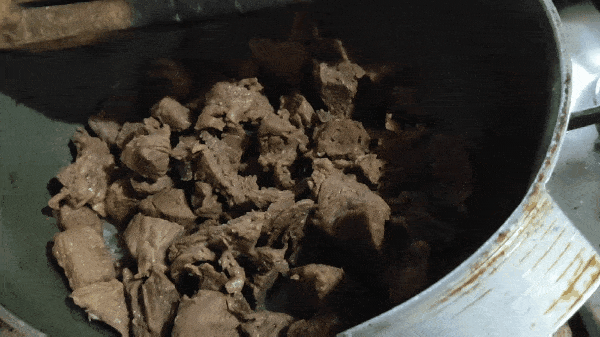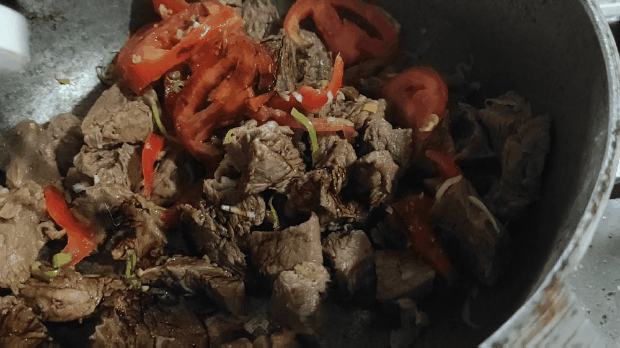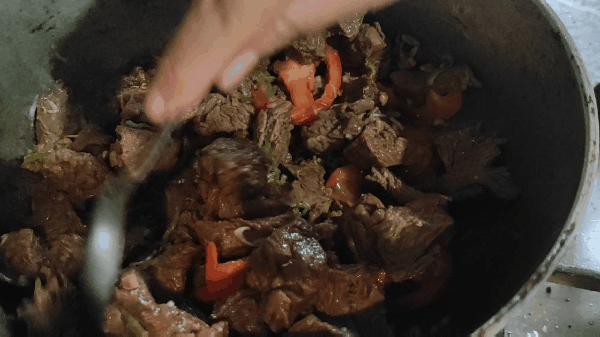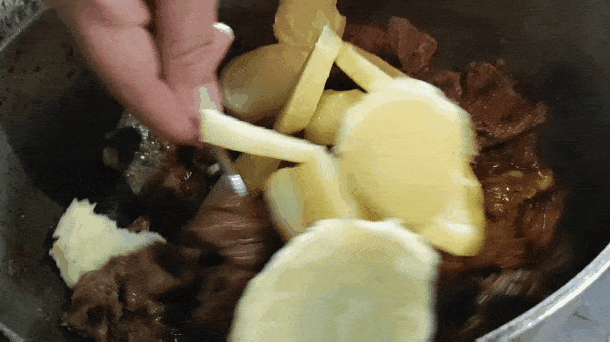 Terminamos de cocinar por otros 8 min y estará listo.
We finish cooking for another 8 minutes and it's ready.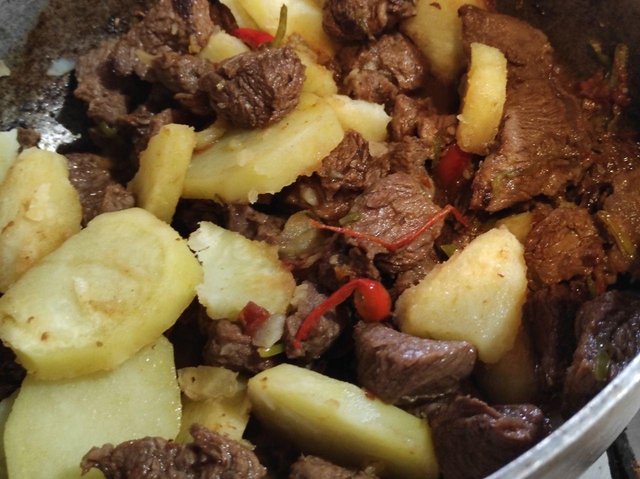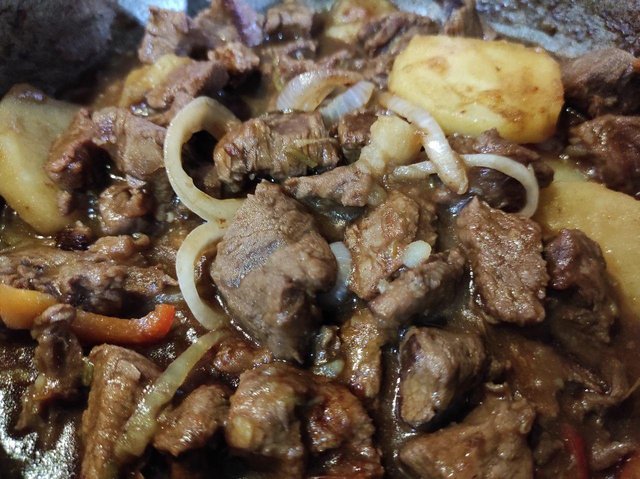 Preparamos algunos tostones (rodajas de plátano frito) para acompañar la carne.
We prepare some tostones (fried plantain slices) to accompany the meat.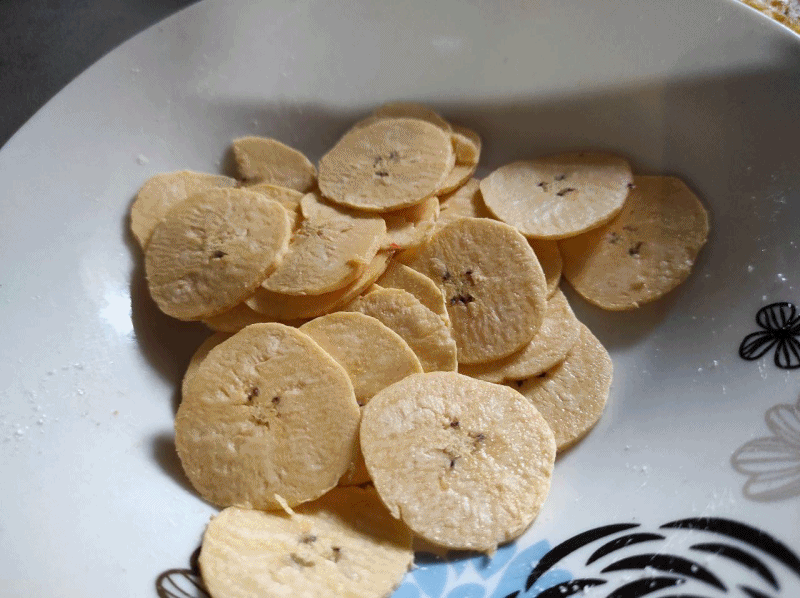 Y finalmente con todo preparados podemos servir para degustar, y por cierto olvide mencionar que agregamos rodajas de cebolla al final, para darle un poco mas de sabor a la carne.
And finally with everything prepared we can serve to taste, and by the way forget to mention that we add onion slices at the end, to give a little more flavor to the meat.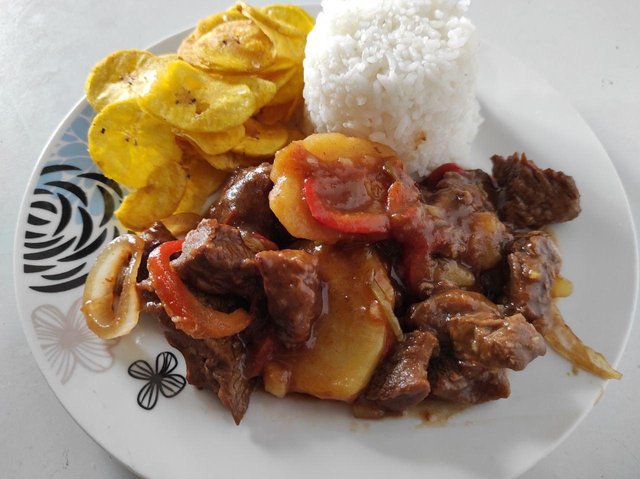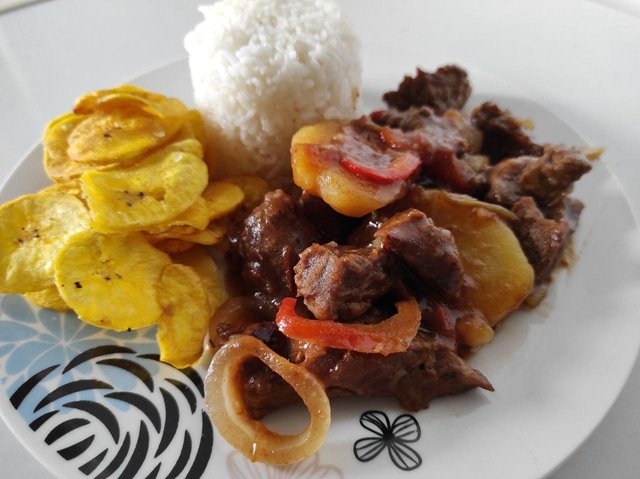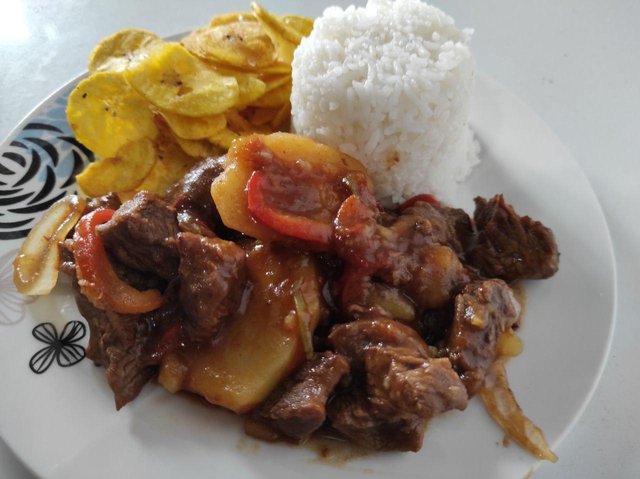 Y como mencione anteriormente, es super sencillo de preparar y muy delicioso, la verdad es algo para probar y almorzar de una manera distinta :D, incluso creo que en lugar de tostones podríamos acompañar con una ensalada.
Sin mas nada que agregar, me despido.
And as I mentioned before, it is super simple to prepare and very delicious, the truth is something to try and have lunch in a different way :D, I even think that instead of toast we could accompany it with a salad.
Without further ado, I'll say goodbye.
Fotos tomadas con un Xiaomi Redmi Note 9 Pro / Photos taken with a Xiaomi Redmi Note 9 Pro