Attention! Contest #2 - "Creativity for kids"
Hello everyone! Today I am pleased to offer you a new competition. Since we are in the "SteemFamily" community, it will be dedicated to children.
On the Steemit platform, there are many creative people who devote a lot of time to their own and other people's children. Everyone puts a part of their soul into education. I myself often compose fairy tales and stories for children, but I do not always write them down. And in vain! Creativity must be preserved! I invite you to take part in the contest!
The contest accepts fairy tales, short stories, ditties, riddles and songs. The main condition is that creativity must be your own! But the rest of the rules must also be followed:)
From April 29 to May 6 - the contest "Creativity for kids"!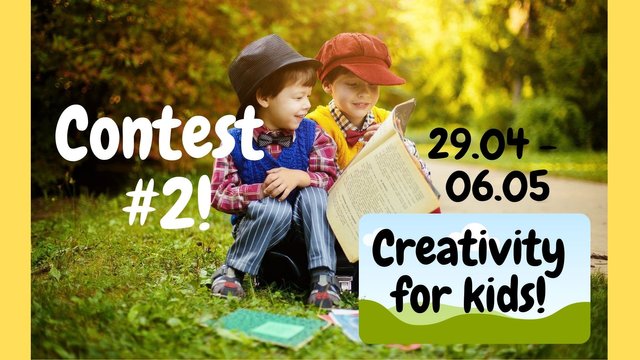 The photo was taken from a free stock photo and processed using the service Canva.com.
Prizes:
1st place - 10 steem
2nd place - 7 steem
3rd place - 5 steem
Terms of the contest:
The post must be written in the community @SteemFamily
At least 100 words
No plagiarism
1 or more photos or drawings you have taken
The language of the post is any
Be sure to post a link to your message under this post
You can write about two friends, you need to mark them with @ in your message
The first tag should be #forkids, the second #steemfamily, and the third should be your country tag.
I invite @steemcurator01, @steemcurator02 and @steemcurator06 to support the participants and the community!
I ask for information support from the curators of national communities:
Cameroon (@njiatanga, @saxopedia), Ghana (@njaywan, @oppongk), Nigeria (@focusnow, @bright-obias, @whitestallion), Uganda (@yohan2on), Mexico (@leveuf), Argentina (@belenguerra, @fendit), Venezuela (@adeljose, @anasuleidy, @edlili24, @mariita52, @tocho2, @albenis, @inspiracion, @wilmer1988), Bangladesh (@rex-sumon, @tarpan, @toufiq777), India (@neerajkr03, @rishabh99946, @sapwood), Indonesia (@anroja, @ernaerningsih, @nazarul, @radjasalman), Japan (@cryptokannon), Pakistan (@rashid001), Sri Lanka (@besticofinder, @randulakoralage), Italy (@girolamomarotta), Russia (@filinpaul, @knopka145), Turkey (@alikoc07), Ukraine (@antorv, @olesia) and New Zealand (@kiwiscanfly).
On May 7, we will determine the winners. I wish you all success and good luck!