CONTEST CLOSED - 200 STEEM ( PromoSteem In CoffeeShop ) For 10 Winner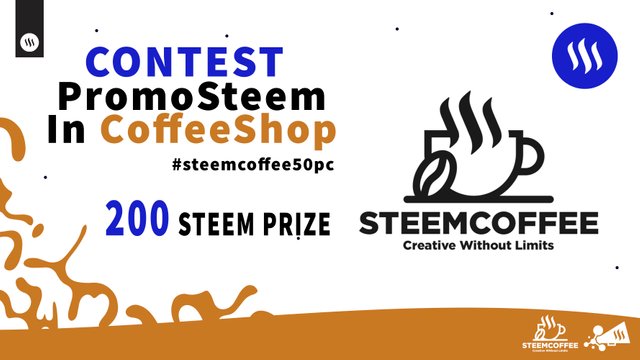 Indonesian Language HERE
Today, a big contest is here for those of you who like to take part in contests, this contest aims to promote steem and also help the STEEMCOFFEE project, you can think of this as a campaign to support the steemcoffee project by participating in the contest and also sharing the beneficiary with steemcoffee as a form of support for steemcoffee.
200 STEEM, this is the total prize that I provide to you, with 200 steem, I will choose the 10 best winners from the participants of this contest.
What Contest Is ?
This is a contest about your activities in promoting steemit at the coffee shop, while enjoying coffee, you can also chat with your friends or other people and explain about steem to them, successfully getting them to join steemit so that's even better
Example post
Rules & Terms
Clearly understand the example of the post above, it is an example of promosteem activity in a coffee shop
Do your own activities to promote at the coffee shop
Create your own post well and full of information about your promotion
Posting your post in PromoSteem Page - PromoSteem
Your post title must be (PromoSteem in CoffeeShop - @yourusername - 50% Payout to @steemcoffeeshop)
Share payout for steemcoffee project with 50% to @steemcoffeeshop
Use these 5 special #tags ( #steemcoffee50pc #contest #promo-steem #steemexclusive #steemcoffee )
How To Register In This Contest ?
Tag 3 of your friends in the comments
Put your post link in the comments column of this post
Not following the 7 rules above, your entry will not be counted
Everyone who registers and puts your contest post in the comments will get 1 steem prize
---
Why Payout 50% ?
To make this project successful, I took the initiative to run this contest, so that many people will know and be able to help this project by dividing the payout, because this is also part of the SteemCoffeeShop Crowdfunding Program.

Winner
Assessment
Successfully invited new people to join Steemit
Post neatness as well as informative
Contest Closed In
The contest started from the time this post was published and will be closed on MAY 31 - 2021
Let's Get Started, Contest Is Open
---
Thanks to : @steemcurator01, @stephenkendal, @pennsif

PromoSteem Discord

Author : @arie.steem
Contact Discord : arie.steem#4626
Twitter : https://twitter.com/ariesteem