ANNOUNCEMENT! WINNERS OF THE "RECRUIT A SIGNUP CONTEST" | The contest was able to produce 6 new signups!
30% of the post payout will go to the beneficiaries : @promosteem.com (supporting promosteem community) , @jaymiedeng27 (Sewing the facemask for free) and @misssj (for helping me judge this contest)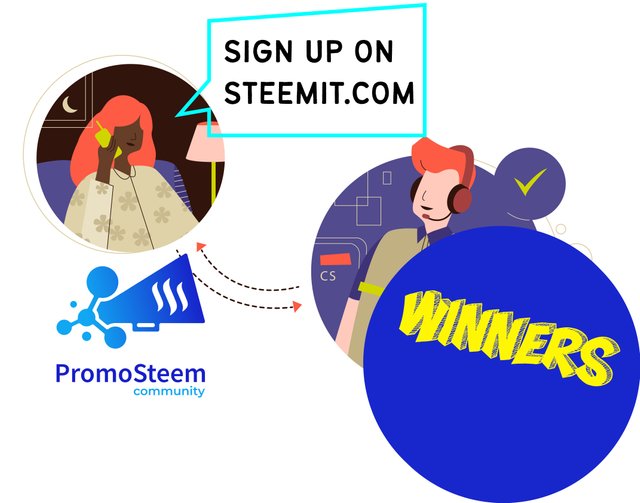 First and foremost thanks to all the steemians who were able to recruit new signups this past couple of weeks! You guys are truly magnificent that alone is worthy to be special mention. Your efforts in recruiting signups on steemit will not go to waste as all of the participants in this contest will be rewarded!
The contest was run for two weeks as I required all participants to include all of their recruits to make an introduction post to validate that the one they recruited is real human being. Since all of the entries followed my instructions and all able to get a new signup, I graded base on the construction of their article the neatness and fluency as well.

Without further ado here are your winners for the "RECRUIT A SIGNUP CONTEST"

✌ Special Mentions: WIll Receive 5 Steem Each (Previously Announced 3 Steem Each)
✅(@mistural) | https://steemit.com/hive-153176/@mistural/recruit-a-signup-by-mistural
✅(@herisky) | https://steemit.com/hive-153176/@herisky/recruit-a-signup-contest-by-herisky
✅(@tayetaiwo) | https://steemit.com/hive-153176/@tayetaiwo/recruit-a-signup-by-tayetaiwo
Proof of Transfer of Rewards



Thanks to brother @arie.steem for sponsoring 10 Steem in this particular contest! Hoping to gather more sponsors in my possible next contest.
PromoSteem Sponsor:
@stephenkendal

Thank you as well to our PromoSteem Team :

PromoSteem Team
@arie.steem @pojan, @ponpase
Promoters Team
@julstamban Promoter - Philippines
@vipnata Promoter - Italy
@mcsamm Promoter - Ghana
@rex-sumon Promoter - Bangladesh