LAST DAY OF "TAG A FRIEND CONTEST" | 10 ENTRIES - 21 NEW SIGNUPS! [100 STEEM PRIZE POOL]
LAST DAY OF "TAG A FRIEND CONTEST" | 10 ENTRIES - 21 NEW SIGNUPS! [100 STEEM PRIZE POOL]
10% of post payout goes to @promosteem.com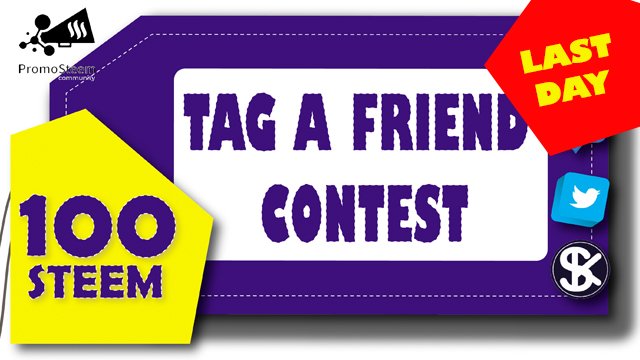 Let us make Steemit more active, particularly in terms of its promotion. With that in mind, I came up with the idea of hosting a contest here on the Promo Steem community, this will be called "Tag A FRIEND Contest".
Basically, the contest entails tagging your friends on my pinned Twitter and Facebook posts, after which you will have a conversation with them about how you will persuade them to join/signup on steemit. I'll provide the link later in the article's details section.
This contest will require you to post in order to participate; you must take screenshots of your conversation with your friend that you tagged (your conversation should be under the link of my facebook/twitter post) . My rules and regulations are just down below;
🌀RULES AND REGULATION OF THE CONTEST!🌀
❶ Tag your friends on my facebook/twitter pinned posts(whichever you prefer is okay) The links are as follows: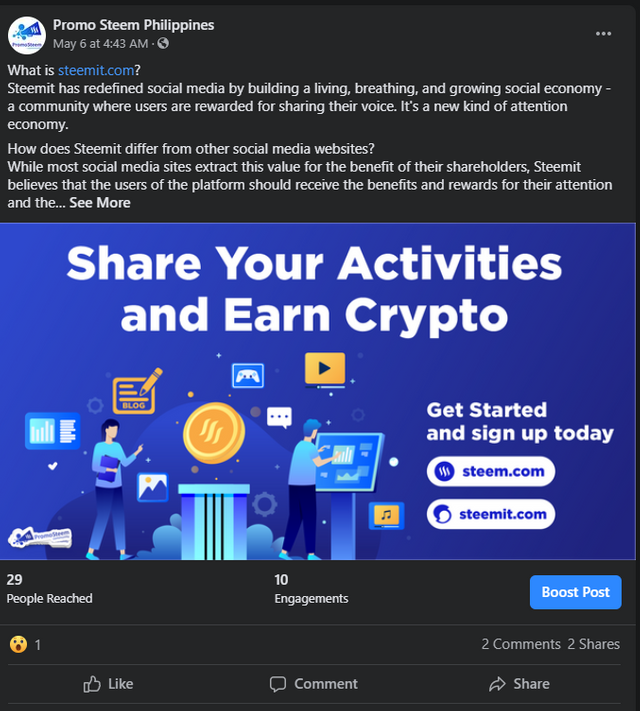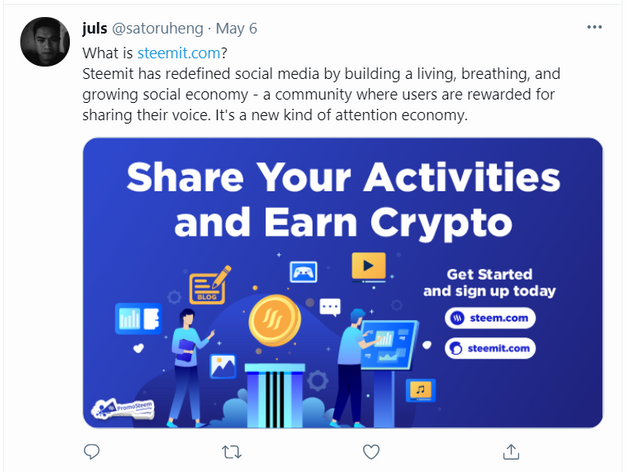 ❷ The screenshots should be about persuading friends to join Steemit.
❸ If the conversation is in a language other than English, please write it in the comments section so that I can translate it.
❹ Don't ever forget to use the #tagafriend as one of your tags on your entries, also comment the link of your entries under this post.


🌀CRITERIA FOR JUDGING🌀
❶ Only introduced Steemit, but did not succeed in convincing friends to join - point : 1
❷ Invited friends to join and verify their username by providing their username in the comment section in this post - point: 2
🌀DON'TS;
❶Taking screenshots of other people's conversation
❷ Photoshopped or manipulated screenshots
🌀NOTE:
❶ Accept wholeheartedly whoever wins the contest.
❷ 65 STEEMs will be rewarded to the top 3 winners and 35 Steems will be divided to all entries who doesn't win the contest, if there are fewer entries/winners then the 10 Steems will be divided equally. Meaning your rewards could go higher the fewer the entries
| PLACE | REWARDS |
| --- | --- |
| 1st | 30 Steem |
| - | - |
| 2nd | 20 Steem |
| - | - |
| 3rd | 15 Steem |
| - | - |
| All Entries | 35 Steem distributed equally |
| - | - |
I would say, I am very pleased that there were a lot of entries this time around and they keep on coming as the contest will run until May 31. There are a lot of steemians commenting on my Facebook pinned post where they were tagging their friends and introducing steemit to them.


The reason I initiated this contest is that this engagement will serve as a proof to the public that real humans are promoting steem on facebook. This would also somewhat nullifies the concept of steemit is a scam, where as we all know that people are skeptical at first when it comes to something like this.
Anyway, I am proud to report about these updates, where there are currently 1368 organic impressions as well 185 recruitment comments and most importantly 21 new steemians were produced as of May 31 by this Tag A Friend contest!
TAG A FRIEND ENTRIES
Thanks to : @steemcurator01, @stephenkendal, @pennsif

PromoSteem Team
@arie.steem @pojan, @ponpase
Promoters Team
@julstamban - Philippines
@mcsamm - Ghana
@nattybongo - Ghana
@cryptokraze - Pakistan
@michaelchijioke - Nigeria
@oscarcc89 - Venezuela