Chat a friend Contest week 1; Promoting steemit through social media platforms (100 STEEM Prize Pool).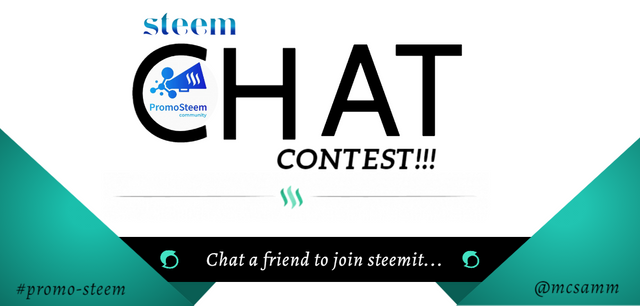 Design credit to @mcsamm
"Have you been awarded a contract to promote steemit"?
This happens to be one of the most interesting and amazing but important questions l have been asked a couple of times since l joined steemit. It looks as if my existence has been nothing more serious to them than sharing steem with people every single day. I will agree if people around you ask you similar questions in your endeavor to promote steemit. These are some of the situations that every promoter must have in mind inasmuch as you have made steemit promotion a core objective of your daily activity like myself.
I wonder how the situation feels with steemians like @stephenkendal @arie.steem @vipnata @pennsif @pojan @julstamban and many other promoters who make steem promo their daily habits. Sometimes, some of these people are right about how we keep sharing steem with them. I simply assume their question and insinuation certainly rhetorical.
The truth of the matter is, some of us our blood runs through the steem blockchain. The thrill of sharing steemit with people is so amazing that each day gives me the urge to promote steem in every possible way.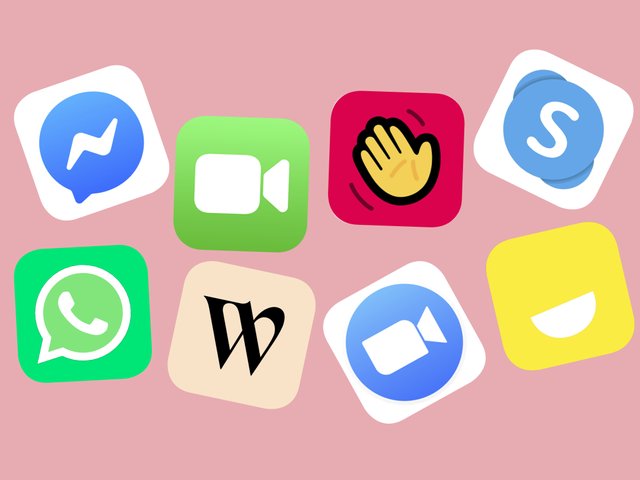 steem chat challenge
Do you have a problem talking to someone? Here comes another great opportunity to engage people around you about steemit. This would not require you so much effort to share steemit. I feel so excited to bring this up to enable people to earn something for themselves in their quest to promote steemit to their friends. This contest is here to establish a platform for people on your contact lists on the various social media platforms you belong to. All you need to do is to initiate a conversation exclusively about steemit. Once the fellow responds, help them to know steem to be a social media they would you belong which you would want to see them join as well. You certainly have to be creative in chatting with them to ensure that, a link is sent to them for a look. It would be a plus if you go on to help them through account creation.
You may not obviously be a social media type of person. That is to say, you don't belong to many social media platforms. But whichever medium you can use to initiate a chat with someone about steemit is what this contest is all about. Everyone you are connected to must know about steemit. Let them understand the need to join steem to make it the best social media to bring digital transformation to the lives of people. I hope to ensure this contest runs every week. This presupposes that you must have just one person to share steemit with through chat. You may use Twitter, Facebook Messenger, Instagram, Whatsapp, Viber, Telegram, Skype, zoom, discord, SMS, or any through which you can successfully chat with someone to invite to steemit.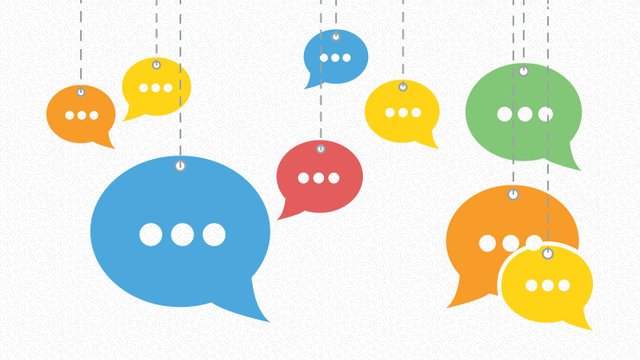 source
How it works
From today as the first week of this contest, participants are to begin a chat with someone on any social media platform you can have it done. You are not limited to a particular one. To make things easier and more effective, focus on just one person to start a steem chat with, which will possibly aim at getting the person signed up for steemit. You will be sharing also with us screenshots as proof of work for the conversation between you and the fellow.
With this activity, participants of this contest will assist us in promoting steemit by bringing 48-50 newbies at the end of every year. The following gives a description of how this will be achieved.
Total Invitation & Signups
| Total weekly | Total monthly | Total Yearly |
| --- | --- | --- |
| 1 | 4 | 48 |
How would you feel knowing through your weekly participation in this contest has signed up 4 friends of yours on steemit through chats? This is absolutely incredible. Plans are going to be made to make the existence of all these invitations a good one. You only have to play your part in ensuring your chat with a friend has added a newbie to this blockchain. All we need is active participants who will be real and willing to chat with someone every week. We will certainly draw the attention of all our friends and families to steemit as the best social media platform that gives them the opportunity to blog and have fun.
Prize
10 STEEM for every participant. (Follow contest rules)
TERMS & CONDITIONS.
This is an open weekly contest in any language running from today 19th April to receive entries from all steemians on the steem blockchain.
All entries must be made through promo seem community with a minimum of 150 words.
Share with us evidence of the conversation between the two parties. You may do this by screenshots or screen recorder or even both to demonstrate the chat of your invitation.
Include the date and indicate the name of social media you used for your conversation.
Only one entry is permitted as your personal and original work with NO plagiarism.
Make your TITLE (Chat a friend contest by @yourusername).
Make sure to Resteem, Upvote, and Comment the link of your entry to this post
Use the tags #steemchatcontest(first tag), #promo-steem(second tag), your country tag e.t.c

Many thanks to @steemcurator01, @booming01, @stephenkendal, @pennsif, @dorbatim, @arie.steem, @vipnata, @pojan, @julstamban for their daily support and guidance through contests and promotional activities to reach the world with steemit.
---
---
10% payout of all posts going out to @promosteem.com