Introducing Steem Campus Connect, Ghana. Engaging and reaching students with steem in Universities & Colleges in Ghana.
10% payout of all posts goes to @promosteem.com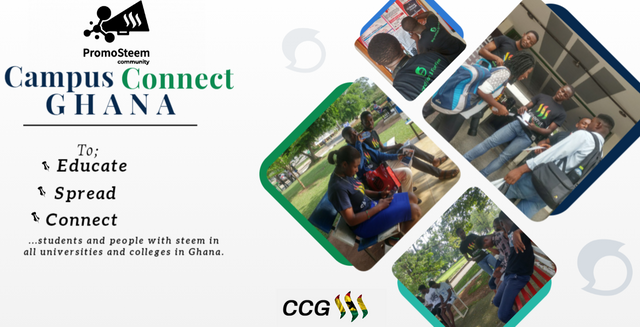 Introduction
The long-awaited project which is designed to educate and connect with students and people at the various universities and colleges all over Ghana is here and finally launched today. I write with so much excitement for the uniqueness of this vision which has been inspired by
@stephenkendal
through his support and guidance in promotional activities here in Ghana. It is amazing to have the support of
@arie.steem
championing this course to ensure its objectives are fully functional to the development of the steem blockchain. Working together with
@nattybongo
in achieving this great vision is certainly a step in a positive direction.
Promo steem has lately got engagement on the stem blockchain with a significant improvement in member's participation. It is such an inspiration from our daily promotional activities bringing this vision to reality. Campus connect Ghana(CCG) is here to involve all students from the various campuses of all universities and colleges here in Ghana to broaden the umbrella of steem and aims of steem and steemit on the blockchain. It is here to ensure that, every single student in school owns a steem account, adding great value to the steemit platform through their distinct knowledge of their area of study.
---
---
Campus Connect Ghana(CCG)
Over the past weeks, the
#steemghana
community has done a great job with the introduction of meetups and weekly contests by
@mcsamm
and
@nattybongo
. This has significantly improved the commitment and participation of community members with regards to their responsiveness to the steem promotion. In this regard, there's been the introduction of newbies from various angles of activities done to ensure their stay.
Students are one group of people whose engagement on steem blockchain will be more efficient and productive if a little attention is given to them. This is when consideration is made to ensure they are well enlightened with steem and the blockchain. Even though we have been doing so great in promoting steemit, l still believe the various universities and colleges need to get informed about steemit through a massive promotion. And so CCG takes its inspiration also from giving so much attention to students who have been in search of a platform that would make them utilize their God-giving talents and skills. The existence of steemians who are already in schools will be more than excited to see the plans and activities that are going to be run by CCG.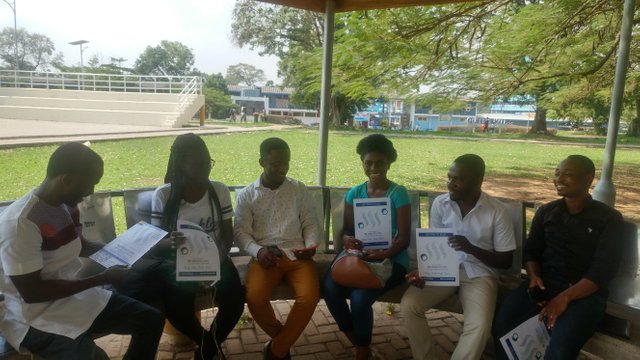 campus promo; @mcsamm @anaman @nattybongo @collinz @odsam2

---
---
Aims & Objectives of CCG
The Steem Campus Connect Ghana is basically designed to ensure a massive steemit promotion and engagement in all campuses of the various colleges here in Ghana. It will be planned to partner and work with
@campusconnectng
(CCN) which is a sister community in Nigeria already doing great things out there. The project is supported amd work in hand with
@promosteem.com
which will guide and support it's operations and activities on the steem blockchain. This will be a national activity involving all members of the
#steemghana
community in educating and promoting steemit. We hope to ensure that, it is focused so much on students in school where steem will help to improve their lives even as they make steemit a home for all. Below are some underlying objectives that are specifically spelled out for the purpose of CCG.
To establish a steem community in most Universities and Colleges to recruit and educate creative and innovative students whose delight in joining the steem blockchain will add great value to the steem ecosystem. These students have unique potentials who l believe the introduction of steem and blockchain to their doorstep will do nothing but bring the best in them to affect those around them as well.

Organisation of educational seminars on respective campuses to invite students from all angles to educate them about steem, entrepreneur skills, and cryptocurrency. CCG will live to ensure students on campus make good use of the opportunity they have to improve the quality of their online activities.

To organize a massive meetup each semester on most campuses that will be geared towards promoting steemit through educational ideas that will emerge of their plans and aspirations.

Engagement in outreaches to handle charity works through donations and improve the lives of people who steem can help in that regard.

Organization of weekly contests to involve all participating members on campuses. This in effect will motivate their activities and ensure the activeness of all students from their respective colleges.

Offer educational grants and support to the brilliant but needy students who have difficulties in the payment of their educational bills to have a sound mind in their study.

To publish a weekly update of the progress of steem growth in campuses and identify the students whose steem has changed their life in any way.
---
---
Conclusion
This and many other aspirations are underway to ensure this dream becomes a reality.
I feel honored to however announce that, CCG will be managed and moderated by
@mcsamm
@nattybongo
@collinz
@anaman
, and
@odsam2
who currently form the steem promo team in Ghana to ensure steemit gets the attention it needs here in Ghana and beyond. This is just an introductory post to the establishment of Campus Connect Ghana which will certainly have its own community in the subsequent days. Thanks to
@oppongk
and
@njaywan
for their immense support in helping to achieve this dream.
I am hopeful that, the introduction of a steem community in colleges in Ghana will improve the engagement of all community members to ensure the digital transformation that steem and steemit seek to achieve. Everyone on the steem blockchain is invited to support this vision by doing their very little input for the great course.
With the directions and support of @steemcurator01, steemcurator02, @stephenkendal, @dorbatim @pennsif @ackza, and all steem promoters who support this vision, CCG will do many great things here in Ghana. There is surely going to be a new face of steemit, blockchain, and cryptocurrency even as this begins to find its stay here in Ghana.

PromoSteem Team:
@arie.steem, @pojan, @ponpase
Promoters Team:
@julstamban Promoter - Philippines
@vipnata Promoter - Italy
@mcsamm Promoter - Ghana
@nattybongo Promoter-Ghana
@rex-sumon Promoter-Bangladesh
Post authored and introduced by @mcsamm