Contest Contest Contest: Promosteem Talent Show (Over 60 steem prizes to be won)
Hello everyone,
It is another beautiful week and good time for us to promote steem once again. As i always use to say, steem promo is an everyday thing. The beautiful thing though about steem promo is that there is not one way of doing anything and so for our contest this week i want to take a new route and i hope to get you to come along for the ride.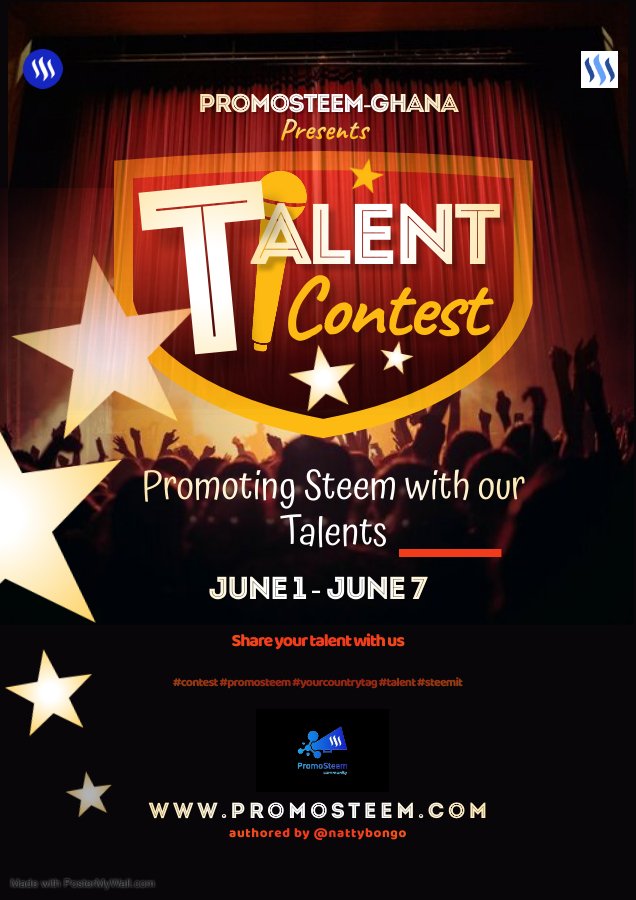 Design Edit by @nattybongo
Recently i have come to know and understand steem is full of talents and that steemians and truly talented indeed however our talents and scattered across the various community which is a good thing but i want to see how much can be done if we are using out talent to create something that promote steem to the world.
And so here is how to partake in this contest, it is as simple as it can be, use your talent to promote steem in your own way and share it with the promosteem community. Are you a writer? Perhaps you can write a poem that people will read and wanna know more about steem. Or perhaps your are musician, can you compose a piece dedicated to steem promotions? Who knows may you are a gifted artist and wanna design something specially to steem promotion.
This is your chance to do something you love doing already with no stress to it and also earn some steem along side
---
Contest is opened from now till 7th June, 2021
---
---
Contest Rules
---
Contest is open to all

Only one entry is required within the week

Please avoid plagiarizing

Post your entry through the PromoSteem Community

Drop your entry link in the comment section below

The tags #promo-steem, #contest, #steemexclusive and that of your country may be used.
---
Prizes to be won
---
First Place - 20 Steem

Second Place - 15 Steem

Third Place - 12 Steem

Fourth place - 9 Steem

Fifth place - 6 Steem
---
Please note that all entries will be rewarded
---
Promoting Steem through our talents is going to be fun and exciting and i simply can't wait to see your entries.
---
---
cc:
@pennsif
@arie.steem
@stephenkendal
@thegreens [Cameroon],@ngoenyi [Nigeria],@graceleon [Argentina], @nahela [Colombia], @miyexi [Venezuela], @ rypo01 [Venezuela],@saracampero [Venezuela],@abuahmad [Bangladesh], @ boss75 [Bangladesh], @ sm-shagor [Bangladesh], @heriadi [Indonesia], @vvarishayy [Pakistan], @yousafharoonkhan [Pakistan], @julstamban [Philippines], @damithudaya [Sri Lanka], @ svm038 [Turkey]
---

PromoSteem Discord
---

PromoSteem Sponsors :
@stephenkendal , @siz-official, @around-theworld

---