CONTEST : Branding Your Lifestyle With STEEM [Prize : 50 STEEM]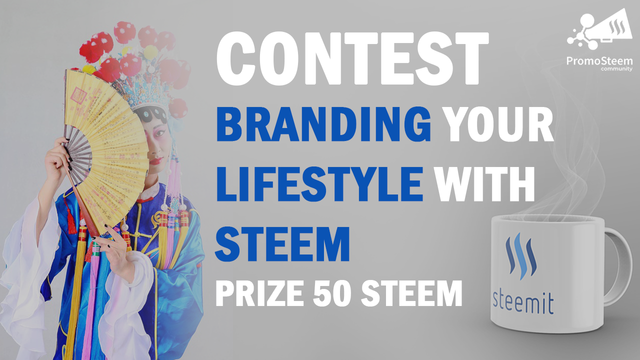 image source 1 | image source 2 | edited by @ponpase
10% payout to @promosteem.com| 25% payout to @steemforsdgs
---
Hello Promoters around the world !
I am very interested in holding a contest again so that Steemians promote the Steem Blockchain / Steemit.com. This is a post about an upcoming contest announcement. I invite all Steemians, especially members of the PromoSteem community to contribute to this contest.
This contest is open to all Steemians everywhere without any restrictions. This time the contest is themed about "Branding" and "Lifestyle". Branding and Lifestyle are two things that cannot be separated from marketing methods. Through this contest I hope you can promote Steem to others with the "Lifestyle" you have as a Steemians.
Quoted from wikipedia, ''Lifestyle" is part of secondary human needs that can change depending on the times or a person's desire to change his lifestyle. Lifestyle can be seen from the way of dressing, habits, etc. While "Branding".) is a brand as " a name, term, sign, symbol or design, or a combination of these, intended to identify the goods and services of one seller or group of sellers and to differentiate them from those of competitors.
This contest aims to introduce the Steem Blockchain "Branding" to others by showing our "Lifestyle" as a Steemian. This also includes introducing the living culture of a Steemian. So you can tell us how you go through your daily life and introduce Steemit to others.
You can share stories with us about your "Lifestyle" for STEEM / Steemit branding. Introduce your culture and "LifeStyle" as a Steemian. If you are interested in entering this Contest, here are some of the things you must cover in order to meet the rules of this Contest.

Explain in detail to us about the following points:
What types of products/goods do you have that have been "Branded" with the Steem / Steemit logo? This can include about Fashion, T-Shirts, Uniforms, Masks, Cellphones, Shoes, Stickers, Thumblers, Cars, Motorcycles, Stationery, Office stationery and so on.
How many products/items do you have that have been assigned Steem/Steemit "Branding"?
How do you use and utilize STEEM/SBD to support your "Lifestyle"?
What do people around you think when you use products/items with Steem/Steemit "Branding"?
In your opinion, how effective is promoting the Steem Blockchain with "Branding" and "Lifestyle"?
Give your criticism and suggestions to cultivate and brand STEEM/STEEMIT as "Lifestyle"?

Special Rules
Subscribe to the PromoSteem community
The writing must be at least 300 words and written in English (you can use a WEB translator)
Add a picture of your product/item to the post
Give a detailed review to cover the 6 points mentioned above
Posts must be original (no tolerance for plagiarism)
The post has never been published on another page
Post your writing on the PromoSteem community
Use the tag #betterlife #lifestylebranding #promo-steem #steemexclusive and your country (ex : #indonesia #nigeria #china #ghana #pakistan)
Share your post on Twitter using the tag #Steemit #Steem #TRON #Lifestyle #Cryptocurrency and mention the @steemit, @promosteem and @ponpase on twitter !
Share your post link in the comments and mention two of your friends!

Timeline
Contest will end on : 03 August 2021
Assessment and Recapitulation : 04 August 2021
Announcement of winners : 05 August 2021

Rating
Must cover all aspects of the rules
Form neatness and grammar
Writing style
Markdown Styling
Responses and interactions from posts

Prize
Total Prize 50 STEEM
1st place : 15 STEEM
2nd place : 13 STEEM
3rd place : 10 STEEM
4th place : 7 STEEM
5th place : 5 STEEM

Bonus
All posts that meet the requirements and rules will be curated by the @promosteem.com account. For qualified and eligible posts will likely have the opportunity to get curated from booming.

More Information

Enjoy Your Challenge !
I am always open to anyone who wants to discuss, provide input, criticism and suggestions. We can all do more good things for everyone in this world.

Join PromoSteeem Community !
Hello guys, If you have a #promo-steem activity, we invite you to contribute to the PromoSteem panel and take our role in space.
PromoSteem is open to everyone who wants to take an important role in bringing even more people to Steemit. PromoSteem has no restrictions for anyone who wants to take a role as long as you are still in the Rules of this community.
I am always open to anyone who wants to discuss, provide feedback, criticism and suggestions. All of us can do more good things for everyone in this world.
---
Cc : @steemcurator01 , @stephenkendal, @pennsif, @kevinwong, @steemchiller, @xeldal


PromoSteem Team
@arie.steem, @ponpase, @pojan
Who Am I ?
I am a citizen journalist in our local area, law faculty student, actively involved in humanitarian and environmental missions, active as a volunteer, has a career trail as a coach in scouting organizations, has relationships with a number of non-governmental organizations both at local and national levels, often acts as a moderator and speakers at a number of events, at Steemit actively participate in and do #promo-steem activities, as a pro-creator Oracle-D in the past, as content creators at SevenFingers, have high hopes and enthusiasm for STEEM For SDGs. There are many great people who have also helped this program and took their roles behind the scenes during the program's launch.
Inviting All Youth To Join Youth Club
Best Regard
@ponpase
Discord : ponpase#2931