Booming Supports PromoSteem Community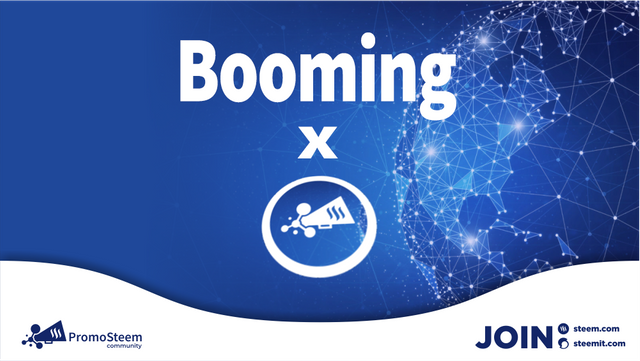 PromoSteem community is now growing and developing. In less than one month PromoSteem page has been subscribed by 689 users. As of April 24, 2021, there are approximately 188 posters and a pending reward of $ 3,224.
User initiatives to do promosteeem are getting higher from time to time. The PromoSteem community will drive more PromoSteem activities and invite Steemians to take their role. We already have great promoters in four countries, Philippines, Italy, Ghana and Bangladesh.
Over time we will continue to recruit promoters and organize promoters to achieve our goals. Therefore, each of their promotion activities is very important to be supported and get incentives. We will appreciate every promosteem activity carried out by anyone who has taken their role in the PromoSteem community.
Their role is very important because it makes Steemit and the values behind it grow and develop. Slowly, Steemit will develop and be more widely known by the public. PromoSteem is part of the act of promoting Steemit and the value it contains, such as STEEM, SBD, and TRX.
Through the release of this post, we are happy to announce that the PromoSteem community has received support from booming votes for the people in the community. This support will provide a higher value for each of your #promo-steem activities. We believe that every #promo-steem activity will provide value and impact for the future progress of Steemit.

The rules for getting support from booming are as follows:
Post your activity #promo-steem on the PromoSteem page
The minimum post description about the activity #promo-steem is 300 words
Using the tags #promo-steem and #steemexclusive
Not doing plagiarism, users who commit plagiarism will be included in our blacklist (Blacklist), the PromoSteem community will not tolerate anyone who commits plagiarism and fraudulent #promo-steem activities
Posts that have received vote support from steemcurator01 and steemcurator02 will not get votes from booming


cc: @steemcurator01


PromoSteem Sponsor:
@stephenkendal


Kind Regards
@arie.steem As Community Leader
@pojan As Team Support
@ponpase As Team Support

Discord