PromoSteem Radio Show - Pakistan [22 May 2021]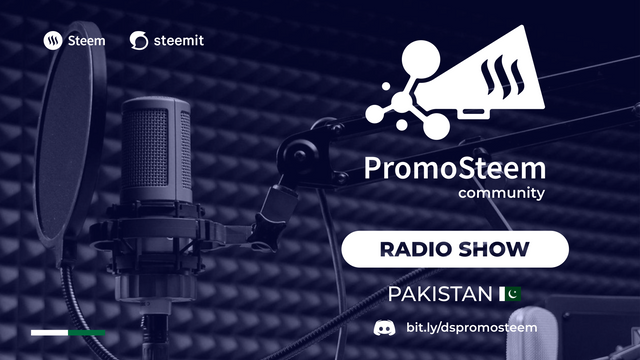 PromoSteem is making new developments in Steem Blockchain and the Radio Meetups of different countries members is also one of the initiatives taken by the team. The Radio show is a virtual meetup in Promosteem discord channel to discuss the ideas and plans of promoting steem in respective countries.
In continuation of the Discord Radio show, we are sharing the highlights of 1st Radio Show Pakistan that was organized by Pakistan Promoter @cryptokraze under the supervision of @arie.steem and the support of all team. The meetup was organized on Saturday 22 May at 16:00 Pakistan Time and despite short time notice for this event, we got a good audience.
Starting the Show
The Radio Show was started at the given time and we had 13 participants right from the start that made themselves available at right time. A welcome note was shared by @cryptokraze to get things settled down because it was first time for all the members to join a discord voice room. Users were guided properly on how to use the discord voice room and it was a matter of few minutes and things were settled and we had more participants who joined and the number reached 26.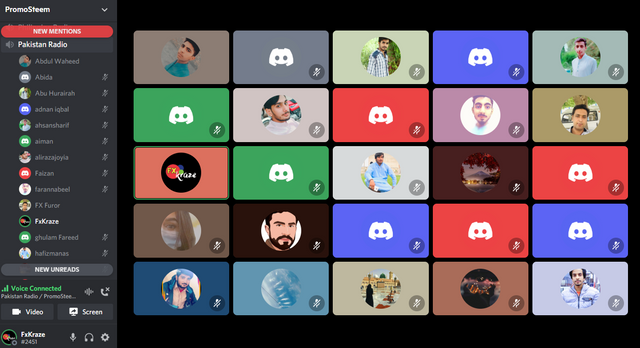 Concept of Promosteem
First, the vision and mission of Promosteem community were shared by @cryptokraze that was appreciated by the participants. The core concept of promoting steem to the various platforms was discussed so that we can bring steem to mainstream media sites.
After sharing the vision and mission, members were given ideas on how they can participate in the community by sharing their promotional activities. We got some engagement here by brainstorming different ideas shared by members on how they can do these promotional activities in their local area.
City Representatives in Pakistan
The idea of inviting applicants for City representatives in Pakistan was floated by @cryptokraze who showed his commitment of giving initial budget to city representatives for doing the promotional activities. This idea was appreciated by the members and we already got confirmations for 3 city representatives (Karachi, Peshawar and Sahiwal). They will be announced by @cryptokraze officially later in the week when we will invite applications for other city representatives.
Country Representatives Joined the Show
We have 2 country representative (@vvarishayy and @haidermehdi) joined this 1st Radio show Pakistan and we are thankful for their time and participation. Both the country representative shared valuable ideas on promoting steem in Pakistan and gave tips to new steemians on how to make quality content. They also encouraged members to share steem with their friends and family and bring them on the platform.
Ending the Show on Higher Note
At the end of Show, we got more ideas shared by the participants and @cryptokraze summarized the events ideas. Participants showed their commitment to promote steem in Pakistan and take the community to higher level in terms of both quantity and quality. This was a great event that lasted for 1:30 hours and benefited all the participants who got some great ideas on planning their promotional activities.
We are greatly thankful to all the participants who joined the 1st Radio show and we will keep organizing such events in future as well.


Thanks to Steemit Team : steemcurator01
PromoSteem Sponsor :
@stephenkendal , @siz-official, @around-theworld


Kind Regards
PromoSteem Team
@arie.steem As Community Leader
@pojan As Team Support
@ponpase As Team Support


Promoters Team
@julstamban - Philippines
@mcsamm - Ghana
@rex-sumon - Bangladesh
@nattybongo - Ghana
@cryptokraze - Pakistan
@michaelchijioke - Nigeria
@oscarcc89 - Venezuela

Discord


the team and the promoter have agreed to provide support to @steemcoffeeshop, every 25% post for the steemcoffee project in 2 weeks
---
Report by @cryptokraze. Thank You.