Club5050 | My Power Up History March to Oct 2021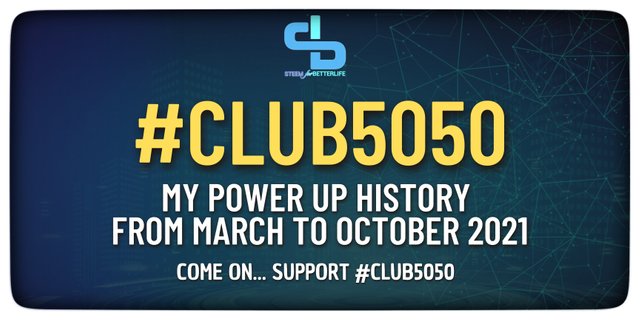 Early March 2021 was the time I was active again on this platform, at that time I also started by doing Power-Ups, I did it as a form of commitment to the steemit platform because I realized since 2016 when I joined, that Power Up is an ideal activity that should be done by users, this is an embodiment to increase the strength of the account so that it has a role when providing curation.
I released this post as part of the STEEM Promotion, before the birth of the Steem Education Community which was later merged from two communities into a new Community with more unique community identity, I started Power Up when I was active as a member of STEEMSEA, that's where I came up with the idea of ​​a Power-Up Contest after got the blessing of the Steemit Team.
Currently, in steem for Betterlife Community, I continue to campaign for Power Up as the most important part for the sustainability of an account, one of the promotions that is carried out is by continuing to release STEEM INVESTING and POWER UP until the 15th edition, now I as admin publish contests through the @steem.education account which is a community curation account.
Besides continuing to intensively carry out STEEM Promotions, I also released Special News about Power Ups on a continuous basis, indeed I had a vacuum for 1 month. This is due to my busy work schedule handling Covid-19 Vaccinations and my old Laptop Device which can no longer be used.
From the Power Up History table that I show below, it shows my consistency in doing Power Ups, 25 times Power Up with a total of 5,696,426 STEEM from March to October 2021. I made this publication to continue campaigning for #club5050 as a form of support for the Steemit Team Program in releases made by the steemitblog account.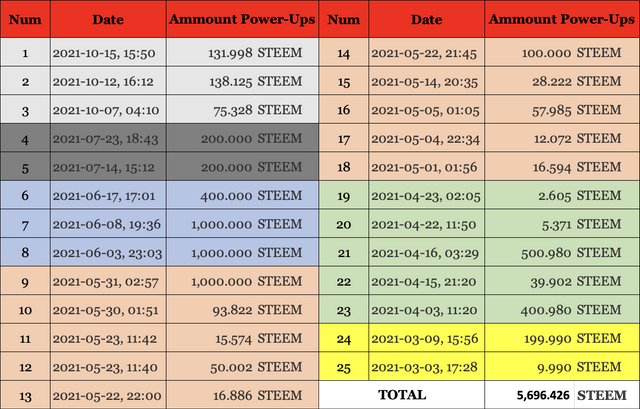 Campaigning for #club5050 is a continuation of the Steem Investing and Power Up program which began with support through the use of the hashtag #welovepowerups. I see that there are positive implications for the power Up trend that continues to grow even though it does not receive curation support from the steemit team. During the 15 editions of the contest that we publish, there are actually many participants who want to participate but sometimes they don't meet the contest requirements and adequate Steem.
Hopefully the Power Up History I can be a reference for steemit users in general and Steem For Betterlife members in particular.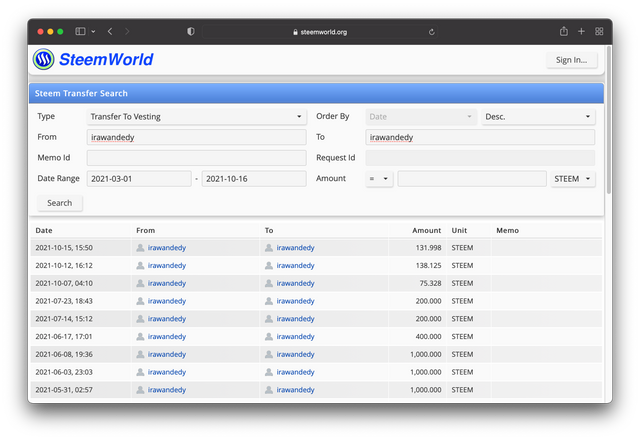 cc : @pennsif