MR Nobody
As you know, I'm Italian. A few years ago a friend, whom I will thank for life, advised me to watch a Belgian film, never released in Italian cinemas.
I put the advice in the drawer and waited before I saw it.
I was curious, but I wondered what could have been so good about a Belgian film, which the Italian film industry had ignored, that it wasn't released in cinemas.
Then, one evening, I decided to watch it.
I was struck by lightning.
I was struck by lightning on the couch.
I wasn't going to stop recommending it to anyone from then on.
Everyone would look at me like a Martian, like I looked at my friend, but everyone would thank me one day.
Mr Nobody is a sci-fi film, by Jaco Van Dormael, starring Jared Leto.
An actor of Leto's calibre certainly gave the film great charisma, but it is the film that surprises, that is beautiful, intriguing, fabulous.
How to explain it?
Impossible in my opinion.
It's one of those films you have to see. Period. It's indecipherable, it's hard to put together.
It's a sci-fi, but one that really gets you thinking. It's not just a weird, alternative, dystopian world that's nice to watch and imagine.
It's just a world created by Van Dormael's mind to allow us to reason about the human condition, our condition.
It's free will at the heart of the whole narrative.
We are constantly forced to choose.
Now more than ever.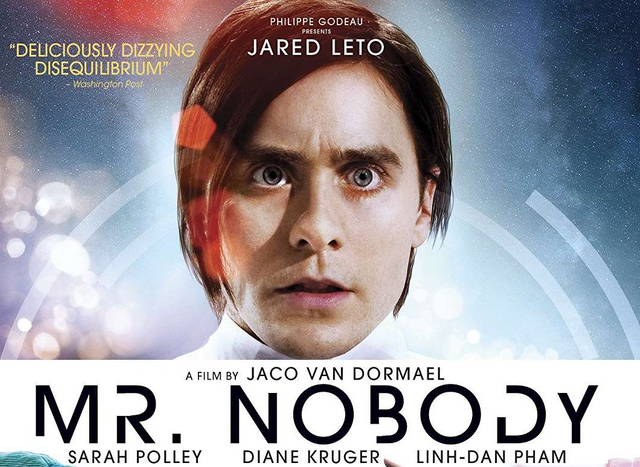 A consumerist, globalised, hyper-connected world. 1000 brands of toothpaste, different products for the same good. What are we left with?
What do we choose?
The moment we choose, we're not only opening one door, we're closing others.
Those doors will close at the same time as we open a single door.
Then what can we do?
Maybe the only thing we can do is not choose.
NOT choosing will allow us to still have all the possibilities open before us.
No door is closed.
At least not yet.
An interesting, shocking reflection, certainly not the only one but certainly well developed and well elaborated by Van Dormael.
It astounded me, shocked me, excited me.
The soundtrack is wonderful.
Leto's acting was excellent, Kruger and Temple's performances delicious.
To see and recommend, to all.