R e t o | C h a l l e n g e || ¿Conoces su nombre? 🌻¡Gana 2 Steem! 🌻
🌻No sé su nombre 🌻
Se asomaba entre la hierba. El único pompón en todo su alrededor. Me causó curiosidad y lo fotografié.
No podía apreciar sus detalles a simple vista, y es solo cuando amplio la imagen en mi laptop que puedo descubrir sus finos filamentos con graciosas puntas pintadas como los cabellos locos de un estrafalario rockero.
Es hermoso. ¿Cuál será el plan de Dios para él?
Usé el buscador de imágenes de Google para dar con su nombre. No lo hallé. ¿Es una flor?, ¿Una semilla? ¿Quizás son los restos de una flor marchita?
It was peeking through the grass. The only pompom all around. It made me curious and I photographed it.
I couldn't appreciate its details with the naked eye, and it's only when I enlarge the image on my laptop that I can discover its fine strands with funny painted tips like the crazy hair of a quirky rocker.
It is beautiful. What would be God's plan for it?
I used Google's image search engine to find her name. I couldn't find it. Is it a flower, a seed, maybe the remains of a wilted flower?
---
🌻R e t o | ¿Cómo se llama? 🌻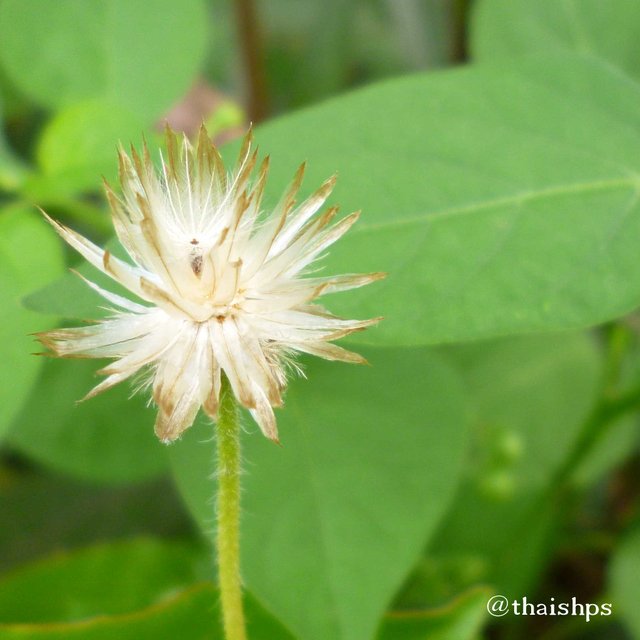 🌻 G a n a | 2 Steem 🌻
Premiaré con 2 Steem a la persona que me diga su nombre popular y científico.
Escribe su nombre aquí en los comentarios.
Escribe el link de la web que apoye tu respuesta.
Por la dinámica del reto, eligiré al ganador al azar entre los participantes.
¿Te animas?
I will award 2 Steem to the person who tells me its popular and scientific name.
Enter your name here in the comments.
Write the link to the website that supports your answer.
Due to the dynamics of the challenge, I will choose the winner randomly among the participants.
Are you ready?
---
◾🌻◾🌻◾
Imágenes tomadas con mi
Cámara: Panasonic
modelo: DMC-S5
Exposición: 1/60s
Velocidad: ISO 100
Distancial focal: 5mm
Lugar: Ciudad Bolívar, Venezuela
Amateur photoshooter
Iconos en Es-piliapp
Quizás te gusten mis otras publicaciones