Crypto to Mainstream Community Now Live!
Ever wonder about the most recent television shows & movies talking about cryptocurrency? Did you hear a song lately that talks about Bitcoin? This is the place to go! This group is created specifically for these anecdotes, and together we can watch cryptocurrency go mainstream.
Please post any anecdotes or references you've seen of crypto & blockchain in the mainstream! Lets learn together.
Join the new Steemit Community here:
https://steemit.com/trending/hive-157034
If you're new to the idea of crypto in mainstream check out the video from our pinned post:
Bitcoin in Media: Portrayals of Emerging Tech Markets 2019
From the Winklevoss twins to Bill Gates to Juicy J, a historical look at the way cryptocurrency and Bitcoin have been portrayed in mainstream media & how this attributes to mainstream adoption.
To learn more about me and my background in the space check out this Cointelegraph Magazine article from earlier this week:
6 Questions for Rachel Siegel of Crypto Finally
https://magazine.cointelegraph.com/2020/02/28/6-questions-rachel-siegel-crypto-finally/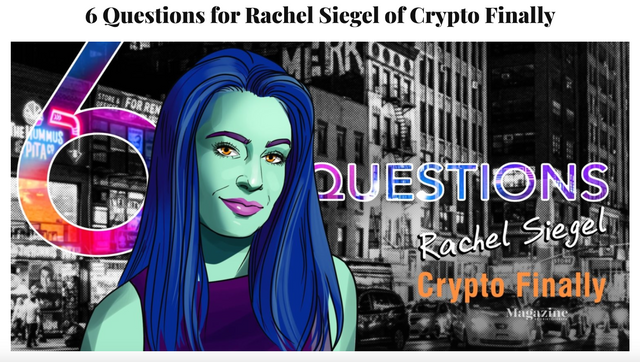 CryptoFinally:
YouTube: https://www.youtube.com/CryptoFinally
Twitter: https://twitter.com/CryptoFinally
Instagram: https://www.instagram.com/cryptofinally/
Facebook: https://www.facebook.com/CryptoFinally
LBRY: https://lbry.tv/@cryptofinally
DLive: https://dlive.tv/CryptoFinally
Minds: https://www.minds.com/cryptofinally
Steemit: https://steemit.com/@cryptofinally
3Speak: https://3speak.online/user/cryptofinally
SoMee: https://somee.social/profile/cryptofinally/timeline
VibraVid: https://vibravid.io/users/CryptoFinally
Store: https://www.etsy.com/shop/CryptoFinally
Support ya girl
Patreon: https://www.patreon.com/cryptofinally
Flote: https://flote.app/CryptoFinally
BTC: 3LHTvBX7wYmLhPfBiypDb8GDGHt5wGFTLV
LTC: MJEyWvP3PPHQjbQhcWGWETgzHpkjnnXdst
Free $10 in Bitcoin on Lolli: https://lolli.com/ref/xLdoJ9Z8RU
Get Bitcoin Back with Pei: https://getpei.com/ (Use code CRYPTOFINALLY to get $2.50 of free Bitcoin)