Chess problem 79 / Schachaufgabe 79
English

Hello chess fans, this time you had to wait a while until the three conditions to create a new chess puzzle for you - to have enough time, energy and creativity at the same time - were fulfilled. Real life exacts it's toll, and believe me, designing such a chess problem isn't an easy job:
First of all, an idea, a motive has to be found, which often just doesn't happen when the necessary calmness and relaxation doesn't ensue, and the brain has to chew on other things.

Once an idea is developed, one has to come up with a position where it can be applied and think about the concrete variants leading to checkmate. Then it is necessary to check ...

... a) whether a mate can really be forced against every conceivable defence, and ...

... b) whether there are side solutions that might lead to victory just as quickly, which would devalue the problem.
It took some time, but I guess the nut that is now on the table is not easy to crack. Black is supposed to checkmate against the best opponent's defence in 12 moves at the latest! Have fun! :)
Deutsch

Hallo Schachfans, diesmal musstest ihr eine Weile warten, bis ich genug Zeit, Energie und Kreativität angesammelt hatte, um ein neues Schachrätsel für euch zu entwerfen. Das reale Leben hinterlässt seine Spuren, und glaubt mir, so ein Schachproblem zu entwerfen, ist kein einfacher Job:
Zunächst einmal muss eine Idee, ein Motiv gefunden werden, was oft einfach nicht geschieht, wenn sich sich die nötige Ruhe und entspanntheit nicht einstellen wollen, und das Gehirn an anderen Dingen zu kauen hat.

Hat man eine Idee entwickelt, muss man sich eine stellung ausdenken, wo sie zur Geltung kommt, und sich um die konkreten, zum Schachmatt führenden Varianten ausdenken. Dabei gilt es dann ...

... a) zu überprüfen, ob wirklich gegen jede erdenkliche Verteidigung auch tatsächlich ein Matt zu erzwingen ist, und ...

... b) ob es keine Nebenlösungen gibt, die möglicherweise genauso schnell zum Sieg führen, was das Problem entwerten würde.
Es hat zwar etwas gedauert, aber die nun vorliegende Nuss dürfte nicht ganz einfach zu knacken sein. Schwarz soll bei bester gegnerischer Verteidigung in spätestens 12 Zügen schachmatt setzen! Viel Spaß dabei! :)
---
| | |
| --- | --- |
| Black to checkmate in 12 moves at the latest: | Schwarz setzt in spätestens 12 Zügen schachmatt: |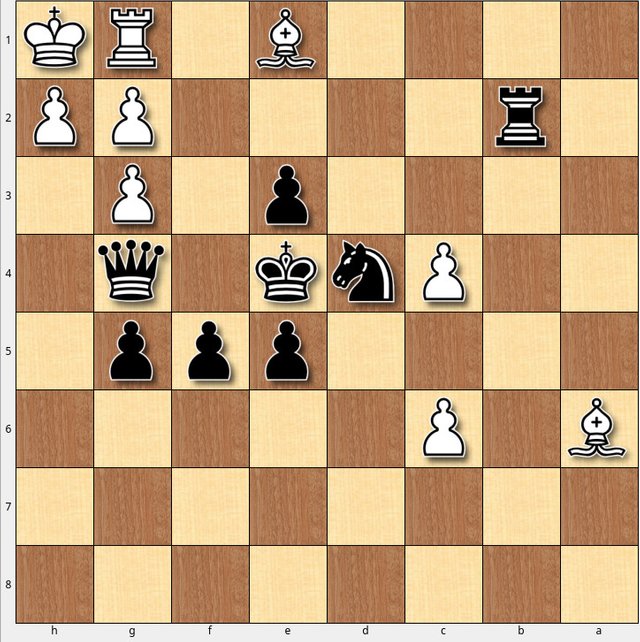 FEN: 8/8/B1P5/4ppp1/2Pnk1q1/4p1P1/1r4PP/4B1RK b - - 0 1
---