Solution of chess problem 79 / Lösung von Schachaufgabe 79
English

Hello chess fans! Normally I post the solutions of my chess problems directly in the comment section under the respective problem. However, this time the solution of the puzzle gets its own post for two reasons:
Due to a lack of time, I didn't get around to posting the solution promptly, so that many readers probably wouldn't have even looked under the old post any more.

The solution contains numerous complex and, in my opinion, aesthetic variants, which, the way I see it, justifies a separate post.
P. S.: @udow and @iceblue showed that in the starting position 1. . . Rb8! leads to victory just as quickly as the intended solution move 1. ... Qh3.
Whoever succeeds in changing the position in a way that 1. ... Qh3! clearly leads the fastest to victory (without the position losing its original character), receives a 100 % upvote from @jaki01, @davidorcamuriel and @kobold-djawa! :)
Here, once again, the starting position as a reminder:
Deutsch

Hallo Schachfans! Normalerweise poste ich die Lösungen meiner Schachaufgaben direkt im Kommentarbereich unter dem jeweiligen Problem. Dieses Mal jedoch erhält die Auflösung des Rätsels aus zwei Gründen einen eigenen Post:
Aufgrund Zeitmangels kam ich nicht dazu, die Lösung zeitnah zu posten, weshalb viele Leser vermutlich unter dem alten Post gar nicht mehr nachgesehen hätten.

Die Lösung enthält zahlreiche komplexe und m. E. ästhetische Wendungen, die wie ich finde ein eigenes Post durchaus rechtfertigen.
P. S.: @udow und @iceblue zeigten auf, dass in der Startposition 1. ... Tb8! ebenso schnell zum Sieg führt wie der vorgesehene Lösungszug 1. ... Dh3.
Wem es gelingt, die Postion so zu verändern, dass 1. Dh3! eindeutig am schnellsten zum Sieg führt (ohne dass dabei die Stellung ihren grundsätzlichen Charakter verliert), erhält ein 100 %-Upvote von @jaki01, @davidorcamuriel und @kobold-djawa! :)
Hier noch einmal zur Erinnerung die Ausgangsposition:
---
| | |
| --- | --- |
| Black to checkmate in 12 moves at the latest: | Schwarz setzt in spätestens 12 Zügen schachmatt: |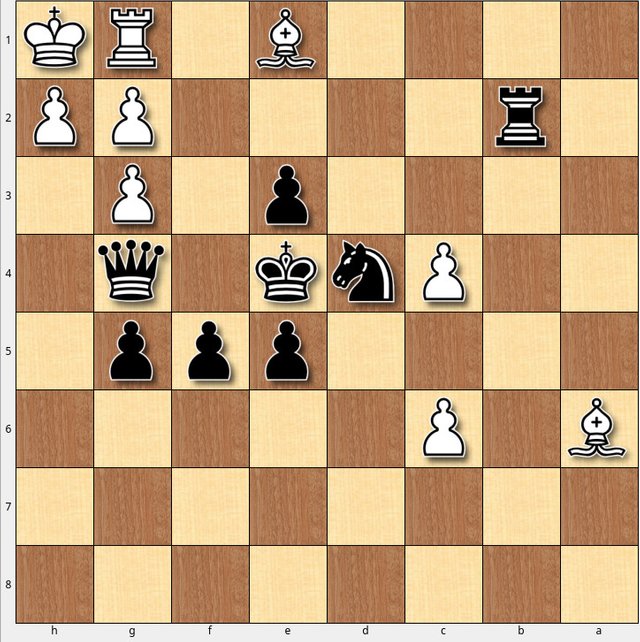 FEN: 8/8/B1P5/4ppp1/2Pnk1q1/4p1P1/1r4PP/4B1RK b - - 0 1
---
Solution:
1. ... Qh3!
The idea of this surprising move is to play 2. ... Qxh2+, followed by Rb8 and Rh8#.
Now we have:
a)
2. gxh3 Nf3 (Threatens Rh2#.)
3. Rg2 Rb1
4. Re2 Nxe1
5. Rxe1 Rxe1+
6. Kg2 Re2+
7. Kf1 Kf3
8. c5 Ra2
9. Be2+ Rxe2
10. c7 Ra2
11. c8Q Ra1# Checkmate.
Lösung:
1. ... Dh3!
Die Idee dieses überraschenden Zuges ist 2. ... Dxh2+ gefolgt von Tb8 und Th8# zu spielen.
Nun gibt es folgende Möglichkeiten:
a)
2. gxh3 Sf3 (Droht Th2#.)
3. Tg2 Tb1
4. Te2 Sxe1
5. Txe1 Txe1+
6. Kg2 Te2+
7. Kf1 Kf3
8. c5 Ta2
9. Le2+ Txe2
10. c7 Ta2
11. c8D Ta1# Schachmatt.
---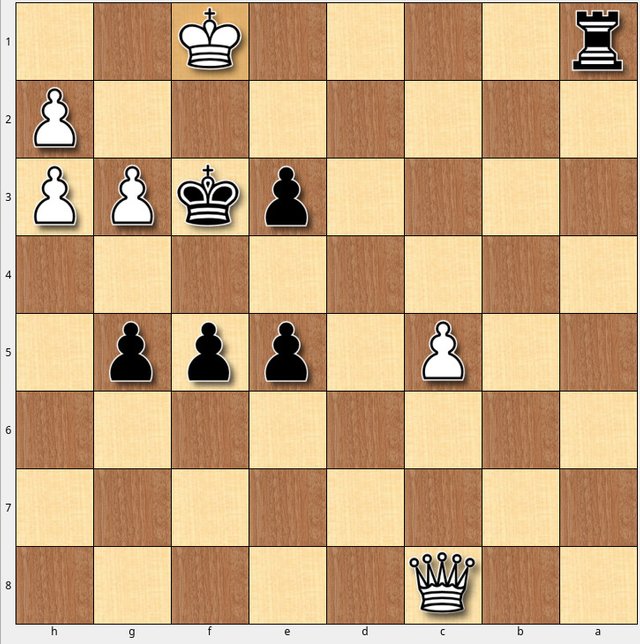 ---
b)
2. c7 Qxh2+! (The original idea of the problem.)
3. Kxh2 Rb6
4. Bb7+ Kd3!
5. Be4+ Kxe4
6. Rh1 Ne2!
7. g4 Rh6+
8. Bh4 Rxh4# Checkmate.
b)
2. c7 Qxh2+! (Die Originalidee des Problems.)
3. Kxh2 Tb6
4. Lb7+ Kd3!
5. Le4+ Kxe4
6. Th1 Se2!
7. g4 Th6+
8. Lh4 Txh4# Schachmatt.
---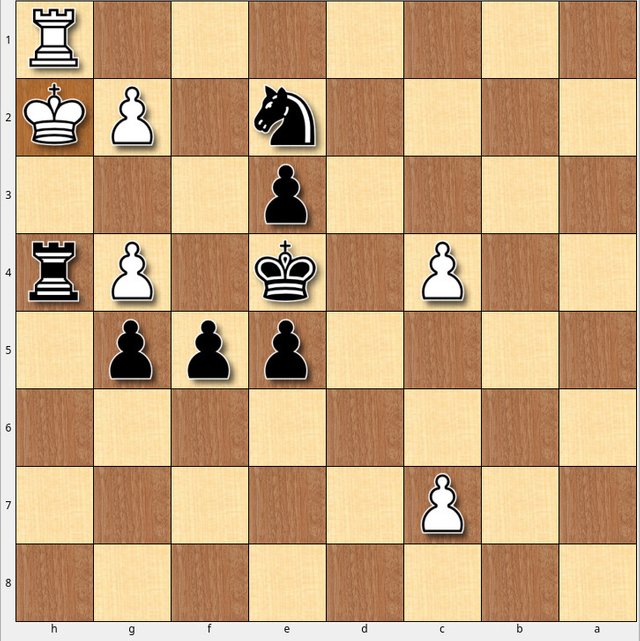 ---
c)
2. Bb7 Kd3! (A surprising king's move with the idea to play 3. ... Nf3!)
3. gxh3 (3. c7 Qxh2+!) Nf3
4. Rg2 Rxg2
5. Kxg2 Nxe1+
6. Kf1 Nf3
7. c7 e2+
8. Kg2 e1Q
9. Bxf3 Ke3
10. h4 Qf2+
11. Kh3 g4+
12. Bxg4 Qf1# Checkmate.
c)
2. Lb7 Kd3! (Ein überraschender Königszug mit der Idee 3. ... Nf3! zu spielen.)
3. gxh3 (3. c7 Dxh2+!) Sf3
4. Tg2 Txg2
5. Kxg2 Sxe1+
6. Kf1 Sf3
7. c7 e2+
8. Kg2 e1D
9. Lxf3 Ke3
10. h4 Df2+
11. Kh3 g4+
12. Lxg4 Df1# Schachmatt.
---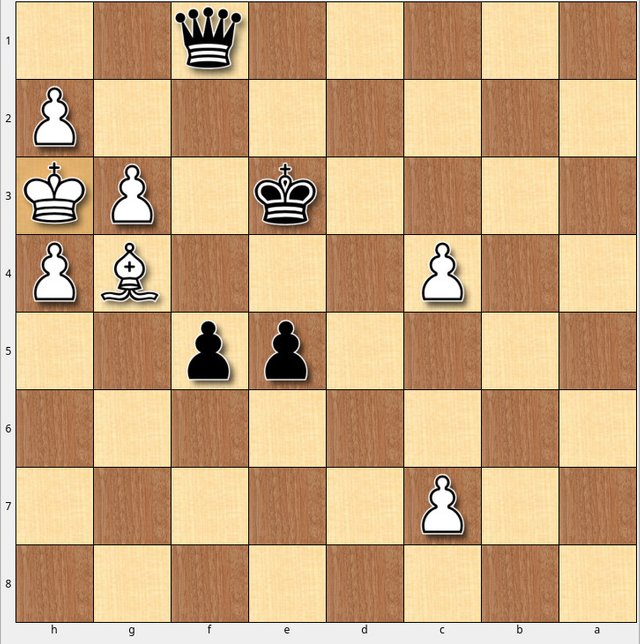 ---
d)
2. Bc3 Rxg2! (This time the rook attacks!)
3. Rxg2 Kf3!
4. Rg1 Ne2
5. c7 Nxg1
6. Bb7+ e4
7. Bxe4+ fxe4
8. Kxg1 Qg2# Checkmate.
d)
2. Lc3 Txg2! (Dieses mal attackiert der Turm!)
3. Txg2 Kf3!
4. Tg1 Se2
5. c7 Sxg1
6. Lb7+ e4
7. Lxe4+ fxe4
8. Kxg1 Dg2# Schachmatt.
---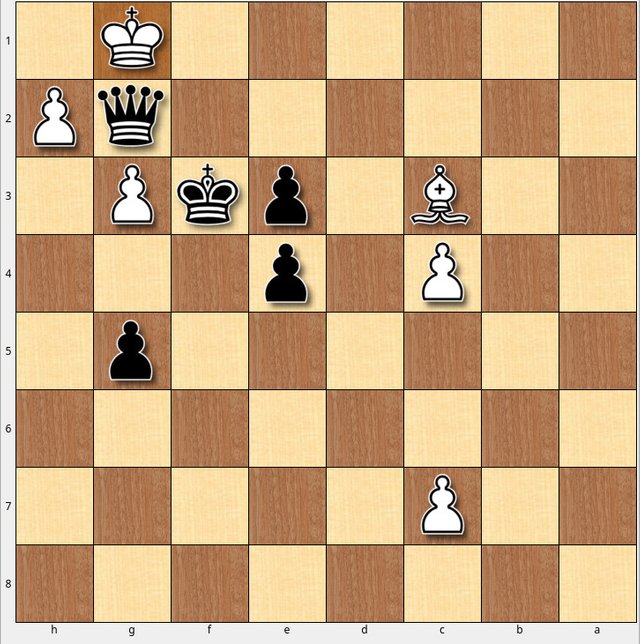 ---
e)
2. c5 Nf3! (Now it's the knight's turn!)
3. gxf3+ Kxf3
4. Rf1+ Rf2
5. Rxf2+ exf2
6. Be2+ Kxe2
7. Bxf2 Qf1+
8. Bg1 Qf3# Checkmate.
e)
2. c5 Sf3! (Jetzt ist der Springer an der Reihe!)
3. gxf3+ Kxf3
4. Tf1+ Tf2
5. Txf2+ exf2
6. Le2+ Kxe2
7. Lxf2 Df1+
8. Lg1 Df3# Schachmatt.
---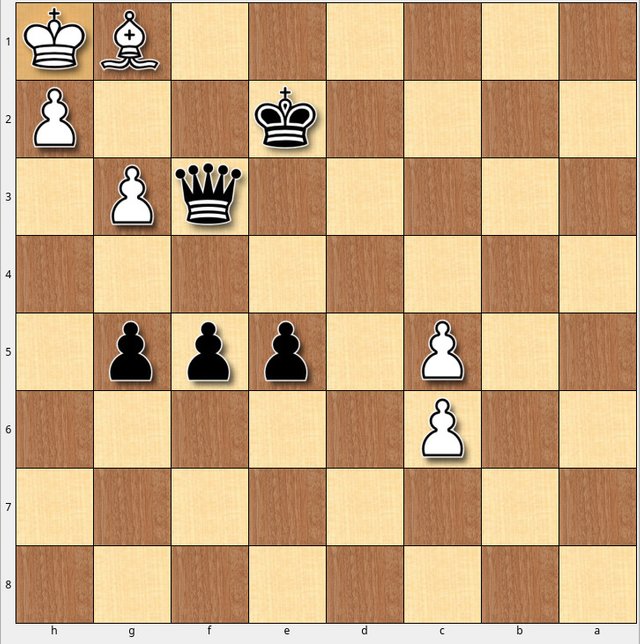 ---