Stem73 News - about current events (06-02-2021)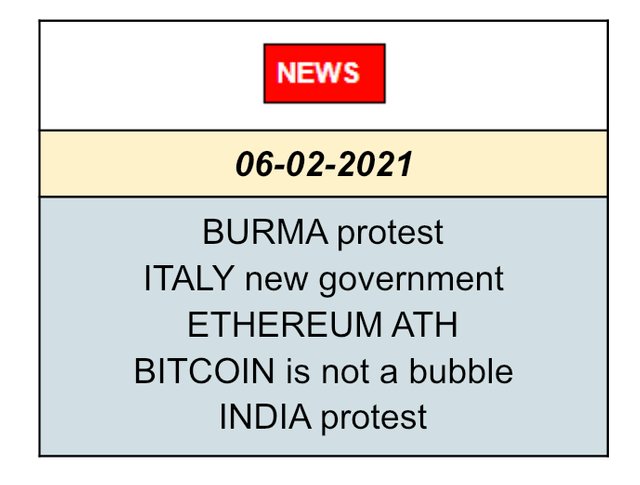 [ENGLISH]
Some news of the last few days
1 - BURMA: After ten years of fragile democracy, there was a coup d'etat in Burma. Following the coup, protests increase. Aung San Suu Kyi was placed under house arrest.
2 - ITALY: After the government crisis, attempts are being made to form a new technical-political government. The person called to lead this new Italian government is Mario Draghi, former president of the European central bank.
3 - ETHEREUM: New highs for Ethereum which touches $ 1,750
4 - Michael Wu, the CEO of Amber Group says that in his opinion Bitcoin is no longer conceivable as a financial bubble
5 - INDIA: 500,000 farmers protest against the government. With the protest, farmers are calling for the repeal of recent agricultural laws.
[ITALIAN]
Qualche news degli ultimi giorni
1 - BIRMANIA: Dopo dieci anni di fragile democrazia, in Birmania c'è stato un colpo di stato. A seguito del golpe le proteste aumentano. Aung San Suu Kyi è stata trasferita agli arresti domiciliari.
2 - ITALIA: Dopo la crisi di Governo si sta cercando di formare un nuovo governo tecnico-politico. La persona chiamata a guidare questo nuovo governo italiano è Mario Draghi, ex presidente della banca centrale europea.
3 - ETHEREUM: Nuovi massimi per Ethereum che tocca i 1.750$
4 - Michael Wu, l'amministratore delegato di Amber Group afferma che secondo lui Bitcoin non è più concepibile come una bolla finanziaria
5 - INDIA: 500mila agricoltori protestano contro il Governo. Con la protesta gli agricoltori chiedono di abrogare le recenti leggi sull'agricoltura.
Source
1 - https://www.ansa.it/sito/notizie/mondo/2021/02/05/birmania-aung-san-suu-kyi-ai-domiciliari-sta-bene_129df54c-d6e7-49ea-95a6-bc845895865f.html
2 - https://www.google.it/amp/s/www.ansa.it/amp/sito/notizie/politica/2021/02/05/governo-draghi-consultazioni_c71d1341-9171-4cf6-a987-85615baa01b3.html
3 - The author
4 -
https://www.google.it/amp/s/it.cointelegraph.com/news/bitcoin-is-not-a-bubble-anymore-amber-group-ceo-says/amp
5 - https://www.ansa.it/sito/notizie/topnews/2020/11/06/india-500mila-contadini-bloccano-le-strade-in-tutto-paese_50170734-7c7c-45ee-9220-f3de3aff2114.html