Mi Top 5 ☆ Deftones ☆ NuMetal (USA)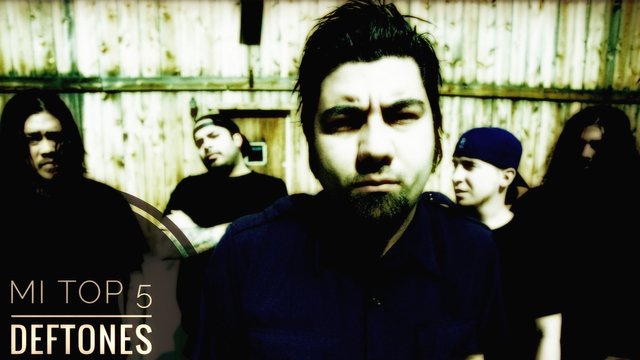 Deftones es una banda estadounidense de metal alternativo formada en Sacramento, California, en el año 1988. Son considerados los pioneros del género nu metal junto con Korn.
Sus integrantes son:
| | Chino Moreno (Vocalista) |
| --- | --- |
| Stephen Carpenter (Guitarrista) | |
| --- | --- |
| | Abe Cunningham (Baterista) |
| --- | --- |
| Sergio Vega (Bajista) | |
| --- | --- |
| | Frank Delgado (Samplers) |
| --- | --- |
El bajista original de la banda era Chi Cheng, quien quedó en coma después de un accidente en 2008, y murió en 2013.
Desde su formación, la banda ha lanzado ocho álbumes de estudio, dos EP, un álbum recopilatorio y once sencillos, además de un box set que incluye todos sus álbumes. La banda cuenta con un disco de oro y tres discos de platino.
La banda lanzó su primer álbum de estudio, Adrenaline, en 1995 mediante Maverick Records, y debutó en el puesto 23 de la lista del Billboard Top Heatseekers. Around the Fur, su segundo álbum de estudio, también entró en las listas estadounidenses y británicas, por primera vez. En el álbum se incluyó el sencillo "My Own Summer (Shove It)", que apareció también en la banda sonora original de The Matrix en 1999. Su tercer álbum, White Pony, continuó con la exitosa línea comercial y crítica con el tercer puesto en las listas estadounidenses.​ Posteriormente al lanzamiento del álbum, Maverick Records comercializó un sencillo titulado "Back to School (Mini Maggit)", que era una reinterpretación con influencias rap de la pista que cerraba White Pony, "Pink Maggit", y lo incluyó en una reedición del álbum.
En términos generales, Deftones es una de las bandas Top del Metal a nivel mundial. No sólo por la cantidad de seguidores y premios conseguidos, eso es la consecuencia de haber desarrollado un estilo único y una calidad de composición extraordinaria. Personalmente, es una de mis bandas favoritas de este género y yo me siento orgulloso de hacer este Top 5 para Ustedes, espero que lo disfruten.

☆ 5 ☆
"You've Seen The Butcher"
Álbum: Diamond Eyes.
Fecha de lanzamiento: 2010.

☆ 4 ☆
"Minerva"
Álbum: Deftones.
Fecha de lanzamiento: 2003.

☆ 3 ☆
"Be Quiet And Drive (Far Away)"
Álbum: Around the Fur.
Fecha de lanzamiento: 1997.

☆ 2 ☆
"Change (In The House Of Flies)"
Álbum: White Pony.
Fecha de lanzamiento: 2000.

☆ 1 ☆
"My Own Summer (Shove it)"