Sizzling Chicken Curry with Cream Recipe
Hello Steemian's,
During my free time I always try to cook food on my own as I love to cook. So I would like share a recipe that I recently cooked.
Chicken curry with cream is a common dish. It consists of a curry-spiced chicken with cream (turmeric, pepper, coriander, mace, ginger, cardamom, cloves, cinnamon, cayenne, and anise). A good white rice comes "to the fur" as a garnish. As a result, we'll have a very well-rounded meal with a lot of character. Both in terms of color and taste. In addition, this recipe takes no more than 15 minutes to prepare.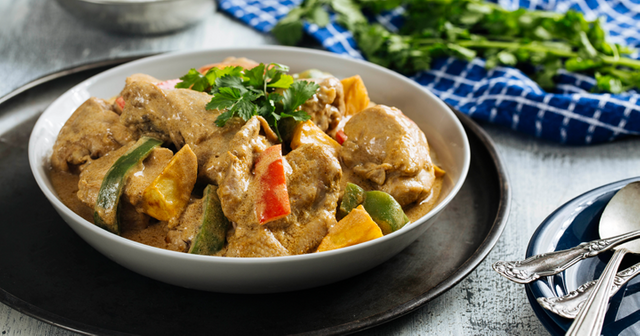 Image Source
Ingredients used in this recipe
Chicken Breasts

Medium onions

Cloves of garlic

Tomato sauce

Curry

Cream

Parsley

Olive oil

Salt and black pepper


Preparation


In a frying pan, heat a drizzle of oil over medium heat. Add the onion and minced garlic once the pan is warmed. Season with salt and pepper and cook for about 5 minutes, stirring occasionally.
After some time has passed, we add the tomato and curry. Cayenne or chilli pepper may also be added (if you want it to be spicy). Stir and cook for a few minutes more.
It's now your turn to add the curried chicken breasts to the pan. Turn up the heat a notch and toss in the cut-up vegetables. Season them with salt and pepper and seal them for a few minutes as we combine the rest of the ingredients.
Apply the cream and mix well after the breasts have been sealed on the outside. Note that the cream takes on a vibrant orange-yellow hue. Allow to reduce for another 5 minutes over low heat before serving! To add color, a little chopped parsley can be sprinkled on top.
I hope you like this recipe. Thanks for being here!