Awoke Early Today it Seems.. Time to Get to Work!

While generally my work day starts a bit later.. Today I was up before the sun rose
Woke up around 7AM this morning for some odd reason without an alarm and decided to crawl my ass out of bed after watching an episode of "The Witcher" on netflix to continue bashing away at the Steem-Roller.com v0.7.5 update. While still a hell of a long ways to go on the implementation and testing of the new planned funtionailty as it sits from yesterdays extended coding efforts the monthly VIP membership subscription workings are about 80% completed, with most of what is left to do involves fixing a few bugs here and there before moving on to creating and implementing the plethora of sweet perks / bonuses that the VIP membership will provide.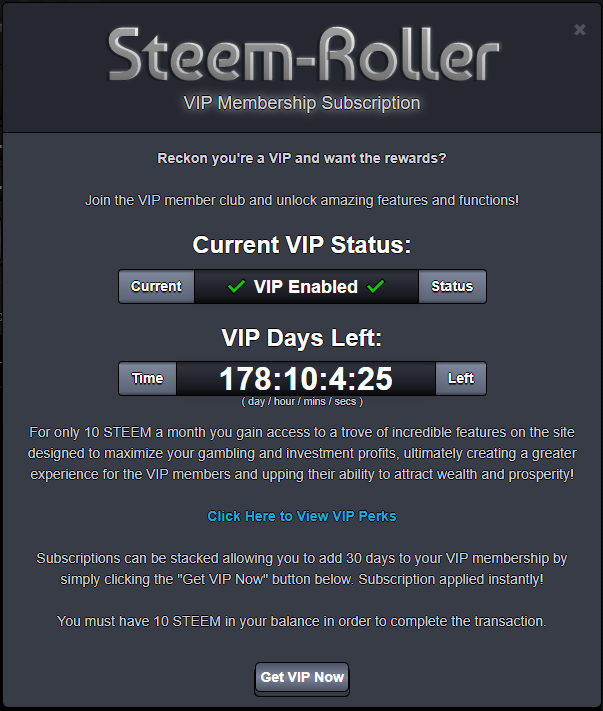 You can stack your VIP membership subscriptions to allow multiple months of VIP perks if you wish. 10 STEEM for 30 days!
Thinking about allowing users the ability to gift VIP memberships to other users as well depending on how coding goes.
Once this VIP subscription functionality is finished and perfected I'll be moving on to creating the perks it has to offer on site and then from there the plan is to completely revamp the mobile rendering on the site to make it small touch screen compatible. Although trying to not myself an unrealistic deadline for the release of the v0.7.5 patch the goal is to have it all finished and launched some time in February 2020, however if the update isn't ready by that point it will be delayed until it can be properly security audited and tested in order to avoid introducing buggy code into the live version of the site as with happened in the v0.7.3 profit chart slowdowns.
Besides the VIP membership perks and the mobile version polishing a number of options are planned to be added to the site. Some premium requiring VIP membership and others available to standard users. On top of this a number of optimizations for client and server side stuff is also in the works for the site.
---


Looking for an Affordable, Secure & Reliable Server Host for Your STEEM Witness Server or Other Web Related Projects? Check out Privex.io!