By a paternal instinct A 3 part weekend Freewrite 11/21/2020
I told her he'd never look at her again; and he didn't.
She felt heartbroken that day, she had not stopped thinking about Paul who, after the discussions they had due to his alleged affairs with other women, had made her life unhappy. Their mutual friend Peter, had insisted that Paul stay away from Mary permanently.
Later, when she discovered her pregnancy, she regretted what had happened, after the child was born she gave it the same name as her beloved Paul, who now that the child was becoming a man more and more resembled his father, many nights in her nightmares, she saw the face of Paul entering through the front door.
As usual, our good intentions to have a quick and restrained lunch disappear with the first jug of wine
The table was served, and with Peter at one end, he laughed when he saw that she still looked something of the youth of the time he had problems with Paul, on the other hand he had not stopped being in contact with his friend, who he was left the country immediately when he learned of Mary's rejection, but now that afternoon, Peter was waiting at any moment for his friend to arrive.
Young Paul, now ten years old, began to take the cutlery while his mother began to serve him the special roast she had prepared that Thanksgiving.
Suddenly there was a sharp knock at the door, Mary without suspecting anything yet told her friend Peter to meet the person who was arriving.
icecold feet, Paul felt them, standing before that door of Mary's house, now he had to face a reality from a past that had never left him.
At Peter's insistence, he had made up his mind to go back and face again the woman he always had in his memory.
When Peter opened the door, he took Paul's hat and coat and placed it on the coat rack. he invite him to the dining room where Mary was still entertaining serving food to her son.
Peter announced the presence of the awaited guest, Mary turned her gaze and seeing Paul, older, could not believe that finally her nightmares was fulfilled.
Getting up from the seat, she took her son by the hand and invited him to say hello to that stranger.
As the young man began to extend his hand, Mary said to them, greet our guest, he is your father who I have always told you about.
Paul, not expecting this situation, by a paternal instinct tenderly hugged the young man who from that moment recognized him as his son.
© 2020, Felix Garcia P. All rights reserved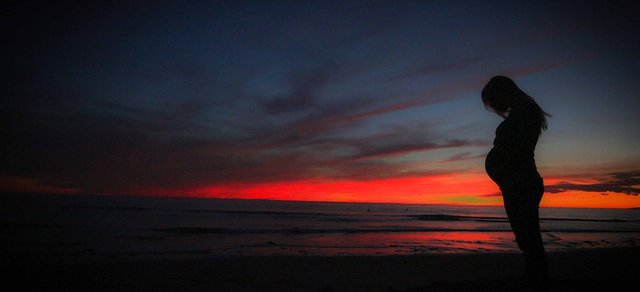 Image source pixabay.com
(esp)
Le dije que nunca la volvería a mirar; y no lo hizo.
.
Se sintió desconsolada ese día, no había dejado de pensar en Paul quien, luego de las discusiones que tuvieron por sus supuestos amoríos con otras mujeres, le había hecho la vida infeliz.
.
Su amigo en común, Peter, había insistido en que Paul se mantuviera alejado de Mary de forma permanente.
.
Más tarde, cuando descubrió su embarazo, lamentó lo sucedido, después que nació el niño le puso el mismo nombre que su amado Paul, quien ahora que el niño se estaba convirtiendo en un hombre se parecía cada vez más a su padre, muchas noches en las pesadillas, vio el rostro de Paul entrando por la puerta principal.
.
Como de costumbre, nuestras buenas intenciones de tener un almuerzo rápido y comedido desaparecen con la primera jarra de vino.
.
La mesa estaba servida, y con Peter en un extremo, se rió al ver que ella todavía lucía algo de la juventud de la época que tenía problemas con Paul, por otro lado no había dejado de estar en contacto con su amigo, quien de inmediato se fue del país cuando se enteró del rechazo de Mary, pero ahora esa tarde, Peter estaba esperando en cualquier momento a que llegara su amigo.
.
El joven Paul, que ahora tiene diez años, comenzó a tomar los cubiertos mientras su madre comenzaba a servirle el asado especial que había preparado ese Día de Acción de Gracias.
.
De repente hubo un golpe seco en la puerta, Mary sin sospechar nada aún le dijo a su amigo Peter que se encontrara con la persona que estaba llegando.
.
pies helados, Paul los sintió, parado ante esa puerta de la casa de Mary, ahora tenía que enfrentar una realidad de un pasado que nunca lo había abandonado.
.
Ante la insistencia de Peter, se había decidido a volver y enfrentarse de nuevo a la mujer que siempre había tenido en su memoria.
.
Cuando Peter abrió la puerta, tomó el sombrero y el abrigo de Paul y los colocó en el perchero. Lo invito al comedor donde Mary todavía estaba entretenida sirviendo comida a su hijo.
.
Peter anunció la presencia del invitado esperado, María volvió la mirada y al ver a Paul, mayor, no podía creer que finalmente sus pesadillas se cumplieran.
.
Levantándose del asiento, tomó a su hijo de la mano y la invitó a saludar a ese extraño.
.
Cuando el joven empezó a extender la mano, Mary les dijo: saludad a nuestro invitado, es vuestro padre del que siempre os he hablado.
.
Paul, sin esperar esta situación, por un instinto paternal abrazó tiernamente al joven que desde ese momento lo reconoció como su hijo.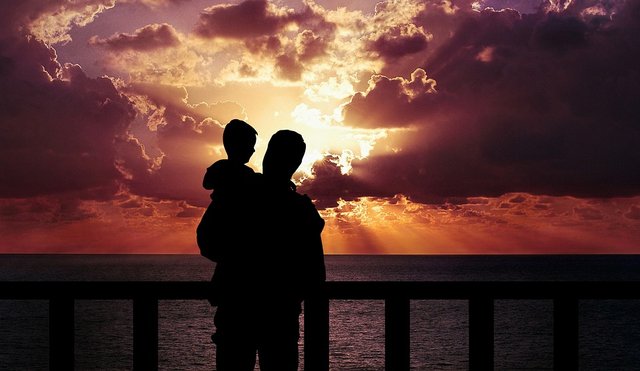 Image source pixabay.com
Dear friends
This is my entry for the 3 part weekend freewrite challenge of @mariannewest. If you want to participate here you have the rules at the following link.
Thanks so much for reading.
Waiting for your upvotes, comments and resteem.
Also, don't forget to read the latest posts from our new page
FREEWRITE HOUSE!

[Image gif authorized by @freewritehouse]
language