Steem Japan Community Update: 7/08/2021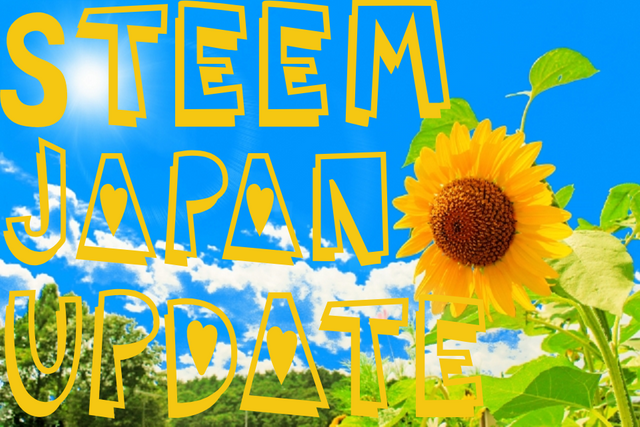 This week in Steem Japan Community
July Contest - Summer story contest is open for everybody! (#myfunnysummer)
This contest will end this weekend but still have time. Post your summer story and win STEEM!
Contest detail is here 👇
Steem Japan Contest "My Funny Summer Story" 50 STEEM Total Worth Of Prizes!!
We have received some great entries already. Check them out and support them 😉
Active community members, Curation trail followers, SP delegators will have better chance to win prizes.
and you can enter multiple times so post more! Go go go!
---
Steem Japan is a diverse community, and this community is for anybody who lives in Japan.
But our community is open for everybody else if you follow our curation trail and delegate SP to community account.
You will be a special member like this ➡️


Japanese language is preferred but English is okay too.
⭐ Become A Steem Japan Member ⭐
* Follow our community curation account (@japansteemit).
Curation trail is here: https://worldofxpilar.com/dash.php?i=1&trail=japansteemit
Curation trail info: https://steemit.com/hive-161179/@tomoyan/steem-japan-join-new-curation-trail
* Delegate SP to community account
SPデレゲーションここから簡単にできます。
Help Us, Help You!
---
July Contest #2 今月後半のコンテストアイデア募集
After this contest, we would like to have another contest since we still have more STEEM and SBD.
Let us know what you like to do. Send us some ideas in the comment below.
キュレーショントレールをフォローしたり、SPデレゲートするとコンテストに当選する確率が高くなり、毎日の投稿記事アップボートなどのサポートがありますので、ぜひ参加をお願いします!
やり方が分からない場合はお知らせください。
---
Curation Trail
Our curation trail follower is 48 right now. This is a community curation trail and support our community posts so it is very important for all our community members!
Please join our community trail 🙂
More about new curation trail and how to join here
---
Our post author rewards are pretty much nothing so we have to focus more on the curation.


We upvote pretty much all the community contents so come get some upvotes 😉
Effective power is 11,098.21 SP ( 1,918.99 + 9,179.23 )
STEEM 49.565 STEEM
STEEM POWER 1,918.985 STEEM (+9,179.225 STEEM)
STEEM DOLLARS $37.883
TRX 296.723 TRX
Estimated Account Value $785.96
@cryptokannon we need to send out delegation and mod rewards soon?
and the rest is for contest and power up the account?
---
Our Discord server has a post promo channel!
If you like to promote your community content, you can paste it in the Posts(投稿記事) channel.
Please do not post your link in the general channel.

That is all for this week.
またね!
Team Steem Japan