WorldbuildingWednesday - Introduction
Today begins a series of posts where I talk about worldbuilding - both discussing my world, and the hobby itself. Every Wednesday for the foreseeable future, I'll expand this series.
For those unfamiliar, the hobby of "worldbuilding" is when you create fictional worlds. Many worldbuilders make worlds as settings for their writing, comic-books/graphic novels, or tabletop/D&D campaigns.
The world I'm currently building was initially for a collaborative story with some friends - but has been re-created after more than a decade sitting unused, to be a setting for my D&D 5e campaign(s). I find that by having my own setting, it allows me more options as the Dungeon Master than pre-made adventures do, which means I have the ability to allow a greater amount of freedom of choice to my players.
The World
The setting I've created is a home-brewed world, centered on the continent of Trothguard - A land once ruled by Emperors, now fractured by warring kingdoms and tenuous alliances. Much that was once tamed is now again dangerous wilderness, held at bay by Mercenaries looking for fame, fortune, and adventure.
It is a sprawling continent divided into 8 major Kingdoms, each with their own unique people, legends, and major factions/actors. In future #WorldbuildingWednesdays, we'll dive into each of these.
Recent Changes
Lately, I've been focused on re-doing the map I created for this setting. The first draft of the map was created something like 15 years ago when I was in highschool. The original looked like this: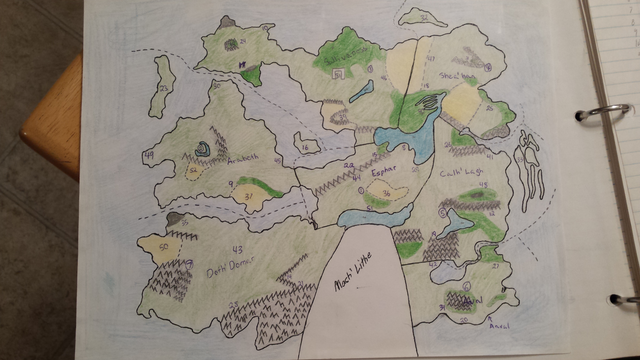 The new map outline is a much better style I think, and it now looks like this: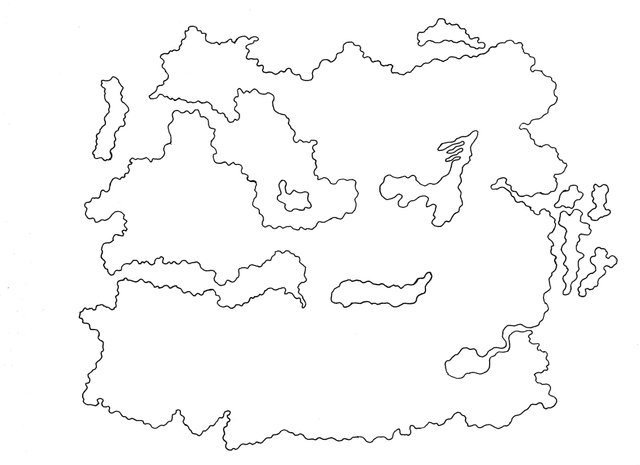 ---
In the next #WorldbuildingWednesday, I'll discuss the world in more detail.
If you have any questions about the setting, my worldbuilding methods, or anything else - drop me a comment! I'd be happy to answer anything you might be curious about.
Thanks for reading!