Welding Workshop Karya Sempurna || My Official Presentation to the Business Activity community || by @taillah #club5050
Good afternoon friends #steemian..!!
Greetings from me to all friends in the #Business-Activity-Community.
Wherever you are, I hope you are always in good health. Allow me to introduce myself to this community. My name is Aktaillah and my #steemit account name is @taillah. I am from Indonesia. This is my Achievement -1 ling post for newcomers, if you want to know more with me, you can see my introductory post on #steemit.
I am 25 years old and I have a small welding business located in Aceh Indonesia and the name of my welding business "Karya Sempurna"
Location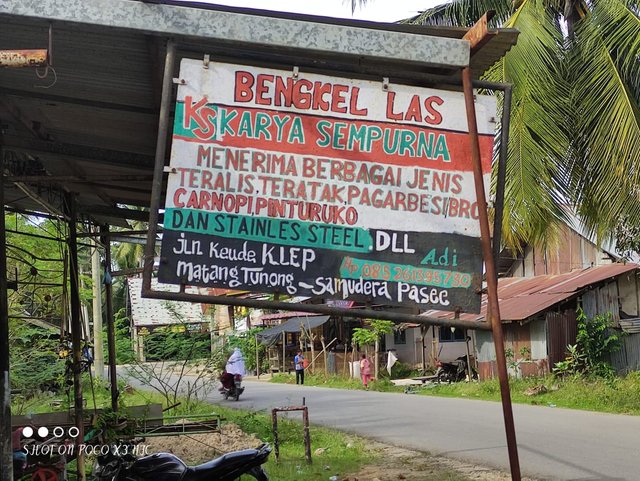 Who are we?
Perfect Work Welding Workshop is a small welding change that I have I have been working on for a long time and this welding workshop I built in 2018 and I received various kinds of welding work such as making dining tables, house doors and others.
Our service
Here I provide all types of welding and all orders about what I can make regarding welding as below:
Make a dining table
Making chairs
Making a fence
Making a canopy
Making shop doors
Making the door of the house
Welding workshop business profile Karya Sempurna
| Company name | welding workshop |
| --- | --- |
| Business nature | Welding workshop & receive welding services |
| Founding date | 20 Agustus 2018 |
| Location | Indonesia, Aceh |
| What3Word Location | https://what3words.com/dikepung.berlatih.proyeksi |
| Phone number | +622367924484 |
| Telegram Usage ID | Aktaillah |
| Payment currencies we accept | Steem, SBD, TRX |
Business goals
Perfect Work Welding Workshop I founded with my brother to create some of our craftsmanship in the field of welding and all manufacturing related to welding.
And we also work with our clients, whether they are requesters or those who tell us to make some of our welding works and we also work with several Welding Workshops in Indonesia such as Jaya Indah Welding Workshop
Welding Workshop Perfect Work wants to build a long term relationship with our customers. By helping clients to achieve their goals and we also grow this business and generate profits.
Our vision
Being one of the outstanding players in the field of welding, and we also provide a wide range of welding works. And we also want to provide high quality in the global competitive market.
Trying to always be able to meet customer needs in a long term relationship.

Stay optimistic and always innovate as our key to achieve success and grow far as a global company by providing good service and providing quality solutions.
our mission
Our goal is only to build and always provide a variety of high quality development and service and support from customers, namely by offering low prices.
And we continue to provide the best service for our clients and I am lucky to have a friend who has the best skills so that he can always provide the best service to our clients.
our logo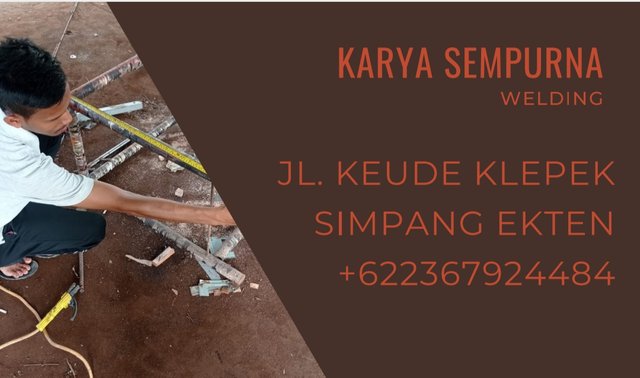 This is my official presentation in the @businessactivity community, and I apologize if my posting of achievements is not good, and really hope for @businessactivity to verify my business and please approve my membership to contribute and be able to give the best for this community.
Thanks To :
@oscarcc89
@cindycam
@gensequini
@rjlv190
@riska-amanda
@businessactivity