Newcomers Achievement Program Weekly Report : Week 2 November 2020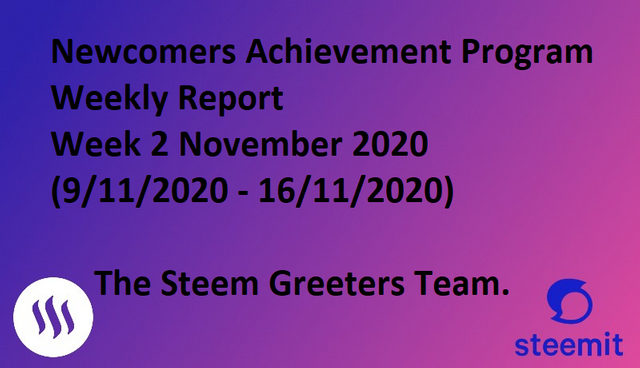 | No | Country | Newcomer | Active | Dormant |
| --- | --- | --- | --- | --- |
| 1 | Algeria | 1 | 0 | 1 |
| 2 | Argentina | 5 | 2 | 3 |
| 3 | Bangladesh | 157 | 68 | 89 |
| 4 | Brazil | 1 | 1 | 0 |
| 5 | Cameroon | 18 | 6 | 12 |
| 6 | Canada | 1 | 1 | 0 |
| 7 | Chile | 1 | 0 | 1 |
| 8 | Colombia | 5 | 0 | 5 |
| 9 | Croatia | 1 | 0 | 1 |
| 10 | Cuba | 5 | 2 | 3 |
| 11 | Dominican Republic | 1 | 0 | 1 |
| 12 | Ecuador | 2 | 0 | 2 |
| 13 | Estonia | 1 | 0 | 1 |
| 14 | France | 1 | 0 | 1 |
| 15 | Germany | 2 | 0 | 2 |
| 16 | Ghana | 38 | 10 | 28 |
| 17 | Greece | 1 | 1 | 0 |
| 18 | India | 70 | 19 | 51 |
| 19 | Indonesia | 55 | 32 | 23 |
| 20 | Italy | 1 | 0 | 1 |
| 21 | Japan | 3 | 2 | 1 |
| 22 | Malaysia | 2 | 0 | 2 |
| 23 | Mexico | 1 | 0 | 1 |
| 24 | Nepal | 1 | 0 | 1 |
| 25 | New Zealand | 1 | 0 | 1 |
| 26 | Nigeria | 151 | 59 | 92 |
| 27 | Pakistan | 12 | 6 | 6 |
| 28 | Philippine | 6 | 1 | 5 |
| 29 | Spain | 2 | 0 | 2 |
| 30 | Sri Lanka | 34 | 20 | 14 |
| 31 | Turkey | 3 | 2 | 1 |
| 32 | UAE | 1 | 0 | 1 |
| 33 | Uganda | 18 | 2 | 16 |
| 34 | Ukraine | 8 | 2 | 6 |
| 35 | USA | 14 | 1 | 13 |
| 36 | UK | 1 | 0 | 1 |
| 37 | Venezuela | 123 | 70 | 53 |
| 38 | Vietnam | 2 | 2 | 0 |
| 39 | Zimbabwe | 2 | 0 | 2 |
| | Total | 752 | 309 | 443 |
A total of 752 verified newcomers has participated in this program from Week 4 June to Week 2 November 2020.
309 users still active in publishing their posts on Steemit.
443 users are inactive or no activities for a period of 7days.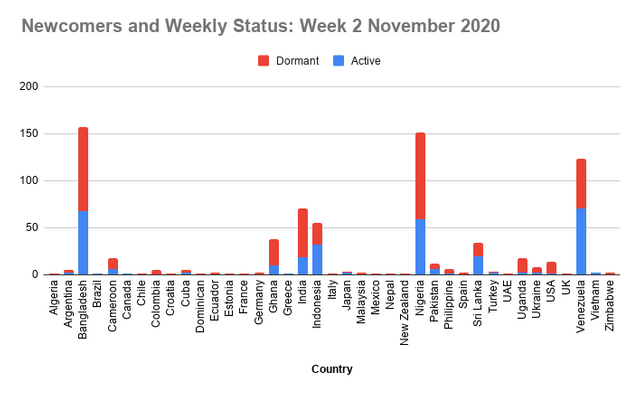 Graph bar of total dormant and total active from Week 4 June to Week 2 November 2020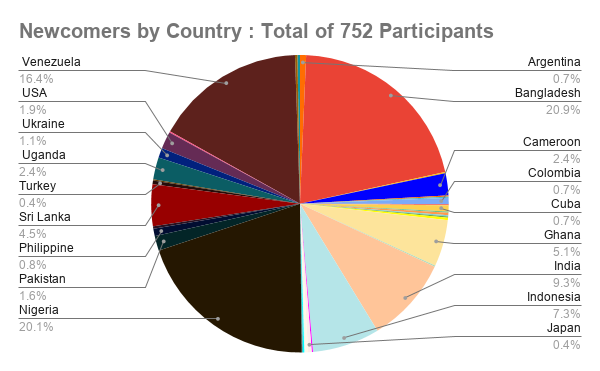 Percentage of newcomers and their country of residing.
Newcomers list on a spreadsheet of week 2 November
Newcomers of Bangladesh on week 2 November
Thank you to @adeljose @tocho2 @belenguerra @njaywan @sapwood @tarpan @besticofinder @randulakoralage @radjasalman for helping with updating the newcomers status weekly.
Thank you for Country Representatives that supporting newcomers and introducing them to Newcomers Community.
Thank you to steem greeters team members that still actively supporting this project and the newcomers. I appreciate your time and effort. Thank you to steem community members that supporting the newcomers in the newcomers' community and making them feel your warm welcome.
Kind regards,
cryptokannon
The steem greeters team.