Steem Greeters Team & Country Representative(Japan) Report: 3rd Week of September 2020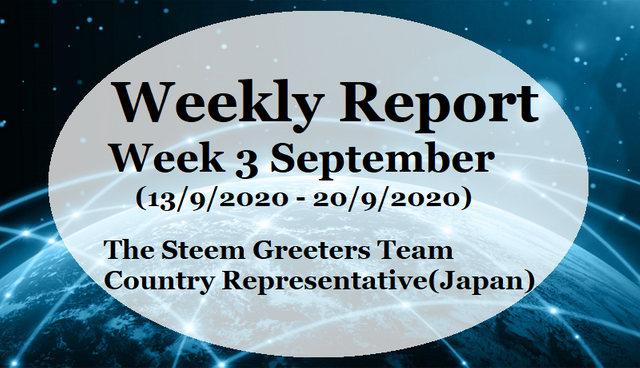 Newcomers Achievement Program Participants from Week 4 June 2020 - Week 3 September 2020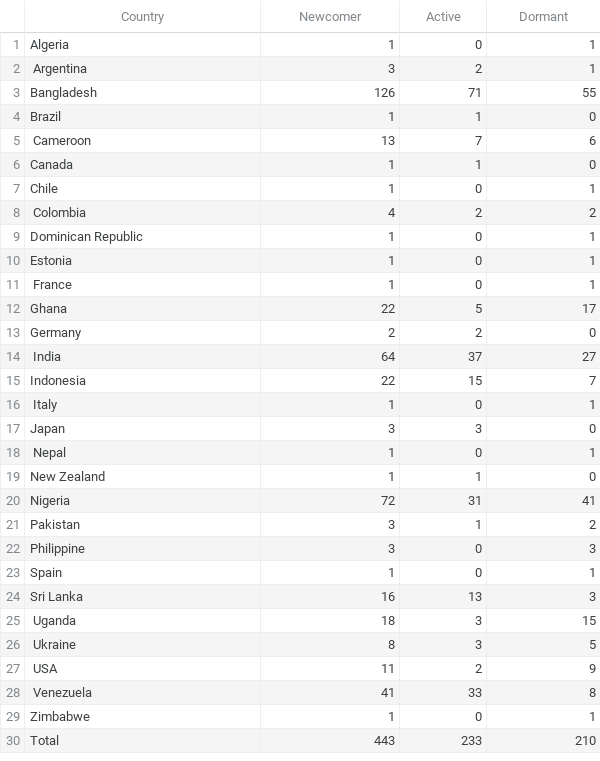 Retention Rate Report for Week 3 SEPTEMBER 2020 :
A total of 443 Newcomers have passed their Achievement 1 (Introduction through Verification)
233 are active posting and commenting and 210 are dormant.
*A dormant account is an account that has no activities in posting or commenting for more than 7 days.
You can refer to the previous weekly report here for comparison in data.
Here is the Google Sheet link for the team member in Steem Greeters Team to fill in the Newcomers data that coming into the Newcomers Program for the Week 3 September 2020
Newcomers Achievement Program Weekly Retention Report
Bangladesh Sheet List
Greeter Fairy greeting list
I have assigned Greeter Fairy Team to greet newcomers that are outside of Newcomers' Community by inviting them to introduce themselves in Newcomers Community and hopefully they will enroll in the program that we have prepared for the newcomers.
Here is the list of the newcomers that our Greeter Fairies have greeted and invited this week.
There are a total of 58 Newcomers on the greeting list for this Week 3 of September.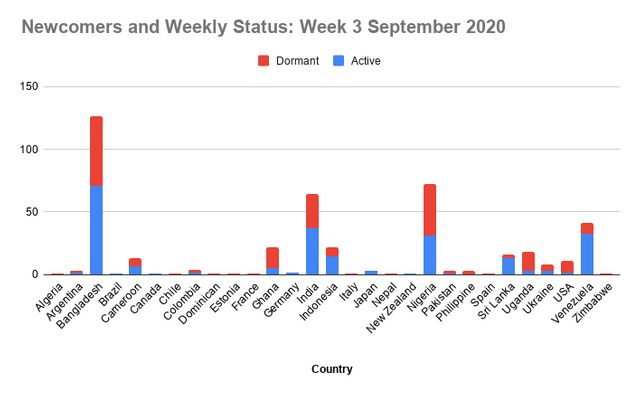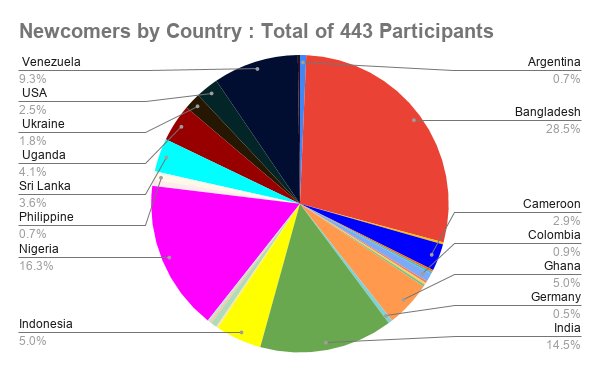 Graduation day for Newcomers Achievement Program
4 newcomers have graduated from this program.
This week, we have received 3 more newcomers posts that have finished all their achievement tasks and that make a total of 11 newcomers under review for graduation.
We will hold the Graduation Ceremony at the end of every month from now onwards.
Here is the list of 11 newcomers that have compile all their achievement task post into one post and under review.
Batch of Week 1 September
@gorllara compilation tasks
@belenguerra compilation tasks
@theopportunist compilation task
@doppley compilation task
@ngoenyi compilation task
Batch of Week 2 September
@sanjeev.kumar compilation task
@sm-shagor compilation task
@eh-shohag compilation task
Batch of Week 3 September
@bright-obias compilation task
@nas-gh compilation task
@sanjeev.kumar compilation task
We will try our best doing their graduation by this week.

Steem Greeters Team Weekly Update and Progress
Every week I will issue a new weekly table in the form of access to a google sheet for everyone in the team to fill in the Newcomers' data after they have greeted the newcomers on the Achievement 1 post and after they curate their other Achievement tasks.
Here is the current table for Newcomers Progress Weekly Report for 4th Week of September 2020
We have introduce another support program for newcomers such as following:
500SP Minnow Support Program for Newcomers
We also have list out all the members of The Steem Greeters Team on this post so Newcomers could refer to specific curators on their achievements' task.
The Steem Greeters Team Introduction
We will update the 500 SP Minnow Support Program for existing steemit users and newcomers of steemit weekly. For week 3 this is the current list we have. @edlili24 and @rex-sumon are the curators for this program.
Curation List for 500SP Minnow Support Program
This week 3 was pack with program creation and also guiding new members of The Steem Greeters Team, our newly appointed Country Representatives on the tasks they could help in the project.
We were coordinating and explaining the task on The Steem Greeters Team dedicated discord server.
It was a phase of guiding and learning and also we have doing some revision on the Newcomers Achievement Program Curriculum too.
There are some of the Country Reps that not yet in the discord, so I think we better have an open discussion on steemit post so everyone can chip in and contribute their idea whenever they have a chance to do so.
We have not got to do the open discussion on Steemit post yet. We will try hold the open discussion around this week.
Steem Greeters Team Member contribution:
I have proposed some curation tasks and steem greeters task to the new appointed CRs.
@njaywan and @radjasalman will be helping with curation for achievement 1 for their respective continents and country.
I would like to give special thank you to @tocho2 and @edlili24 for being so helpful and guiding other Venezuelan Country Representatives on how they can help spreading the words about The Steem Greeters team project and programs for the newcomers coming from Venezuela.
The tasks is voluntary and we will put you in the rotation list for 100% daily upvote from steemcurator03 if you have accomplished the tasks specifically assigned to you.
I believe steemcurator01/The Steemit Team will upvote your weekly report as a member of The Steem Greeters Team too.
Please submit your weekly report as Steem Greeter and also as Country Representatives at the community for STEEM POD member here STEEM POD Team
The Steem Greeters Team members will write a report on their contribution and work as I suggested, if they are doing their part or tasks that have been assigned to them.
As for rotation upvote 100% from steemcurator03, I will only put them on the list if they doing their part in the team. Curating for only 1 post per week does not count as doing their part.
Country Representative for Japan
I am supporting steemian from Japan on their thediarygame post and other posts too.
For now,I don't have any promotional or recruiting for Japan Community. Maybe in near future we should do some steemit meet up around Tokyo since 3 of us in @japansteemit team member for thediarygame live not far from Tokyo.
I hope @tomoyan could be considered as Country Representative for Japan too since he has express his interest in becoming one.

Thank you so much and I'm grateful for the cooperation and teamwork shown by the members of The Steem Greeters Team on the project, thank you for your help and contributions, to all of you Steem Community supporting our project in any way,I appreciate it, and special big thank you to The Steemit Team @steemitblog @steemcurator01 for their constant support and words of encouragement and a constant communication on the project and our works in the community as a whole. Much Love!
Kind Regards,
cryptokannon
The Steem Greeters Team Project Coordinator & Japan Country Representative.
Powered by STEEM POD project of The Steemit Team.