Steem Greeters Team Report & Country Representative(Japan) Report: 4th Week of August 2020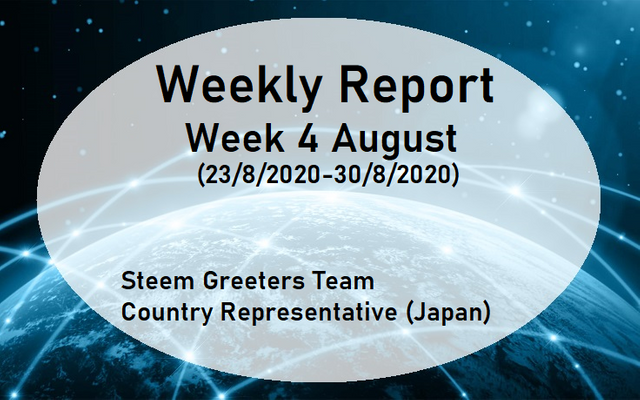 Newcomers Achievement Program Participants from Week 4 June 2020 - Week 4 August 2020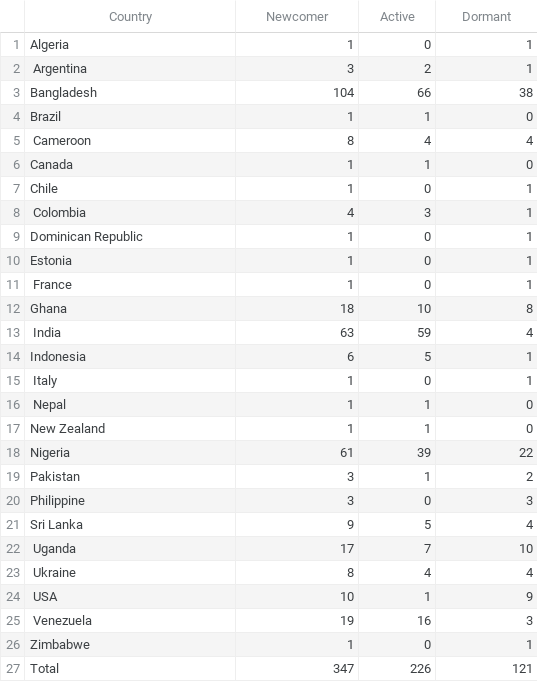 Retention Rate Report for Week 4 AUGUST 2020 :
A total of 347 Newcomers have passed their Achievement 1 (Introduction through Verification)
226 are active posting and commenting and 121 are dormant.
*A dormant account is an account that has no activities in posting or commenting for more than 7 days.
There is a decrease in active users at the end of week August probably because of the Mid Season Break for The Diary Game.
Here is the Google Sheet link for the team member in Steem Greeters Team to fill in the Newcomers data that coming into the Newcomers Program for the Week 4 August 2020
Newcomers Achievement Program Weekly Retention Report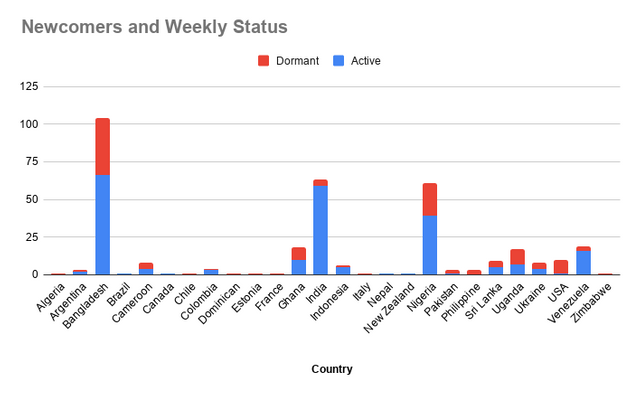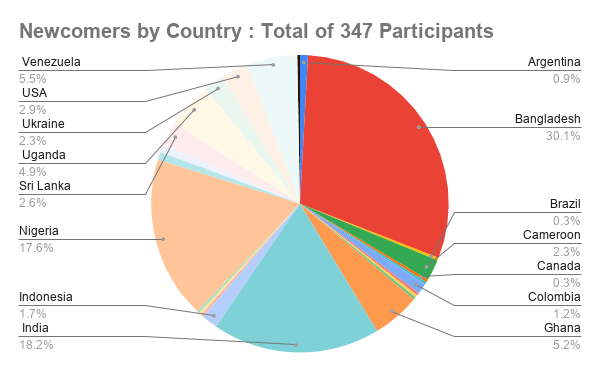 Graduation day for Newcomers Achievement Program
@fendit @neerajkr03 and @sahilgupta have completed all the tasks in the Newcomers Achievement Program and they have received their Pro Newcomers Badge. See the details about their graduation on this post here,
Newcomers Achievement Program Graduation Day
So far 4 newcomers have graduated from this program.

500SP Minnowsupport Program for Existing Steemian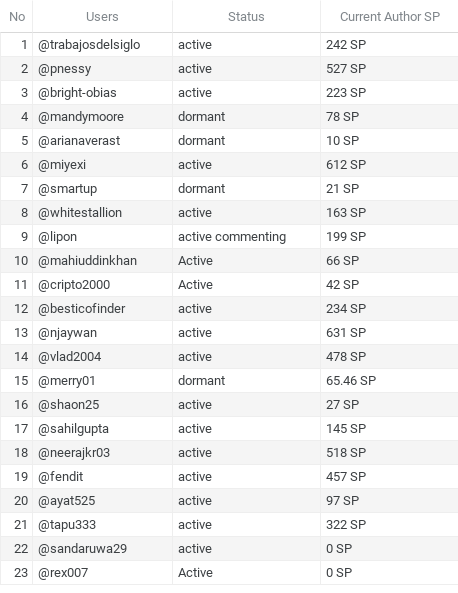 Currently 23 existing steemian are under this program and 4 users are dormant with no activity of posting and commenting on their account for the pass 7 days.
All of the newcomers that have at least completed until at least Achievement 4 eligible to apply for 500SP Minnowsupport.
All of newcomers who have graduated from the Newcomers Achievement Program will be automatically listed under this program and finally in the Proof of Dedication List.
4 steemian in this program have reached 500 SP in all time author reward.
@pnessy
@miyexi
@njaywan
@neerajkr03
They will be in our Proof of Dedication List and will still get a visit from steemcurator03 from time to time if they're still active posting and engaging with other steemians.
Below is the google sheet table I use for tracking their retention rate
500SP Minnow Support Program Weekly Report

Steem Greeters Team Weekly Update and Progress
Every week I will issue a new weekly table in the form of google sheet for everyone in the team to fill in the Newcomers' data after they have greeted the newcomers on the Achievement 1 post and after they curate their other Achievement tasks.
Here is the current table for Newcomers Progress Weekly Report for 1st Week of September 2020
I have changed the "Mentor" column to "The Diary Game Participations" for additional data on how many Newcomers in the program participating in The Diary Game.
Steem Greeters Team Member contribution:
@randulakoralage is helping with filled in the newcomers' data into the table after she curate their Achievement 1 task.
@rishabh99946 helping with maintaining the table for newcomers from India and curating the Achievement 2 and 3.
@yohan2on helping with maintaining the table for the newcomers from African continents and curating Achievement 5 and 6.
@tarpan and @toufiq777 maintaining the table for newcomers coming from Bangladesh.
I'm helping with curation for Achievement 1 and tracking all other small participants from other countries in rotation through the tables to encourage retention.
We need you steemian to help us welcoming/greet and suggest the newcomers from the introduceyourself tag or any newcomers that you see not yet in the Newcomers Community to join us. Please do so at your convenience.

We use the Steem Community Curator account mostly for curating the Achievement tasks.
@mariita52 used it to curate newcomers from Venezuela that not participate in the Newcomers Achievement Program.
I used it to encourage participation and engagement on Steem and supporting the retention of existing steemian and newcomers when I do the weekly tracking for their weekly status.
I also use it for daily 'reward votes' rotation, currently, I'm in charge of upvoting only the Steem POD members who actively contribute their time and efforts on the newcomers' achievement program which is maintaining the table and curating the achievement task.
Country Representative for Japan
I am supporting steemian from Japan on their thediarygame post and other posts too.
I have delegated 500SP to @japan-steemit(team account for thediarygame team) and another 500SP to @steem-japan a curation trail project by shortsegments here to support the contents of Japan steemian. If you're Japanese steemian please consider delegate some of your steem power to this account to support steemian from Japan.

Ideas and Initiatives for promoting Steemit Community activities
I have asked and encouraged @antorv @fendit and @belenguerra to organize a challenge and contests that the whole steem community can join and at the same time this activity will be promote on the social media like Facebook Page dedicated for Steemit Community Activity. The post is here
From the discussion,
@antorv had volunteered to moderate and organize the selfie and writing contest plus managing the facebook page for steemit community there. I will be waiting for the update from her regarding this project.
@fendit and @belenguerra have created a community for creative writing here, https://steemit.com/trending/hive-111825 please join the community and participate in the challenges they organizing there.
@jacorv also have expressed his interest to organize a challenge for monthly goal and achievement. Here is the sample of the challenge he came up with Goals of September
I will be waiting for the post on the contests/challenges from them and help in any way I can, I hope other steemian can help/support their initiative/work with upvote or liquid steem for prize pool. Spread the words about their initiative to your community too.

I would like to express my gratitude and thanks for the support from all of you steemian on our work in the Steem Community. Thank you to my team members who been working hard for the community and big thank you to our biggest supporter, The Steemit Team.
Kind Regards,
cryptokannon
Steem Greeter & Country Representative(Japan)
STEEM POD Project of The Steemit Team.