Steem Greeters Weekly Report 2nd week of June 2020 & Proposal for Improving Retention Rate
Steem Greeters Weekly Report for 2nd week of June 2020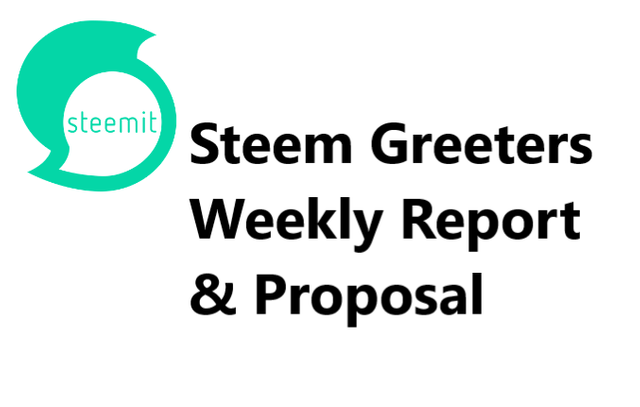 This is my weekly report on my contributions as a Steem Greeters for the Steem Community. I was able to greet this list of newcomers on the 2nd week of June 2020.
---
Proposals for Improving Retention Rate of Newusers
On behalf of Steem Greeters Team, I present our proposals for Improving Retention Rate of Newcomers to Steem.
We have been discussing these ideas and suggestions among ourself the Steem Greeters team, @cmp2020 @kiwiscanfly @mariita52 together with other members in the @steemingcurators community such as @leveuf , @marcosdk , @girolamomarotta.
The Steemit Team has stated that they want to know from us on how we can explore ways of measuring progress on the retention of new accounts on our weekly reports.
We hope in those reports the Steem Greeters can explore ways of measuring progress on retention of new accounts.
We come up with these ideas as below:
Pro Minnow Achievement Program
Objectives of The Program:
Newcomers have basic knowledge on how to navigate steem ecosystem especially steemit platform.
Newcomers get support on their content for at least 6weeks from their mentors/the steem greeters that have been assigned to them.
At the end of the Pro Minnow program, newcomers will be awarded Pro Minnow verified badge and will continue to receive support for their content until they have at least 500sp author rewards on their account, with the condition of no power down, but they can withdraw their liquid steem payout.
Pro Minnow Achievement Program Curriculum
Steem Greeters will be assigned to at least 10 newcomers under their care and the newcomers would be given the task as below to complete at their own pace.
Each of the Steem Greeters will refer to these basic subjects that is necessary for the newcomers to complete and make a post about their understanding or review on the subject matters.
Steem Greeters are free to tweak their own curriculum according to their own style and creativity but still incorporate these basic elements into their own version Pro Minnow curriculum.
Basic Curriculum Template
[1] Basic security on Steem
Newusers make a post on what they understand about different keys on steem and how they plan to keep/put this key safely.
Newuser make a post on how to use each key for posting, transfer STEEM/SBD and power up their steem
[2] Basic rules on accepted content on steem. Explain about Steemit rules on plagiarism and copyright materials.
Newusers make a post about "Proof of Brain" concept as in Steem Bluepaper.
[3] Basic markdown and some advance markdown
Newusers try using all the markdown template on steemit and make a post with the templates
[4] Basic tools on steem
Newusers make a review post about basic tools on steem such as steemworld.org, steemyy.com , steemscan and etc.
How we Track their retention rate?
Here is the sample of how we steem greeters will record/track the retention progress of newcomers under our care for the minimum period of 6 weeks:
Newcomers Retention Rate Progress Weekly Report
Overall Weekly Activities of *10 Newcomers under Steem Greeters @accountname Care
*or numbers of Newcomers currently assigned to be under the care of one particular steem greeter
Weekly Report on Pro Minnow Program for @newcomer1
| Week | Pro Minnow Task Completed | No. of Post on Steemit supported by Steem Greeters |
| --- | --- | --- |
| 1 | Basic Security on Steem | 2 |
| 2 | Basic Rules on contents | - |
| 3 | Basic Markdown | - |
| 4 | Basic Tools on Steem | - |
@newcomer1 joined steemit on May 2020.
He posted his verification post on Steem Greeters community on 17 June 2020.
Here is the link for his verification post
He had completed this task on Basic Security on Steem for Pro Minnow program on (insert the date post submitted), here is the link for the post link
I have supported 2 of his post on steemit for his first week on Steem Greeters Community
*Steem Greeters will provide a weekly report consists of these data on the tables until week 6 or until the newusers under their care complete all the tasks on their Pro Minnow curriculum. We are planning to continue to support their post until they reach minnow level of 500 steem power on their total author rewards.
Flow of Newusers coming into Steem Greeters Community
Step 1
Steem Greeters welcoming Newusers and suggest them to write their Verification Introduction Post then posted it into the Steem Greeters Community
at this stage Steem Greeters will explain to newusers what Steem Greeters Community is about, explain about Pro Minnow Program under Steem Greeters Team.
Steem greeters will give them link on sample template on how they do their verification Introduction post.
Step 2
After Newcomers submit their Verification Introduction Post to Steem Greeters Community, he/she will be assigned to one of the Steem Greeters team according to the language they speak/understand.
steem greeter introduce his/her own version of Pro Minnow Program to newusers under his/her care.
Step 3
Newusers and Steem Greeters start working together under the Pro Minnow Program.
newusers start completing all the task given by steem greeters
*after complete all the tasks given in The Pro Minnow Program, newusers will receive Pro Minnow Verified Badge
Support for existing Steemian under 500sp author payout total
We Steem Greeters Team also have agreed to support contents from existing Steemian under 500SP on their Author Payout Total with below conditions:
Support for existing Steemian under 500sp author payout total
All-time steemian that still under 500Steem Power all-time author rewards on their account(we will check this with the tool steemworld.org) eligible to apply for support on their content from Steem Greeters Team with the Community Curation account @steemcurator03 .
How to apply for support:
make your introduction post and verify yourself with a photo of yourself holding a paper written your account name, time and date and steem sign photo verification example
Mention any of us steem greeters on our latest blog post in Steem Greeters Team Community and stated that "I @youraccountname would like to apply for steem greeters support" together with your introduction verification post links.
Then one of us from Steem Greeters Team will check if your account is eligible and will give you permission to post your contents at Steem Greeters Community. We will only support 1 post per day from you
you, in turn, will have to support by upvote and comment on at least 3 other steemian posts in Steem Greeters Community to encourage engagement on steem platform.
Current Steem Greeters Team Status Progress
Last week , we have discussed among ourselves in the @steemingcurators discord servers about the strategies on how to improve retention rate on newcomers, and also how to track their activities and retention progress on steemit.

This week we present all the ideas and suggestions that we have discussed, which is this post itself.
I posted this post here on our Steem Greeters Team Community that we have set up on steemit solely for our team members to post our weekly report and any task that we have for the newcomers under our care.
We also have created Steem Greeters Community for newcomers and all-time steemian to post their contents here https://steemit.com/trending/hive-172186
We will start putting the proposal into action after getting the feedback from The Steemit Team @steemitblog @steemcurator01

Next week, we will get each other feedback on how the Pro Minnow Program working so far, the reception from the community, and come up with a resolution and improve any area that needs improvement.
I am looking forward to my other team members' @cmp2020 @kiwiscanfly @mariita52 final say on this proposal and also feedback from The Steemit Team @steemcurator01 @steemitblog so we can get these ideas into action soon. Thank you in advance for your kind cooperation.
STEEM On!
Kind Regards,
@cryptokannon
Steem Greeters Team
Steem POD project by The Steemit Team.