Suggestion on Curation Method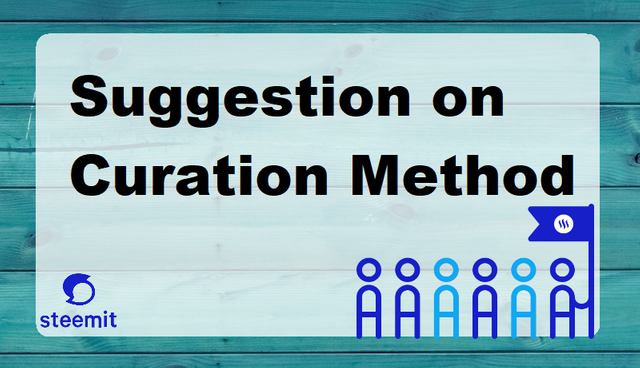 Suggestion on Curation Method
Through thediarygame we have learned that randomly curating the users on steemit might leaving some users without any upvote at all on their post and this lead to dormant account as they feel no support on their content on steemit.
This is especially true for users who are not in the radars or in the list of the curators. With the suggestion of @steemcurator01 The Steemit Team here, I proposed some of the solutions I have in mind on this post and I hope for some feedback and improvement too.
Objectives:
Curators can reach every user in their regions without fail.
Curators can have better curation coverage and be more systematic in their curating works.
All users on steemit get a chance of getting support on their content if they are still active posting and engaging on steemit and make an effort to contribute to the growth of steem blockchain at a minimum, by commenting and engaging with other users.
Problems:
Curators only upvote the circles of users that are under their radar/in their personal list.

Those newcomers who don't have any connection with the curators are left out and never get visited by the curators of regional community curation account.

This will lead to complaints of not getting support or the users going dormant as they are not getting any support on their post.
How to manage the curation process with large numbers
Proposed Solutions:
Curators of Regional Community Account should prepare a list of users in their country on a spreadsheet, ideally on google sheet, so everyone can get access to this list.
Or another way is to make a post(Curation List Post) about it on steemit and list out all the users on that post.
Make a post(Curation List Post) on steemit
I think the second option is more transparent so the whole Steem Community members also can see that curators of this Regional Community Account are really doing their best to serve and support each and everyone in the region.
Weekly update the list
I hope the Curators of Regional Account Community also update the list weekly and gets the newcomers list from the Newcomers Achievement Program too.
I will personally give you the list on the comment section of the post if you don't have the time to come and checking on the table that everyone who is Country Representative have access to.
Mutual agreement on curation guidelines
They should have this mutual agreement to stop curating when the voting power of the Regional Community Curator Account going below, say, 80% VP, to let the account recharge back to the maximum before starting curating again.
Curation in turn or based on systematic curation schedule
They should be curating in turn or have the schedule on who in turn will be curating for the particular day.
For example, on Monday, CR1 will be curating the list from the user on number 1 until where the VP is already at range 80% VP for that day, then CR1 will put the mark or comment on the comment section of this Curation List Post, by putting a comment like No1-No.30 Curated on 16/9/2020 by CR1.
Then the next CR2 will pick up from where the CR1 has left when it comes to her/his turn the next day.
So after the VP is already at the range they seem ready to curate again, for example now at 99% VP, and that this CR2 should curate from the No.30 pick up where the CR1 has left from the previous curation session until - No?(CR2 should stop where the VP is already at 80%)
This process repeats until they cover everyone in the list.
I think this strategy will minimize the chance of missing some users in their curation.
Country Representatives making sure everyone from their country inside the list
One of the Country Representatives responsibility is to make sure all active users and also newcomers coming from their country are listed on this Curation List Post.
Users who are not on the list also can mention their name to be listed if they see they are not on the list, as this list is transparent/posted on the steemit platform, maybe posted on STEEM POD Community
Steem Community could see the method of curation and how this community curation account being used by the Country Representative/Regional Curators.
Post have passed curation windows
Even if some of the posts have passed the curation windows, they will still get a chance to get upvotes on their active post if they are still actively posting on steemit. This will keep the retention rate high as users still have hope on their post will surely get visit as they have their name on the list.
Users complaining about not getting visit/upvote from steemcurator01.
Another problem I heard from the newcomers recruited by the Country Representative(CR) or steemit users is, they, newcomers, expected to get the same amount of earning as the CR had.
Do not promise moon and stars to your recruits or person that you introduce into steemit about they will guarantee getting the rewards on steemit the same amounts as you been getting, especially is you're CR for a long time now, and never promised or saying about they will also get the gigantic upvote from steemcurator01/The Steemit Team.
Please educate this newcomer or person that you introduce to steemit, that, the earning is not guaranteed the same as you are getting now on steemit because of many factors.
They have to learn how they can contribute to the growth of the Steem Blockchain and Steem Community as a whole as this will determine how much their earnings will look like.
If they just come on steemit to post then run and not even bother to contribute at least commenting on other posts or replying comment on their post, they should change their strategy and learn how Steem Community works.
Also if you notice, there are some changes on how steemcurator01 will be used now after the announcement made by The Steemit Team here https://steemit.com/the1000daysofsteem/@steemitblog/1000-days-of-steem-steemcurator-changes-and-news-for-south-america
I hope the proposed solution/suggestion is clear. Please let me know if you're still not clear about it, I will try my best to explain to you again.
If you have better solution please also share with us in the comment section.
Thank you.
To the attention of all appointed Country Representatives or Curators of Regional Community Curation Account:
Cameroon (@njiatanga), Ghana (@oppongk), Nigeria (@beautychicks, @focusnow), Uganda (@yohan2on), Argentina (@belenguerra, @fendit), Venezuela (@anasuleidy, @edlili24, @mariita52, @tocho2,@adeljose ), Bangladesh (@tarpan, @toufiq777), India (@neerajkr03, @rishabh99946, @sapwood), Indonesia (@anroja, @ernaerningsih, @radjasalman,@nazarul), Japan (@cryptokannon), Pakistan (@rashid001), Sri Lanka (@besticofinder, @randulakoralage), Russia (@knopka145,@filinpaul), Ukraine (@antorv, @olesia) and New Zealand (@kiwiscanfly), @girolamomarotta [Italy]