Daily report of task as steem greeter and curator witch @steemcurator03 June 24-26 | CR ARGENTINA @graceleon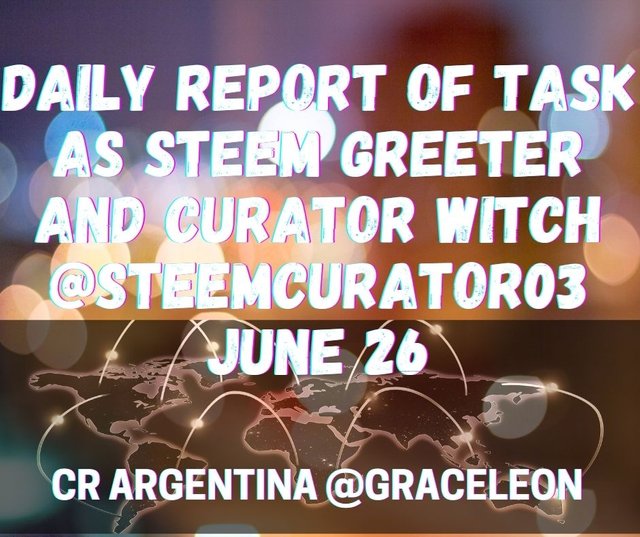 Designed in Canva
Best regards, Steem POD team. Through this report I want to present my management carried out on June 24 and 25 and 26, 2021.
These three days I was working in the Newcomers community supporting new users, offering my regards to new members, correcting some publications of achievements within the community and helping others who for some reason tried to make their presentation to steemit but with some errors in the community election.
I must say that the traffic of users in newcomers making their achievements to obtain their respective validations and verifications in order to opt for the opportunity to participate in the crypto-academy, has been very remarkable, since many are working in order to comply with these requirements to have at least 4 achievements and be part of the crypto-academy program offered by @steemitblog.
That is why I have dedicated myself efficiently and proactively to supporting these users to achieve their goals within steemit.
I present the validated and verified users with their respective posts and description of achievements that I had the opportunity to support between June 24, 25 and 26, 2021.
Verified:
TOTAL: 30 VERIFIED
---

On Saturday June 26, from UTC time, I had the opportunity to provide healing support with the account @ steemcurator03. As a result, I was able to reward 32 users with their newcomer program achievement posts.
Achievement 1:
Link
Link
Link
Link
Link
Link
Link
Link
Link
Link
Achievement 2:
Achievement 3:
Achievement 4:
Achievement 5:
Compilation
Expired
---
In summary I inform you that I was able to verify and validate 30 users with their achievements; and reward 32 users with the steemcurator03 account.
To all the mentioned users I had the opportunity to vote and comment with my personal account, wisely using the delegation obtained as Country Representative added to my steem power.
I appreciate all the trust, respect and opportunities that they have given me in the team and especially @cryptokannon for his precise and clear instructions so that we can continue to provide support to the entire community of newcomers to Steemit.
---
I appreciate the support and trust that the @steemitblog and @steemcurator01 team have given me, as well as the support given to me by my colleagues @ tocho2, @ anasuleidy, @ edlili24, @ inspiracion, @ belenguerra, @ fendit, @ wilmer1988 @ adeljose @ albenis @ saracampero, @ nahela, @ rypo01 and @ miyexi.
Thanking you for all the support and trust that you have given me within the platform;
I say goodbye to you with affection;
---
Cc.- @steemcurator01 @steemcurator02
---
Country Representative Argentina
Discord: graceleon#2348