Monthly Retrospective | Country Representative | Sri Lanka | August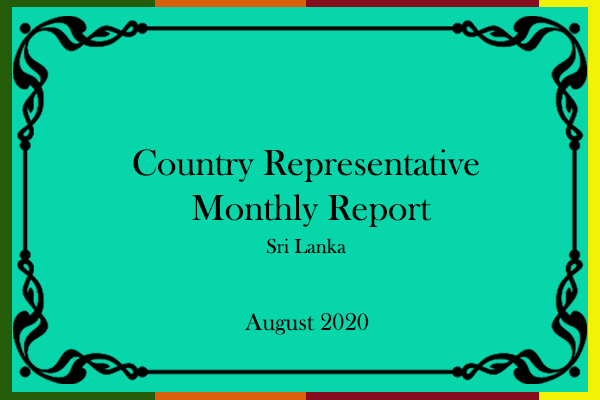 01. Background
The country representative concept came out with the idea of keeping connecting Steemians from a particular country on the blockchain through support, guidance, commenting, and voting. I was selected as the country representative of Sri Lanka on 2020-07-29 and received my delegation of 5000SP on 2020-08-01.
Before 2020-07-20 there were only 5 active members including me. When I receiving the delegation, I had 3 challenges. The first one was managing the responsibilities of the CR with my studies as I am not a full-time member. The second was connecting with existing members and the third one was recruiting members.
Goal
Keeping the trust of Steemit Team and conduct my community towards the Recruitment and Retention Rewards System Concept.
Objectives I defined at the beginning
Increasing Members of Community
Preserving Engagement of Community
Rewarding and Keeping Satisfaction
Attracting Global Community
Being an Exemplary Leader
Process and Results
01. Increasing Members of Community
Under this, the following steps were taken.
Bringing all existing members into one single chain.
Connectivity is a very important factor. So first I contacted existing steemians using comments and mentions to get to know them well. Specially @madushanka, @besticofinder and @goldcoin made good responses and we were able to gather our whole content under the #srilanka tag.

Recruiting first level members
These members were recruited to build a team for thediarygame. @dinoli, @anusha96, @sandu and @randula99 were the first set I recruited. They were trained very well by me and provided knowledge to face the content war with quality content.

Recruitment tree concept
Each member was given the freedom to recruit and train anyone they wish with full credit for them. This worked well. The credit goes to everyone for making this process successful.




Current recruitment tree
During the month I was able to increase the number of active members to 5 to 15 members and 2 are yet to be verified because of very recent accounts.
What I could be improved One member was inactive and if I could remain him in the platform, it would be better.
---
02. Preserving Engagement of Community
Engagement is very important to the success of steemit. The following steps were taken to enhance engagement.
Telegram Channel for Gathering
First I gathered all new members into a telegram group so that they can get to know each other well and can learn about the platform. Feedbacks and shoutouts were always taken into further decision making.

Contest The Most Outstanding Sri Lankan Steemian of the Week
I introduced this contest concept first time and It was a good model for other countries in an unexpected way. This contest was successful than I thought during first two weeks. Members gave good feedbacks such as they got many votes from steemcurrator01 for comments, increased their followers. And it gave chance to showoff themselves to other countries as well. Currently I have allocated 12 SBD for this contest.

Updates and Motivation
Latest contests and updates share through twitter, telegram, resteeming, and sometimes by personal comments. You will see evidence for motivation everywhere!

Example of sharing updates
What I could be improved
I feel if I could increase the prize for the contest is better. And then If I could make a separate community for Sri Lanka, it would be more interesting. But I am so patience. It will be done once we have enough active real members.
---
03. Rewarding and Keeping Satisfaction
Rewarding means satisfaction. Satisfaction cause to retention. I could manage the delegated 5000SP properly with community curator account 07 to reward everyone well.
No 0 payouts
under #srilanka tag there are no 0 payouts anymore. I respect the ability and interests of writing of any one and pay my full effort to make them reward up to quality.

Usage of community curator account
This was the most challenging part of my curation life. @rashid001 and I share the account for 3 days in every week and he is giving me very good support. So that both of us could manage our members properly.
What I could be improved
I believe I did my maximum when rewarding. :)
---
04. Attracting Global Community
This objective was defined to enhance the global reach. Following are the actions taken under this.
Beign a greeter and motivate newcomers
This is something I got for my luck and something I really love to do. As a country representative, I give my full support to the POD team and the Greeters process.

Nature and Me contest
This contest received an unbelievably high number of feedbacks. My intention was to reward the service for the environment with steem. It went successful and I am now planning for a second Nature and Me contest with a new concept. Sri Lanka, India, and Bangladesh participated in this and achieved the objective of global attention up to some extend. I allocated 4SBD for the contest. @tarpan also helped me with this, by voting with community curation account.
What I could be improved
It would be more successful if the members of other countries also joined in Nature and Me contest. For that, I should pay more attention to promotions.
---
05. Being an Exemplary Leader
No power-down while requesting others to not to power down
0 self votes, you all vote me :)
No plagiarism or farming. I highly warn you not to do. I'm watching it.
Powering up, power keeps the survival
Thank you
Thank you for the support all you gave through this month and I'm willing to have it even in the future. Human is the most valuable resource.
@goldcoin
,
@madushanka
,
@besticofinder
,
@theshaki
,
@anusha96
,
@dinoli
,
@sandu
,
@randula99
,
@dasuni.ayashmi
,
@yohank
,
@rusmend96
,
@charith-tm
,
@sandupi
,
@pansilu99
,
@linali
This is as a reply to the post 1000 DAYS OF STEEM : Day 24 - Country Representative of the Month
cc : @steemcurator01
@steemitblog
Country Representative,
Sri Lanka
---