Let's consolidate the list of Active users from INDIA- Proposal to improve the Curation Method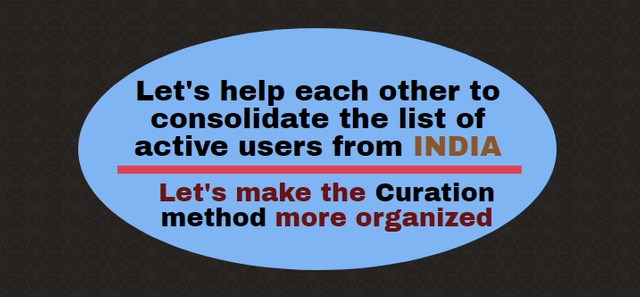 Country Representatives- India

Consolidated list of Active Authors (including the list of Newcomers community) from India
Sl No 1-36 - From the Newcomers community list(Active users only)
From Sl No-36 onwards- Outside Newcomer's community, active users in Steem Blockchain from India--The list is being consolidated(in progress)

Invitations
I request @neerajkr03 & @rishabh99946 to join this post and help update & consolidate the list of active users from India so that we can curate them and fairly reach out to all of them, serve them with the Steemcurator07 account.

I also request all the authors from India who are active in Steem Blockchain to join the comment section if they are left out and/or not included in this list so that we can include you on this list and will serve you with Steemcurator07 each week.
| Account | SP | Upvote value with 100% weight | Upvote value with 35% weight | Upvote value with 10% weight |
| --- | --- | --- | --- | --- |
| Curation | | Contest Post | General post | Comment |
| @steemcurator07 | 211933 | $3.42 | $1.2 | $0.34 |
In the existing setup:-
The contest posts are being supported with 100% weight
The general posts are being supported with 35% weight
The best comments are supported with 10% weight
As per the agreed-upon schedule, the first three days of the week(Monday, Tuesday, Wednesday) are scheduled for curating the Indian community.
Analysis:-
Because VP recharges by 20% every day, the maximum number of upvotes with full weight, full VP is always 10, and with 35% weight, we can serve at least 29 posts/authors daily.
As India is getting three full days to use the @steemcurator07 account, we can serve as many as 29X3= 87 posts/authors in a week.

Proposed setup
To better organize the curation schedule, first, let's help each other to arrive at a consolidated list of Newcomers & Active users from India so that we can serve all & the users won't have a feeling like "my posts are not visited at all".

Let's curate with the Steemcurator07 account as per this consolidated list serially, to make it more organized, better to track. For example, CR1 will curate Sl No1-20 on Day1, CR2 will curate Sl No 21-40, CR3 will curate S No 41-60.

The CRs from India to leave a comment here when CR1 finishes the curation on day 1. For example, Sl No 1-20 Curated by CR1 @rishabh99946 Date 21/09/2020, similarly, after curated by the CR2 the next day, he can also leave a comment like Sl N0 21-40 Curated by CR2 @neerajkr03 Date 22/09/2020 and so on.

This list to be updated every week with a fresh post and a similar methodology to follow. Because it will not just make the things smooth for the CRs but also any active user if happens to stop by this post can join the comment section to update the list and communicate to us in a better way.

As contest posts are being supported by @steemcurator01, let's first focus on the general posts, if the general posts are below 87 in numbers then we can go on supporting the contest posts with the @steemcurator07 account.

As we the CRs are also being supported by the @steemcurator01 account for each week curation reports, let's not use the @stemcurator07 account at all to vote any post/contest/comments of a CR. Let's utilize the resource to assuage the feelings of the active users/Newcomers as much as we can with @steemcurator07.
Thank you.

Any suggestion, feedback to improve this structure of curation schedule is always welcome. Please leave a comment if any active user's name is not included in this list.

Cc:-
@steemitblog
@steemcurator01
@cryptokannon
@rishabh99946
@neerajkr03