Our Achievements |Summary Report |Country Representative (Bangladesh)
---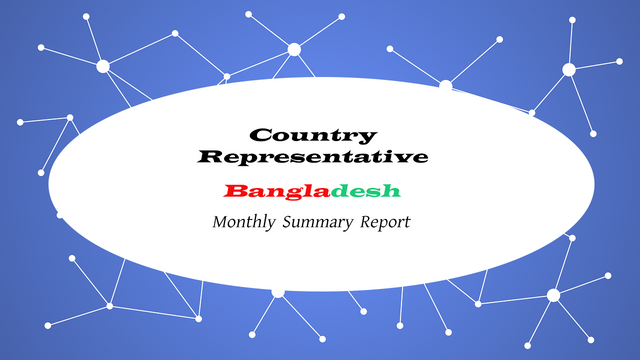 source
---
Hi steemit team
@steemcurator01
, this Summary report is regarding all the progress that we have made in the month of August.
In the beginning, the idea of representing the country was very new to me.@cryptokannon has helped us a lot to make us understand our responsibility.She is still supporting us giving a lot of unique ideas.We also got a lot friendly support from @randulakoralage, @rishabh99946 and @rashid001. By the way, now I am representing my last month working procedure as a country representative and my community engagement.
---
As a CR
When @steemitbog announced me as a country representative of Bangladesh, I thought I need to inform my country's fellow steemian to tell them what going on steemit. I put a invitation comment by providing some appropriate link in their latest post. Almost 90% of them actively posting in Diary game. Here is an example link of those invitation comment.
As a country representative , it's my duty and responsibility to help newbies. So I am making a series of tutorial which is written in our own language. I will increase the series. Right now I am little bit busy with my post graduation thesis work. Here is link of those tutorial :
I read every newcomers achievement 1 post and try to understand their passion and interest of field. Then I invite them to join in the diary game contest and I also provide link of those contest post which matched with their passionate work.
Here is an example link of those comment:
---
Newcomers recruitment from Bangladesh :
Last month almost 70 numbers of newcomers have passed their Achievement 1 post through Newcomers Community's Achievement program. The recruitment was done by the chain system. We talk with a our Steem Bangladesh community team members to recruit quality (Ability of reading, writing and understanding) people.
I also gave attention on recruiting passionate people in this platform . Meet @roy.sajib and @rajib833 both of them are doing very well in music for steem.
We also got a new sketch artist from our country.@mrcreativityzero made his first intro a few days ago. He is a good sketch artist.
---
Supporting Newcomers from BD :
@ridoykhan22,@sajibmolla17,@rex-sumon,@toufiq777 and me We all team members of our community working very hard to support all the newcomers. We are guiding them to improve themselves. We encouraging them through various way. Our first initiative was 100 steem giveaway contest. Here is the link of that post:
We also decide to give 600 steem through several contest. It's an initiative for finding and creating a good quality content. Our 2nd contest Describe Beauty of Bangladesh got a response. We got 22 contestant in that contest.
Besides that I also encourage our community people to get used to with twitter. That's why I personally give a contest. Here is link of that contest.
We also encouraged our community member to take part in other contest which is outside of our community. A lot of user from our community took part in the Nature and Me Contest.
---
Tracking our community peoples activity:
Recently Me and @toufiq777 track down all our community peoples diary game activity and @toufiq777 had already published the list. We also encouraged our community people to complete all the achievement program. Here is the post link
We encouraged our new comers to complete all the achievement. Meet @gorllara , she's completed all 6 achievement task. I have made a list of our community members achievement programs that have published last month.
---
| User name | Achievements |
| --- | --- |
| @ayat525 | 1,2,3,4 |
| @rasel72 | 1,2 |
| @sm-shagor | 1,2,3 |
| @msharif | 1,2,3,4,5(1) |
| @sohanurrahman | 1,2 |
| @eh-shohag | 1,2,3,4 |
| @mdshanto | 1,2 |
| @sandysparkle | 2 |
| @sneha2006 | 2 |
| @sobuj28 | 2 |
---
@sm-shagor, @sandysparkle , @eh-shohag and @ayat525 activity's are very promising in Newcomers community Achievement 1 program.They are actively welcoming the newcomers. @sohanurrahman active on diary post comment and finding all the mistakes and help them by providing link of the rules.
Our all recruitment keep following @steemitblog.
---
Finding existing quality Steemian:
As a country representative my duty is not only to take care newbies but also I need find those existing steemian whose are talented but struggling in this platform. I invite them to the diary game and also suggest them to apply for the minnow support programme. Meet @shajj and @tapu333 they are very good at artwork. Both of them are now regularly posting in the diary game. Both of them post their intro in Newcomers community.
@tapu333 and @cripto2000 has joined in the minnow support programme. Both of them active in the Achievement post. @cripto2000 completed his first 4 achievement.
Our discord Server activity :
Right now @rex-sumon controlling our discord server. I shared an idea with him about opening a channel for contest link. Where we provide all the contest link which is running on steemit.
---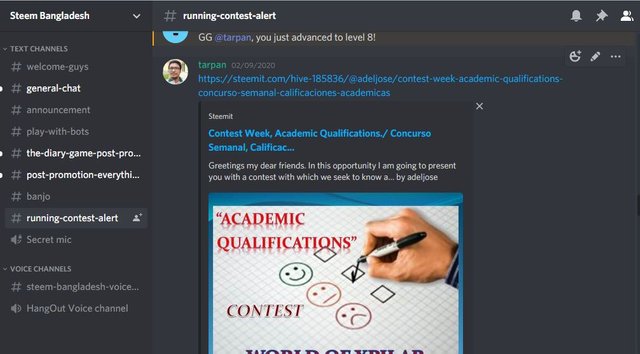 ---
We also held hangout the night before the weekend. In that hangout we talk with every steemian. We try to answer question properly.Here is the screenshot of our latest voice hangout.If anyone wants to join in our discord server just click on this invitation link
---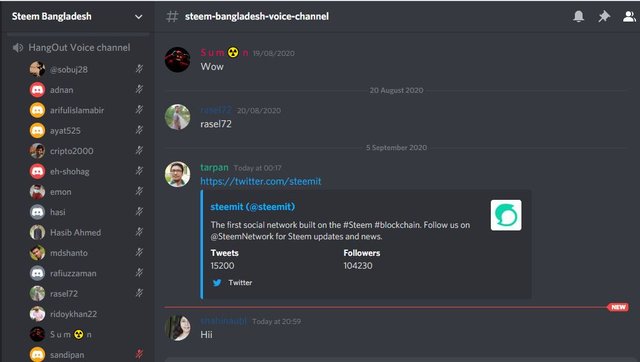 ---
Our community's Latest update
Today our community has reached the milestone of 301 subscriber and Day by day It's increasing rapidly. We have right 100 active poster.
---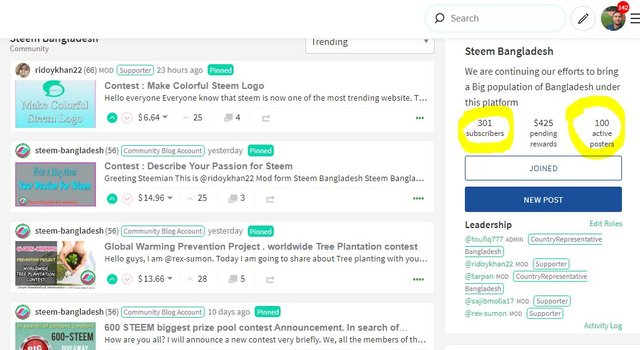 ---
CURATION UPDATE
I have curated as many as 214 Posts of different users, it mostly included diary entries.
A strong support was given to entries made by Bangladeshi users who participated in @musicforsteem upvote by @steemcurator07 on their entries. @hrhabib,@roy.sajib and @rajib833. I have also published my 4 weekly update last month. Here is link of those report. Week 1,Week 2,Week 3 and Week 4
In the end I want to thank all fellow steemian of my country for keeping keeping the trust on us.
---
cc : @steemcurator01
@steemitblog
Country Representative,
Bangladesh