CONTEST: What do you do with...? Week 3.48 - Announcement of the winner!
Hello and welcome to the contest:

The topic of this week is… "What do you do with your seeds?"
Do you like to sow? I find it most enjoyable. It's a hobby of mine and one of my many passions in life. Giving life through sowing and then seeing the product of what you have sown, cared for and transplanted is really pleasurable.
I'll tell you, I sowed some pumpkin seeds and after some time many pumpkin plants were born. I left them where they were born and after a few days they grew and became entangled with each other. Then I saw how they started to bloom! Big, beautiful yellow flowers and one day, looking at the flowers, I was amazed to see a small pumpkin peeking out.
Since then I have not stopped taking pictures of these pumpkins. This one is a very tasty kind. It's sweet and very creamy. I made pumpkin ice cream with the vegetable from which these plants were born. I also love to eat pumpkin pie and pudding, and muffins, cachapas, pancakes and soups.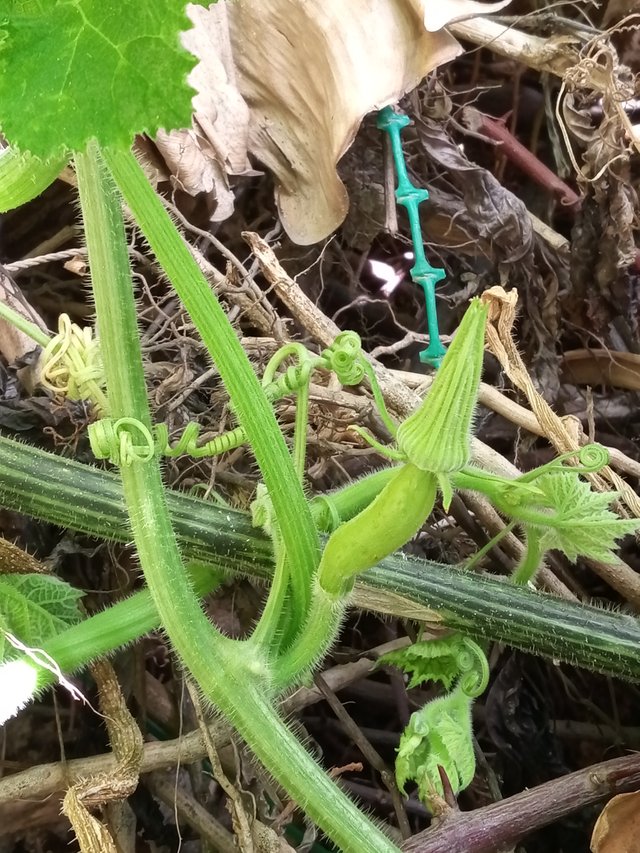 For me it is a real pride to have this beautiful plant in my garden producing vegetables of this size.
And you, what do you do with your seeds? Tell me about it. Do you sow them or cook them, or make decorations with them or do you do something else? Show me your creativity with your seeds.

Announcement of the winner:
I'm very happy and very grateful to all the participants who committed to make their articles for this contest this week. Almost all the rules were met, at least most of them. I still need to see more commitment but for this week it is enough to make me feel very happy for your support.
I received 4 entries with the show of love from each of the users showing the beautiful plants they own, but this week it will be only one winner who will take the prize. Until the income of these articles increases with all your collaborations and votes this contest will be giving only one prize. I thank most of you who supported me by giving your vote to the post. To my friend @genomil who, without participating, always passes by and leaves me her positive vote, to her and other users who pass by and leave their love. It's thanks to everyone that this contest continues and can give a prize of 2 Steem to the winner.
I have one winner for 1 prize.
@sacra97
https://steemit.com/hive-166850/@sacra97/what-do-you-do-with-week-3-47-mi-dama-de-una-noche-my-lady-of-the-night-sacra97
Congratulations to the winner!!
I invite my friends to participate:
@samynathy, @marblely, @cachetes-27, @belenc, @antoniarhuiz, @sacra97, @marivic10, @luimer79, @daysiselena, @blanca56, @wendyalexa, @jefael, @marge62, @ambamarcelo, @enma, @eve73, @genomil, @wendyth16, @carlosespinoza, @mireyalongart, and all my friends...

What is it about?
It's a weekly contest, starting Friday morning and ending Thursday evening.
It ends at 6pm, Caracas-Venezuela time (GMT-4).
After 6pm no more entries will be accepted.
This contest deals with nature-related topics. For example, asking what you do with a plant, flower, insect, pet, bird, natural elements, etc. Everything related to nature! You can develop any theme that your mind can come up with... your creativity is the limit.
You must try to comply with the rules.
Your pictures must be really yours, not copied from any page.
The active participation of everyone is important. Our comments, our votes and our communication with each other are very important.

Please be sure to read the contest rules carefully and follow them carefully.
There are 10 ten rules to follow to be selected as a winner. ---- Very import!!
1.- Publish in the #CCC community.
2.- Write a text of at least 200 words.
3.- The title of your post must contain the title of the contest plus your topic.
4.- You must add the link to your post as a link to the contest.
5.- You must add the #CCC community invitation at the end of your post in order to be found by the @teamccc. Just copy mine and paste it in yours please.
6.- You must resteem this post.
7.- You must comment on any of the other participants' posts.
8.- You must upvote as a contribution to this contest.
9.- If you can participate in some of the other contests of the CCC community it will be very well seen by me.
10.- You must be very creative to be selected.

Prizes:
1 prize of 2 Steem for the winner.

I invite you to participate in the #ccc contests!
Monday contest: "What does CCC mean to you" by @team-ccc.
Friday contest: What do you do with...? by @gertu.
Saturday giveaway: "Looking back / looking forward" by @wakeupkitty.
Saturday giveaway: "What does today mean to you?" by @freedomshift.
Sunday contest: lyric poetry. By @felixgarciap.

The photos in my post are of my property, taken with my Redmi 9 phone and my banners are taken with the help of Canva software.

This is an Invitation to join #ccc for Guaranteed 👍 Daily Income 💵 and Payout 💸 for Newbies (2.0) 🐟 🐜 🐛 in #ccc 👣 and Follow 👣 the Honor Code 🏅 - the Creed (Conditions and Limits Inside)
AND
the latest update <<< please click to read.

I'm @gertu from Venezuela to the world.