Amazon Prime / A Dog's Way Home / (review / critique) / by @messilevi
Amazon Prime / A Dog's Way Home / (review / critique) / by @messilevi
---
A Dog's Way Home
---
Director: Charles Martin Smith.
---
Written: W. Bruce Cameron and Cathryn Michon.
---
Based on the book A Dog's Way Home by Cameron.
---
Starring: Ashley Judd, Edward James Olmos, Alexandra Shipp, Wes Studi, Chris Bauer, Barry Watson, and Jonah Hauer-King.
---
It was released on January 11, 2019.
---
It is a film where we can see how a tender relationship between bela and her master develops, who adopts her since she is a puppy, saving her from bad people, how to fight to be able to keep her despite the fact that this type of canine breed is prohibited in the state where they live, and Bela's love for her master that makes her capable of traveling more than 400 kilometers away where they live incredible adventures with the sole purpose of returning to be with her master Luka and his mantica, thus developing a very tender story of love and struggle.
---
The performance of the secondary actors must be highlighted as they perform their performances very well where they play excellent roles in support of the plot and the main actors.
---
The exteriors and interiors where the scenes were recorded are of very good quality, where you can see the beautiful landscapes of various states belonging to the United States.
---
The plot is very well developed, where the constant drama that unfolds in the film makes the viewers really stay with the desire to continue watching, it is not boring and it is very dynamic, ending up getting involved in the beautiful plot that it exposes.
---
Address the issue of the beautiful love we develop with our pets to the point where they become part of our lives and our families, and how much we are capable of fighting for them and all they are capable of doing for their masters, as demonstrated by bela in this tender movie.
---
We can highlight that the film in its premiere was a success at the box office of the cinemas and is one of the most viewed on the Amazon prime platform today where we can find it to be seen.
---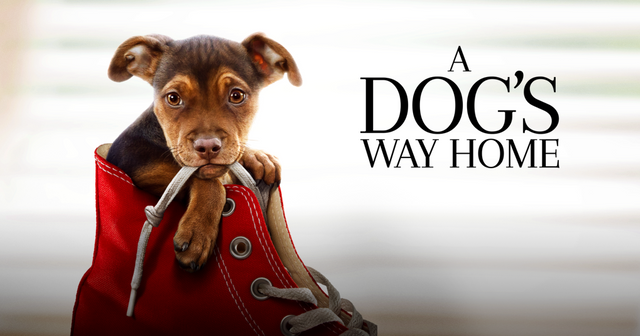 Promotional post of the film
Source taken from the internet.
https://www.google.com/search?q=A+Dog%27s+Way+Home&hl=es&sxsrf=ALeKk02fkyTCNOxkTtUhbglGOZ_PZo_zCA:1625928207652&source=lnms&tbm=isch&sa=X&ved=2ahUKEwi75fzJ3tjxAhUaSTABHcPCDdwQ_AUoAXoECAEQAw&biw=1024&bih=657#imgrc=nWT5SXVkA80ThM
---
Information taken from the internet to complete the data for the development of the blog.
https://es.wikipedia.org/wiki/A_Dog%27s_Way_Home
---
#steemexclusive #NetflixStreaming #amazonprime #steemoriginal #streaming #review