MY ACCEPTANCE OF THE POST OF A SYEEMALIVE CITY COORDINATOR//16-02-2021// POWERED UP TO 100%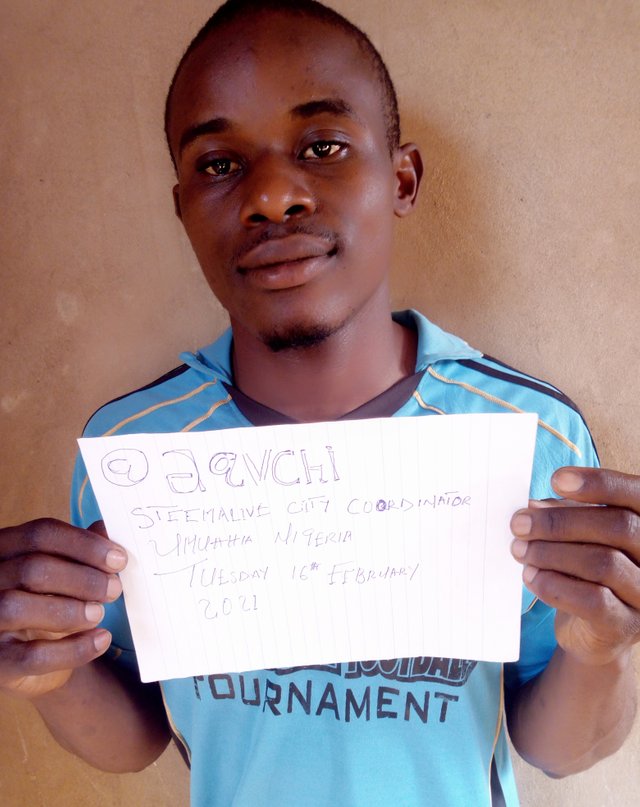 My name is Okoro C. David
@davchi
, it downs a magnanimous effect to tender appreciation to every positive impact made to one's life.
And at this point in time i, @davchi wish to formally appreciate the steemalive community especially @focusnow Sir, for dimming it fit in appointing me as the city coordinator of my very dear state capital Umuahia to be precise which I here by humbly accept.
With a responsive heart of positive impact I pledge to be more effective in this very great task apportionment to the best of my mandibulous and tenacious technicality in improving and further disseminating the philosophy, ideology and perceptional concept of the steemit ecosystem in general persay, to it's progress through any attainable means.
Nevertheless, am grateful to everyone that has contributed to this great privilege and am happy being a part of the system.
Finally, I promise to keep the system updated as at when due partaining to the progress of my city in general with every possible memo requirement, thank to @steemalive, @steemitblog and to all the blog communities in general
God bless steemit and everyone of us thanks.